When we think of alternative investments, we usually think of gold, hedge funds, or commodities such as coffee and oil. Fine art doesn't usually spring to mind.
However, did you know that fine art investments have seen greater returns than the stock market for the past two decades? According to The Wall Street Journal, art returned more than 10% during 2018, versus a 4.75% loss in the S&P 500.
In this Masterworks review, let's check out an investment platform that wants to make art a profitable part of anyone's portfolio.
My family has collected art and antiques for decades. In fact, my very first major investments were contemporary fine artworks that I purchased as a teenager. So the idea of Masterworks intrigued me.
Do I think it's a good idea for your portfolio? Let's explore…
What Is Masterworks?
Masterworks is an investing platform that lets you buy shares in "blue-chip" artworks for a fraction of their market values. "Blue-chip" art refers to works by household-name artists that have a history of value appreciation.
In Masterworks' case, this means art by the likes of Impressionist master Claude Monet, pop art leader Andy Warhol, and street artist Banksy.
After Masterworks has sold shares in a painting, the company hopes to sell the pieces for a substantial profit, splitting the returns among its investors.
If this model seems familiar, it's pretty much the same equity crowdfunding strategy we've seen from real estate platforms such as Fundrise and RealtyMogul. In fact, Masterworks counts Fundrise co-founder Dan Miller among its advisors.
Masterworks has been around since only 2017 and has offices in New York City and Boulder, Colorado. The company operates a members-only gallery in NYC (more on becoming a member below).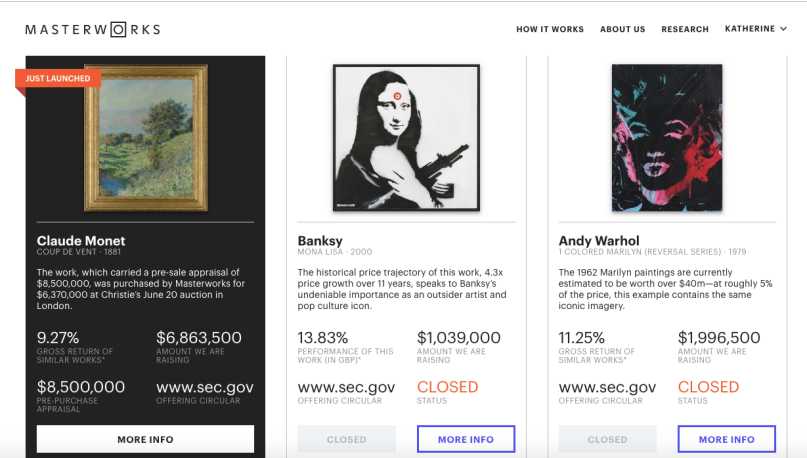 How Does Masterworks Work?
Masterworks' business is fairly easy to comprehend.
First, the company combs through a database of more than 1 million art auction records to select artists whose works have proven track records. The Masterworks research team considers these questions:
Is the artist collected on a global scale?
What is the average appreciation rate of the artist's works? (Masterworks looks for historical appreciation rates between 9% and 15%.)
Is there sufficient global demand for works by the artist?
What is the volatility or risk of collecting pieces by this artist?
Masterworks' research team determines what makes an "ideal" piece by each artist. An ideal piece has the particular characteristics that define an artist's work in the eyes of collectors.
For example, Claude Monet was known for being a master of the Impressionist school, so a Masterworks-approved Monet wouldn't consist of large, bold brushstrokes or have been completed in pencil.
Masterworks tracks down an exemplary piece by the artist that it can purchase at a below-market price. It then registers the artwork as a security with the U.S. Securities and Exchange Commission (SEC) and offers shares to the public.
The company plans to sell each artwork in five to 10 years after its initial purchase and split the proceeds among investors. However, once a potential buyer has made an offer on the artwork, a majority vote of shareholders is needed to complete the sale. Masterworks limits each shareholder to no more than 10% of the piece as a whole to keep the vote as democratic as possible.
In the meantime, Masterworks displays the artwork in its SoHo NYC gallery or in climate-controlled storage in Delaware. The gallery can be accessed only by Masterworks members.
Becoming a Masterworks Member
Although you don't need to be an accredited investor to participate in Masterworks investments, you do need to become a member. This involves applying for an "invitation" and scheduling a phone interview with the Masterworks team.
To start investing, you must make an initial deposit of $1,000. However, you can purchase individual shares of artwork for $20. The number of outstanding shares per artwork will vary; the SEC filing for Monet's Coup de Vent lists 343,175 shares.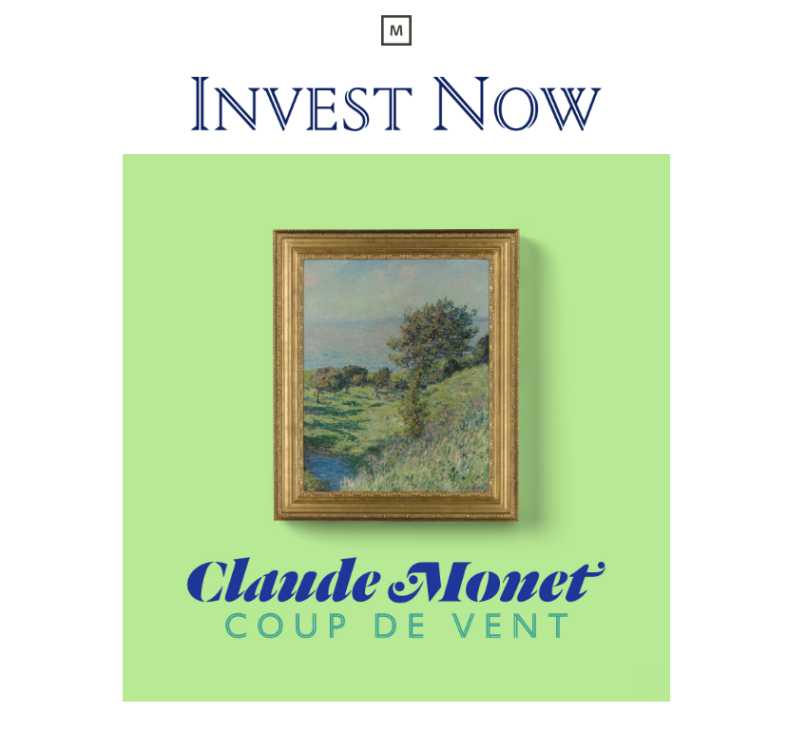 Masterworks Fees
Fees are always an important consideration for investors.
Masterworks charges two fees to its members:
An annual fee of 1.5% of your investment that counts toward storage, security, insurance, etc.; and
A 20% commission on the profits if and when the artwork sells.
That 20% commission represents a pretty hefty chunk out of your profit margin. In fact, the whole Masterworks pricing structure echoes the traditional "2 and 20" hedge fund fees that have drawn widespread criticism.
Masterworks Website Features
Besides the investment listings, the Masterworks website offers some informative reports on art collecting and alternative investing in general. These articles are accessible to everyone, even if you've not signed up as a member.
More entertaining is a widget that lets you search recent auction results by artists. I had fun playing "stump the chump" by looking up obscure medieval artists.
Is Masterworks Safe?
Keeping your assets safe is an important part of any investment.
When you own physical art, you must ensure that it's safe from threats such as humidity, damaging light exposure, and theft. That can be costly. Back in the 1960s, an art-collecting couple paid my dad to "babysit" their Renoir when they went out of town on vacation.
However, if you properly insure your piece, you can have some peace of mind that you're protecting your investment without keeping tabs on it 24/7.
Unlike some other investments, Masterworks shares are not protected by any regulatory body such as the SEC or FINRA. This is because Masterworks isn't a registered broker-dealer or investment advisor. So how is your investment protected?
I wasn't able to get a clear answer online in the company's literature, so I spoke to a representative at Masterworks to find out.
Masterworks applies part of the 1.5% fee that members pay to insurance. European firm AXA provides the policy. In the case of loss or damage, Masterworks says it will distribute proceeds from an insurance payout among investors.
Every year, Masterworks will have the artworks appraised for fair market value (FMV). Insurance coverage will be based on the FMV. So there is the potential that — should the artwork lose value — your investment will not be fully recouped.
The Risks of Investing With Masterworks
Like many alternative assets, artwork can be a risky investment.
Here's what to look out for when investing in a Masterworks offering or any art, for that matter.
Art Is Not Recession-Proof
Yes, as a whole, the art market may have outperformed the S&P 500. But art is not recession-proof. From 2007 to 2009, during the Great Recession, the S&P plunged by 57%. At the same time, the art market slipped by over 27%. Now, that loss wasn't as steep as the stock market's tumble, but it still represented a sizable drop.
The Art World Is Fickle
In addition, the art world is notoriously fickle. Artists who are "hot" one day can be "not" the next.
Masterworks has attempted to address this by identifying "blue-chip" artists whose work has consistently appreciated in value. However, I question the company's decision to include Banksy in its "blue-chip" definition.
You need only look to Damien Hirst for a potential parallel. Like Banksy, Hirst is a U.K.-based "provocateur" who was the "flavor of the week" in the art world for a while. However, since 2008, his works have depreciated rapidly.
Artists who are still alive can be a particularly risky investment. After all, some of the value in a Monet lies in the fact that the artist is dead and can't paint any more pictures. Banksy, on the other hand, has plenty of time to create more work or do something unsavory that would devalue his art.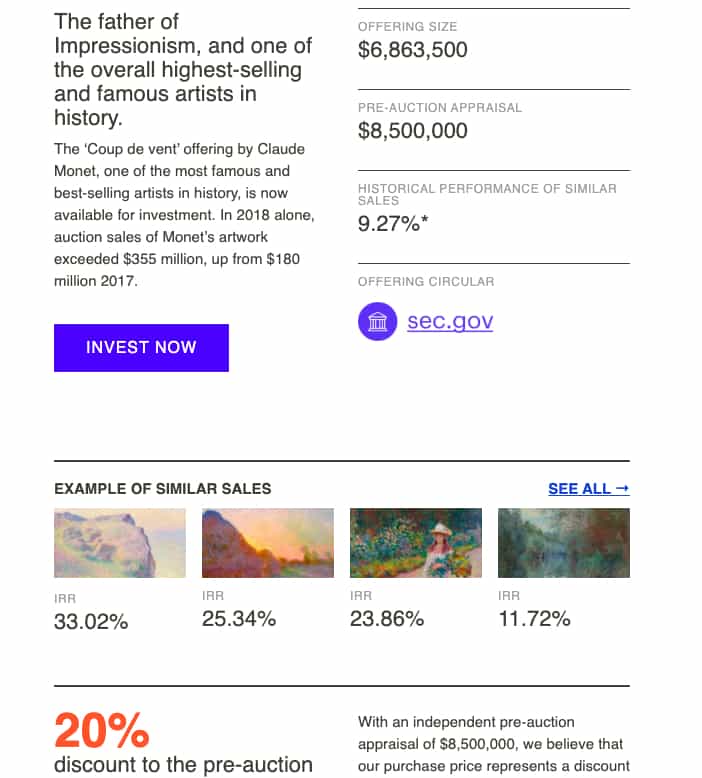 Masterworks Pros and Cons
Masterworks Pros
Access to Big-Name Artwork: This might be the only way you get to say you own at least an inch or two of a Monet.
You Don't Have to Be Accredited: You don't need to be an accredited investor (with a net worth of more than $1 million or an annual income of more than $200,000) to partake in a Masterworks offering.
Members-Only Gallery: I like the idea of being able to have up-close-and-personal time with a work of art by a master.
Masterworks Cons
Art Returns Aren't Guaranteed: Art can still depreciate for a number of reasons. There's also no guarantee that the art you're invested in will sell.
Assets Are Illiquid: Currently, investors must hold shares for an estimated five to 10 years until the artwork is sold. There's no secondary market for selling shares if you want to divest your position. (However, Masterworks indicated that this might be in the works.)
$1,000 Minimum Investment: Masterworks shouldn't be a major part of your investment portfolio; therefore, a $1,000 minimum investment may be too large for some investors.
Membership Application Process: To become a member, you must complete an application process that includes a telephone interview. I'm a bit phone-shy, so this puts me off.
20% Commission: Masterworks will take a 20% commission out of your profits if and when an artwork sells. That's a bit hefty.
Who Is Masterworks Best For?
Masterworks is best for art fans who would get a kick out of the business model. It might be a fun investment if you like the idea of owning a little piece of a specific artwork that you like by and artist you admire.
For example, if you really love Monet, here's your chance to own a few of his dabbly brushstrokes. And as a plus, you might make some money on your investment.
However, with the potential for plenty of risk, I wouldn't recommend that you invest any money into Masterworks that you couldn't stand to lose. There are safer investments out there — including income-producing bonds, ETFs, and even real estate.
Especially if you're investing for retirement, high-risk investments such as art shouldn't be a serious consideration unless you have experience and understand how the art market works.
In addition, for many art lovers, part of the fun of collecting is getting to enjoy the works themselves. Unless you live in New York City, you can't easily go visit the Monet you own a bit of.
You may have read that successfully investing in art isn't possible unless you're a millionaire. I know from experience that this isn't true. If you're an art fan and are willing to do your due diligence and research, you don't need $1 million to exceed annual returns of 10%.
Go to art and antique shows, galleries, and even thrift stores and flea markets (you never know — I've made some great finds there!). You may not be able to find a blue-chip artist like Warhol or Monet, but you may be able to find fine art that will realize a considerable return.
Here's an age-old rule for investing in art: Buy what you like and what gives you pleasure to own. When it comes time to sell, consider any value appreciation a happy bonus.
Katherine Peach
Katherine Peach is the former managing editor of Money Done Right.  She has more than 12 years of experience in the financial industry. She particularly enjoys writing about stocks and the markets, as well as investing in art and antiques. Learn more about Katherine.