Updated
September 17, 2021
Betterment Review 2021: What Is Betterment and How Does It Work?
Stocks
Betterment, the world's largest independent robo-advisor, has helped more than 400,000 customers save for their biggest goals.
With more than $16 billion in assets under management, Betterment has quickly become a favorite investing platform for new and experienced investors alike.
Should you join the crowd and become a Betterment investor? In this Betterment review, we'll cover everything you need to know.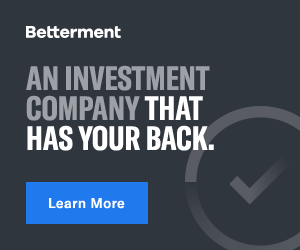 Betterment Review
Betterment has a history of providing investors with higher-than-average returns and competitive fees.
From early financial planning to retirement and everything in between, Betterment provides high-quality financial services and consultation to those looking for easy money management.
What Is Betterment?
Founded in 2008, Betterment is changing the way robo-investment options work.
The company has been so successful that many investors who managed their own portfolios for years have started to turn for Betterment for an easier money-management experience.
Betterment has a team of world-class investors to help make the most of your money.
Earn More with Betterment
Recent benchmarks put Betterment-managed portfolios earning an average of 2.66% more than portfolios managed by a traditional investor.
When looking at Betterment's long-term investment strategy, that can be a huge difference in interest.
Make the Most of Your Money
By combining fine-tuned investment automation with a team of experts ready to help you when you need them, you'll experience something new when you invest with Betterment.
The two plan options, which we will review later in the article, both have a dedicated support feature.
That means you can reach out to talk to an expert whenever you have questions or concerns.
Betterment Targets Your Specific Needs
What makes Betterment's support so unique is that there is no incentive to sell a certain investment, and Betterment does not have funds of its own, so the support you're getting is tailored to your specific needs and will be what's best for your investment plan.
When you sign up for Betterment, you'll have full access to a sleek, modern dashboard that makes investing easy.
You'll be able to review your holdings, portfolio, returns, and funding accounts through your personal account dashboard.
How Does Betterment Work?
Betterment is a platform that manages your investments for you, taking the stress and worry out of the money management process.
Signing up for Betterment is extremely easy, and it takes just a few minutes to have your portfolio managed by the team of investment experts at Betterment.
After signing up and linking your funding account, simply answer a few questions and an investment plan will be generated for you.
Betterment Creates Personal Plans
You can always adjust your investment plan and create new investment goals at any time.
After you choose your investment goals and you receive an investment plan, you'll then be shown how Betterment can manage your money to meet your specific needs.
When you begin investing, you'll get regular investment checkups on your portfolio to make sure your account is on-track to financial success.
Betterment Manages All Your Accounts
With so many investment products to choose from, you can use Betterment to manage all of your investment accounts, such as your retirement account, supplemental savings account, and college savings account, to name a few.
Betterment believes in a holistic approach to managing money, which means they want to get to know you on a personal level to understand your financial goals and needs.
In order to provide robust, accurate support, you can also link your external investment accounts.
When you contact Betterment support, the financial advisor will be able to see your external account information, provide analysis, and update your investment plan accordingly based on your external investment holdings.
Betterment Plans and Services
Betterment has a wide selection of products and services to choose from, all at competitive rates.
To begin, we will look at the two different investment plans that you can choose from regardless of the investment product you're looking for.
You won't have any additional trading fees, zero rebalancing fees, and no additional transfer fees with either plan.
The Digital Plan
The Betterment Digital Plan is the plan with the lowest management fees and comes with some excellent features and benefits.
The annual fee is 0.25% based on the account balance, and there is no minimum balance needed to choose this plan when you're investing, which is hard to find in other investment companies. Betterment will collect its fee right from your investing account every month.
Get Your Questions Answered Quickly
You'll have access to support with direct messaging right in the Betterment app, with most messages answered within a day.
The Digital Plan gives you unlimited access to financial experts that can answer your questions and concerns.
This plan also offers automatic rebalancing to meet your target allocations as well as tax-saving plans, meaning your tax loss harvesting is automated.
If you're a new investor or you don't have a lot to invest up front, the Digital Plan is an excellent option.
The Premium Plan
The second plan that you can use is the Betterment Premium Plan.
This plan's annual fee is .40% and does require a minimum balance of $100,000. As with the Digital plan, Betterment will collect its fee right from your investment account every month.
You'll get all of the benefits of the Digital Plan, as well as in-depth investment advice with financial experts right over the phone.
Betterment Gives You Access to Financial Experts
You can also access the Betterment financial professionals to consult with them on major life events, such as getting married, having a baby, or retirement.
What really sets this plan apart is the unprecedented, unlimited access to Betterment's team of financial advisors.
Financial Products
As we mentioned previously, Betterment has an excellent selection of financial products to choose from no matter where you are in your investment journey.
Their financial services include:
Financial Experts – Regardless of what plan you're on, you'll have access to financial experts either via messaging or over the phone. The small increase in annual fee by going to the Premium Plan is well worth it, considering you'll have unlimited access to financial advisors right over the phone.
Financial Planning – When you set up your account with Betterment, you'll be asked targeted questions that will help generate your custom financial plan. You can always go into the system and update your plan, and you can speak with a financial advisor to adjust your plan along the way.
Retirement – Betterment will help with your retirement planning from start to finish. That means coming up with a custom retirement plan, understanding retirement spending, and allocating funds into investment accounts that maximize your returns.
Rollovers – If you haven't assessed your retirement account in a while, Betterment can help you determine if your current retirement plan is costing you too much and can help you switch to a plan that's right for your retirement goals. With Betterment's 401(k) rollover services, you'll get expert advice and pay lower fees on your account.
Smart Saver – A Smart Saver account with Betterment makes all of your money work for you. With interest rates on these savings accounts just under 2%, you'll earn as much as 20 times as much in interest as you would with a traditional savings account at a bank. By investing the money in low-risk bonds, there's a much higher rate of return.
Tax-Coordinated Portfolio – This strategy allocates your highly-taxed investments into IRAs, and moves your lower-taxed assets in your taxable accounts. By re-allocating your assets and focusing on tax implications, Betterment can increase your portfolio value by approximately 15% over 30 years.
Tax Loss Harvesting – When an asset experiences a loss, selling that asset can help you offset the tax burden on your investments. Betterment uses strategic tax loss harvesting to maximize your tax benefits and keep your portfolio the same by replacing securities that experience a loss with similar, more stable securities.
Trusts – Manage all of your trust accounts in one platform with Betterment. You'll have complete control over the account goals and investment options so you can set your beneficiaries up for financial success.
Regardless of what kind of investment you're looking for, the team at Betterment can provide you with the financial product and custom investment that you need.
Betterment Returns
Betterment uses sound investment strategy to truly maximize your investment returns.
By partnering expert strategy with low management fees, investors who use Betterment have historically higher returns than investors at other investment firms.
The returns you'll receive will obviously depend on the financial product you choose as well as the asset allocation of your portfolio, but Betterment provides an interactive graph that will show you the different return rates based on the period of time you choose as well as the asset allocation you select.
Financial Experts are Available to Help
With Betterment's sound strategy and a team of financial experts waiting to help you, you'll soon start to see improved investment results.
Betterment's performance has historically been better than similar investment management groups, largely due to the simple automation of investments and the focus on tax-beneficial investments.
Your portfolio is constantly being analyzed, meaning Betterment is working on your behalf to make the most out of your money.
Additional Packages
In addition to the plans and products that you can choose on Betterment, there are additional consultation packages that you can purchase depending on your financial goals.
You can choose from the Getting Started Package, the Financial Checkup Package, the College Planning Package, the Marriage Planning Package, and the Retirement Planning Package.
Get Advice for Custom Investment Plans
These packages are ideal for investors who do not meet the $100,000 minimum for the Premium Plan that provides unlimited phone support.
For a one time charge, you'll be able to get the advice you need.
When you purchase one of these packages, you'll have a personalized one-on-one call to create a custom investment plan based on your financial goals.
The Betterment App
As if Betterment didn't make it easy enough to invest your money, they also created a beautiful, intuitive app that lets you adjust your investments and contact financial advisors on the go.
In fact, with the Digital Plan, you'll need to download the app in order to take advantage of the financial advisor support.
The support you receive with the Digital Plan is through the messaging system that's only available in the app.
Automate your investments, ask questions, and review your account all while on the go by downloading the Betterment app.
Is Betterment Worth It?
When it comes to robo-advisor services, it's hard to find a company that can compete with Betterment.
From the expert support to utilizing smart, tax-efficient investment strategies, Betterment is the whole package.
What truly sets Betterment apart from similar investment companies is the level of live support you'll receive, regardless of what plan you are on.
The additional .15% to move to the Premium Plan is well worth it considering how much one-on-one financial consultations cost.
Betterment Review: Conclusion
Betterment truly excels at having low-fees, planning custom investment strategies, and providing on-demand support for investors.
You'll also find a vast selection of investment products to choose from, which is why we rate Betterment as the top robo-advisor company available today.
No matter where you are financially, Betterment's team of investors can help you get you to where you want to be.
Author:
Logan Allec, CPA
Logan is a practicing CPA, Certified Student Loan Professional, and founder of Money Done Right, which he launched in 2017. After spending nearly a decade in the corporate world helping big businesses save money, he launched his blog with the goal of helping everyday Americans earn, save, and invest more money. Learn more about Logan.