Money Done Right may be compensated if you make a purchase after clicking on a link.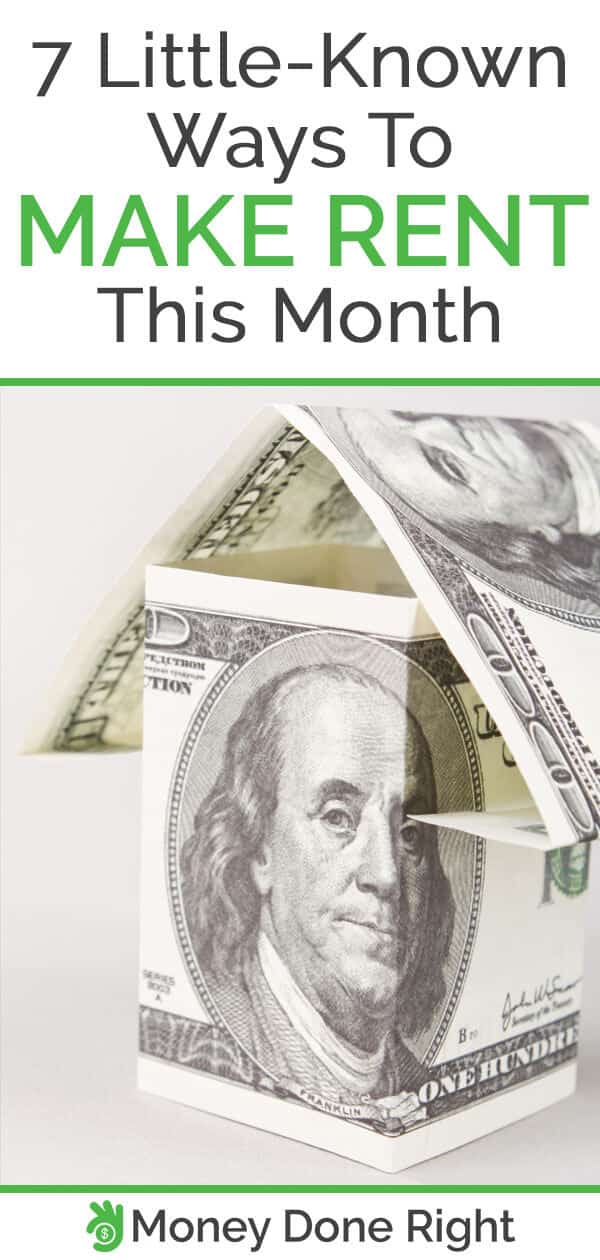 It's almost the first of the month, and you know what that means: the rent money is due.
The only problem with this scenario is that you're a bit short this month and need to stuff your wallet fast.
If this sounds like you, read on.
7 Ways to Get Rent Money When You Need It
Check out these tips and tricks to earn rent money in a jiffy.
1. Get refunds on your other bills.

If you're having trouble making rent, you may have trouble making other payments as well.
And often when you don't make payments on time, you get charged a late fee.
Did you know that there are tactics you can use to potentially get these late fees refunded?
It's true!  The only thing is that you have to go through the trouble of awkwardly calling up your bank and credit card companies and asking them to refund your late fees.
This can be time-consuming, and you often need to know the right language to use to get a refund.
The good news is that there is a new website called Cushion that aims to help you get refunds on these late fees without you having to talk to anybody.
You simply sign up on the Cushion website and let it do the work for you.
2. Get a short-term loan.

While perhaps not ideal, borrowing money is certainly an effective way to come up with rent money fast.
Many people incorrectly think that applying for a loan and receiving the funds can take weeks or even months.
Others believe that you have to have a high credit score to be approved for a loan.
Thankfully, those things aren't true.
Sites like BadCreditLoans.com have made it possible for people with less-than-ideal credit to be approved for small loans.
3. Take some quick online surveys.
Look, I'm not going to lie to you.
You're not going to get rich taking online surveys, no matter what some spammy survey sites say.
But if you're willing to take the time to share your opinion on your laptop or cell phone, you can make enough money to hold you over and make rent this month.
Our favorite survey site is called Survey Junkie.
It has an 8.7 out of 10 trust score on TrustPilot, and it doesn't spam your email address with spammy offers.
And the surveys that Survey Junkie dishes out can be pretty interesting oto.
4. Deliver food.

Delivering food can be a great way to earn extra money.
Unlike driving passengers around in a rideshare like Uber or Lyft, you don't really have to talk to people if that's not your thing.
And the best part?
You can be your own boss and set your own schedule.
Click here to apply to drive for Postmates and start making extra money!
5. Get paid to play mobile games.

This is another one of those passive income ideas where you get paid to do something you enjoy, so it's not really work at all.
How it works is you download a free new app, then download new mobile games through the app.
As you level up in the mobile games, you earn more points that you can redeem for gift cards at Amazon, VISA, PlayStation, Xbox, Apple, Starbucks, and more.
Click here to start winning free gift cards for playing mobile games on your phone.
6. Get paid for walking into stores.

We're a big fan of cash back apps, but the issue with most of them is that in order to make money with them, you have to buy something first.
And if you're having a hard time paying rent, you may not be in a position to go on a shopping spree right now.
Good news: there's an app called Shopkick that will pay you simply for downloading it and walking into stores like Target, Walmart, Walgreens, TJ Maxx, and more.
So why not download the Shopkick app and spend the afternoon doing a little window shopping and earning rewards while you're at it?
7. Evaluate products before they hit the shelf.
Pinecone Research, a company operated by market research company Nielsen, focuses on product testing for goods yet to be publicly launched.
When you sign up to become a Pinecone Research panelist, you typically receive merchandise in the mail and then evaluate it.
You are compensated $3 for each product evaluation.
In addition, your name is added to a sweepstakes, with prizes ranging from $500 to $4,500.
The best features of the Pinecone Research program are that you can test new products, they are delivered right to your door, and sweepstakes are a lucky bonus for those who win.
Click here to become a Pinecone Research panelist to earn money testing products.
More Useful Tools for Renters

Here is some more helpful information for renters to boost their financial situation.
1. Make sure you're paying as little as possible for renter's insurance.

One expense that slips by most people without being checked every now and then is renters insurance.
See, the traditional insurance company model is getting more and more outdated with their high deductibles and premiums.
Take new insurance company Lemonade for example.
They take a simple flat fee, and everything else goes into a collective claims pool that they protect for their users in case they need to make a claim.
Since Lemonade doesn't profit from the claims pool (like other, older insurance companies), leftover money is donated to charities that users choose when they sign up.
Lemonade's self-stated goal is to transform insurance from a necessary evil into a social good.
They offer renters insurance for as low as $5 a month.
Click here to check your rates in 90 seconds with Lemonade and see if you can save some money!
2. Make sure you're paying as little as possible for auto insurance.

Another expense that everyone with a car has is automobile insurance; after all, it's the law to be insured in most states.
And here's the thing: a common auto insurance company trick is to give you "the lowest rate around" when you first sign up with them, but then year-by-year they jack up your premiums.
For this reason, it's absolutely imperative that drivers get new quotes at least a few times a year.
But good thing for those of us with an Internet connection, you can now save up hundreds of dollars per year on car insurance simply by showing Gabi a picture of your current policy, for free.
Gabi users have saved an average of $865 per year on their car insurance.
This is money that could go toward rent or other expenses throughout the year.
Click here to easily check your rates with Gabi and see if you can save hundreds of dollars a year on auto insurance.
Earn. Save. Grow.
Sign up for updates on ways to make, save, and invest money.