It's almost the first of the month, and you know what that means: the rent money is due.
The only problem with this scenario is that you're a bit short this month and need to stuff your wallet fast.
If this sounds like you, read on.
7 Ways to Get Rent Money When You Need It
Check out these tips and tricks to earn rent money in a jiffy.
1. Take some quick online surveys.
Look, I'm not going to lie to you.
You're not going to get rich taking online surveys, no matter what some spammy survey sites say.
But if you're willing to take the time to share your opinion on your laptop or cell phone, you can make enough money to hold you over and make rent this month.
Our favorite survey site is called Survey Junkie.
It has an 8.7 out of 10 trust score on TrustPilot, and it doesn't spam your email address with spammy offers.
And the surveys that Survey Junkie dishes out can be pretty interesting oto.
2. Try your luck in this free slots app.

Feeling lucky?  Check out the free Long Game Savings app, which acts as both a savings account and a free slots app with prizes up to $1,000,000!
Here's how it works: you download the app and make a deposit into your savings account within the app.
This money that you deposit belongs to you, and you earn interest on it, just like at the bank.  And you can withdraw your cash at any time.
Long Game does not collect any fees from this balance; the app is absolutely free to use.
Depending on how much money you deposit, Long Game gives you coins to play slot and other games where you could win $10, $100, $5,000, or even $1,000,000!
Granted, the odds of winning $1,000,000 are pretty slim, but you may be able to win smaller prizes to help you with your rent money!
3. Get paid just for having an app on your phone.

Maybe you're short not only on cash, but on time as well.
In this case, consider downloading the Nielsen Mobile Panel app, which pays you just for keeping it on your phone!
The catch, of course, is that the Nielsen company gets to track your mobile usage habits.
Sound a little sketch?  Don't worry; Nielsen Holdings has been around since 1923 and is one of the most secure and reputable research companies in the world.
So if you don't mind giving a market research company insight into how you use your cell phone, download the Nielsen Mobile Panel app and start getting paid.
4. See if you can get some bank and credit card fees refunded.

If you're having trouble making rent, you may have trouble making other payments as well.
And often when you don't make payments on time, you get charged a late fee.
Did you know that there are tactics you can use to potentially get these late fees refunded?
It's true!  The only thing is that you have to go through the trouble of awkwardly calling up your bank and credit card companies and asking them to refund your late fees.
This can be time-consuming, and you often need to know the right language to use to get a refund.
The good news is that there is a new website called Cushion that aims to help you get refunds on these late fees without you having to talk to anybody.
You simply sign up on the Cushion website and let it do the work for you.
5. Deliver food with DoorDash.

If you have a little bit of spare time every week, DoorDash can provide you with an opportunity to set your own hours and put extra cash in your pocket so you can make rent on time.
With DoorDash, you can literally sign up today through our link and get your first payout in the next 7 days.
If you'll be using your car to deliver, you simply need insurance and a decent driving record.
Don't have a car?  No problem.  In many major markets, you can walk to make your DoorDash deliveries or use an alternative vehicle such as bicycle, scooter, or motorcycle.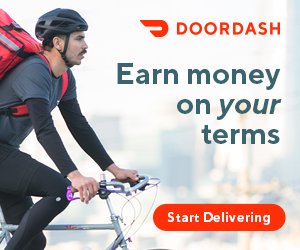 6. Get paid for walking into stores.

We're a big fan of cash back apps, but the issue with most of them is that in order to make money with them, you have to buy something first.
And if you're having a hard time paying rent, you may not be in a position to go on a shopping spree right now.
Good news: there's an app called Shopkick that will pay you simply for downloading it and walking into stores like Target, Walmart, Walgreens, TJ Maxx, and more.
So why not download the Shopkick app and spend the afternoon doing a little window shopping and earning rewards while you're at it?
7. See if online retailers owe you money.
Do you know that if you bought something online, and the price later dropped, you may be eligible for a refund?
It's true, and there's probably no other time that's better to take advantage of this than right now, when you need to make rent.
Now, trying to get these price drop refunds on your own can be tricky, but luckily there's a new app called Paribus that helps you get the refunds you deserve.
Once you sign up for Paribus, it will scan your emails for any purchase receipts from dozens of online retailers.
It will then track the price of the item(s) you purchased and work to get you a refund when the price drops.
So basically, Paribus does the heavy lifting for you.
Paribus compensates us when you sign up for Paribus using links we provide.
Any Tips for Making Rent?  Let Us Know!

Some of the best tips on our site have come from our beloved readers, letting us know their best financial tips and tricks.
If you've ever made rent in a creative way, be sure to let us know in the comments below!