Money Done Right does not run display ads or accept sponsorships to promote particular products or services. However, we may receive a commission if you purchase or sign up through links on this page. Here's more information about how we make money.
S'more

Basics: S'More is a lock screen app for Android phones that lets you earn points toward gift cards just by having the app installed, as well as offering opportunities to earn more points.
Pros: You earn points every day just by unlocking your phone, and can choose whether you want to do more or not.
Cons: Earnings are relatively low, many users report problems with the app, and customer service appears non-existent.
We all want to make a little extra money on the side, and the internet has given us a lot of ways to do just that. In addition to an abundance of websites, there are many smartphone apps that promise to help you earn free cash in your spare time.
One such app is S'More, a free lock screen app for Android-based smartphones that helps users earn points they can redeem for gift cards. But sometimes it's hard to know which apps are legit and which are time-wasting scams. Is S'More worth it?
Our S'More review will help you understand what this app is, how it works, how to earn points, and whether or not it's worth your time. Can you make money with the S'More app? Let's find out.
How Does it Work?
Our S'More review begins with an overview of how to acquire the app and how it functions. This is an app for Android smartphones that will replace the lock screen of your phone.
For Android Phones Only
The app is not available for iOS, as Apple doesn't allow app developers the ability to control the lock screen. To get the S'More app, download it here from the Google Store.

Installing the App
Once you install the app, you'll be asked to enter your name, age, email address, and phone number. From then on, the lock screen of your phone will be a S'More screen.
Your New Screen
Your lock screen will look largely the same as you're used to — with unlock, phone call, and camera buttons located on the bottom of your screen — with the addition of ads. If you do nothing more, you'll earn 10 points every day just for having the app installed. There are also ways to earn additional points.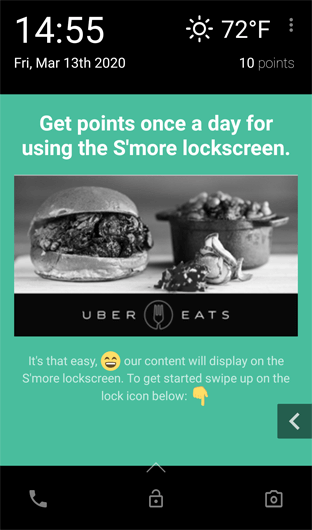 Earn Points With S'More
The best part about the S'More app is that, as mentioned above, you earn 10 points every day that you turn on your phone and connect to the internet.
What Points Are Worth
In S'More, one point is equal to one cent. You'll get 20 points, worth 20 cents, just for downloading the app. Your daily 10 points are worth 10 cents, so you can earn gift cards worth $36 dollars a year for doing nothing more than using your phone as you normally do.
That's a simple meal or a night out at the movies for free. Keep in mind that the daily 10 points come from having the app installed; you won't get 10 points every time you unlock your phone, which seems to be a common misunderstanding among new S'More users.
Points for Personal Information
Additionally, users get 50 bonus points for verifying personal contact information. Again, that's a decent number of points for doing very little. Of course, there are other ways to earn points with this app.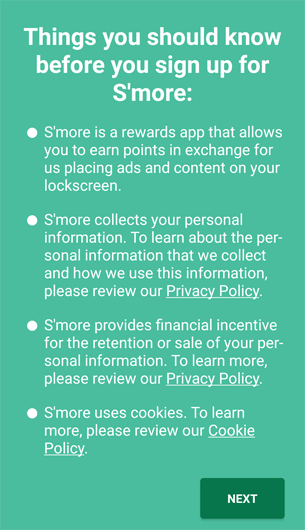 Earn Points With Paid Surveys
The S'More app offers market research surveys for users to complete and earn more points. The number of points earned depends on the survey, but it's a fairly simple way to gain extra points through the app.
Survey Format Is Familiar
Filling out surveys can be an easy way to make extra money, and S'More has the surveys right in the app, making it easy for you to access them. S'More primarily uses Pollfish and Peanut Labs, so if you've done online surveys before they'll look familiar to you.
Eligibility Varies
One downside to relying on surveys for extra points is that each company will be looking to reach a specific demographic. You'll have to complete a series of questions about yourself to find out if you're eligible for the survey. If you're rejected, you'll still get one point for trying.
Check it out: We signed up for dozens of paid survey sites. Most were horrible.
Earn Points by Watching Videos
Most of us watch a video of some kind every day, so why not get paid for it?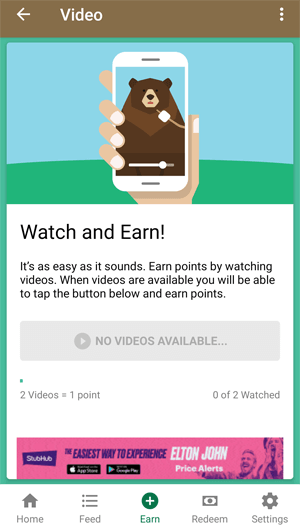 Kinds of Videos
The S'More app lets you earn points by watching short video ads.
The ads usually run about 30 seconds, and you'll earn one point for every two you watch. You can keep watching the day's videos until you've gone through them all.
Limits on Videos
However, there are a limited variety of videos. It's also worth noting that you can't close or minimize the app while the video plays. You need to keep the app open and watch the whole video in order to earn the credit. Again, video watching is optional, so you have no commitment, but it's an easy way to earn bonus points.
S'More Confusion
The S'More app shares a name with more than tasty campfire treats. Be sure not to confuse it with:
S'More — "The dating app built for relationships!"
Smore — "Beautiful and easy to use newsletters"
S'more s'mores — Chobani Flip Greek Yogurt
Earn Points with Bonus Offers
The S'More app also refers users to a number of bonus offers, which can be another effective way to earn money for free.
Kinds of Bonus Offers
These offers may involve downloading apps, participating in free trials, or signing up for different websites. The number of points earned depends on the offer.
Bonus Offers Are (Mostly) Free
The S'More app is free to download and use and, according to the company, most bonus offers are also free to complete.
The kinds of offers served up varies, though, and it's possible some might require a purchase of some kind. However, it's up to you to decide if you want to partake of those offers or not.
S'More is a lock screen app for Android phones that lets you earn points toward gift cards just by having the app installed, as well as offering opportunities to earn more points.
Earn Points by Referring Friends
Referring friends is another way to earn points with the S'More app.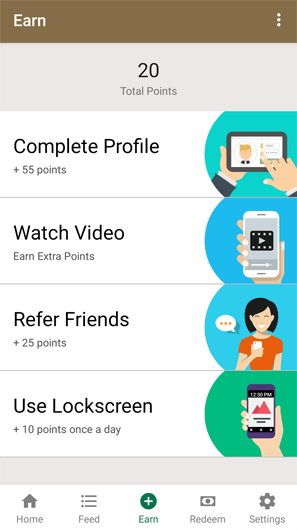 How Much Can You Make?
You'll earn 25 points for each person who signs up to the app using your referral code.
If you have a large network of friends or family to draw upon, this could get you a healthy amount of points. Forty referrals, for example, will net you 1,000 points, or 10 dollars. This could certainly be achievable if you're well-connected.
You Won't Get Points Right Away
Keep in mind that the individual who uses your referral code must keep the app installed for at least 10 days before you get your 25 bonus points.
Your referrals will also receive a bonus for using your referral code, giving them some incentive to use your code.
There is no limit to the number of times your referral code can be used.
Redeeming Your Points
With the S'More app, your rewards come in the form of gift cards for major retailers, restaurants and movie theaters, including some pretty big names.
Where Can You Spend Your S'More Points?
The mix of gift cards you can choose from changes from time to time, but typical retailers include:
Amazon
AMC
Applebee's
Best Buy
CVS
Dominos
GameStop
Google Play
Starbucks
Target
Feeling Charitable?
If you're feeling charitable, there is also an option to donate your point balance to Boys and Girls Clubs of America.
Minimums, From Low to High
There is a minimum withdrawal limit for each retailer, so it's important to keep this in mind and understand what the minimum is if you're gunning for a particular gift card.
The lowest limit is 100 points for a $1 Amazon gift card, with the highest being 1000 points for $10 to spend in the Google Play store.
Customer Service Issues
Although S'More is a legitimate app that has pleased some users, it seems to have a history of broken promises.
Low App Rating
On Google Play, the app is rated 3.1 out of 5. There are a great many complaints from people who are no longer getting their daily 10 points credited, and a lot of them say the problem started just as they were about to earn enough points to redeem a gift card.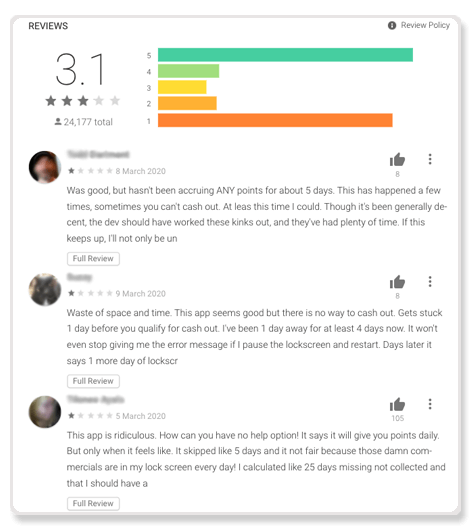 Lack of Response
There's no in-app help feature, and users report a lack of response when they email the company. S'More hasn't posted any responses to complaints on Google Play.
Lack of Social Media Presence
The company's last post on Facebook was from September 2018, and that was about an "inventory issue" they were having with Amazon gift cards. Considering the gift cards are delivered electronically, it's hard to understand how they could run low on inventory.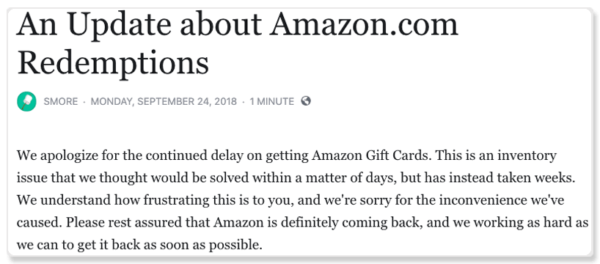 There are numerous complaints posted on the Facebook page, none of which have received any kind of response.
S'More Pros and Cons
S'More Pros
Free. The S'More app is free to download with no in-app purchases or paid upgrades to contend with.
Low effort. You earn points every day even if you never interact with the app.
Earn more points. The app offers ways to earn additional points if you want to.
Unobtrusive ads. Ads are displayed on the lock screen and within the app itself, but you'll never be forced to view or click on an ad to earn points.
S'More Cons
Lack of customer service. The S'More customer service team appears MIA, even though complaints are numerous.
Gift cards only. There is no cash back option.
Extra points may be hard to get. The options for earning more points may or may not actually be available to you.
Potential earnings are low. Videos are worth just half a penny each, and surveys may pay as little as five cents.
Access to personal information.  By downloading and using S'more, you are giving it access to your personal information.
So Is S'More Worth It?
The earnings potential of the S'More app is not impressive. Its main selling point is that you can earn points by doing very little.
What You Can Earn
You can get $36 worth of gift cards every year for just going about your daily business, as long as you're willing to see an ad every time you unlock your phone. You might consider that a nice little low-effort perk.
Additional Ways to Earn
You can make a few more dollars by watching video ads (half a point point each) and taking marketing research surveys (5 to 100 points each), as long as they are available and you are eligible. User comments suggest there are dry periods when videos and surveys are not offered.
And from time to time you may pick up extra points by accepting bonus offers that require a bit more work, like downloading an app or participating in a free trial. As with videos and surveys, these may or may not pop up.
How to Earn S'More Rewards

| How to Earn S'More Rewards | Minimum Amount of Points Earned |
| --- | --- |
| Download the app | 20 points |
| Unlock your phone | 10 points per day |
| Take surveys | Depends on the survey |
| Watch video ads | 1 point per two video ads watched |
| Refer friends | 25 points per referral |
| Accept bonus offers | Depends on the offer |
The Bottom Line
Given the high level of frustration expressed by users, the lack of customer service provided by the company, and the relatively small earning potential, we can't give S'More a strong recommendation as a money-making app.
But if you don't mind looking at ads and like the idea of earning an annual meal out by doing nothing more than unlocking your phone each day, you might want to give it a try.
Minimum Daily Earnings
10 Pts
Your daily 10 points are worth 10 cents.
Fees and Other Offers
Mostly Free
S'More app is free to download. Most bonus offers are also free to complete.
Minimum Withdrawal Limit
100 Pts
Lowest limit is 100 points for a $1 Amazon gift card.
S'More Frequently Asked Questions
What kind of app is S'More?

S'More is a screen lock app that shows you ads on your Android phone's lock screen.

Can I use S'More on my iPhone?

S'More is only available for Android phones, because Apple doesn't allow developers to control the lock screen.

How do I earn points with S'More?

You earn points just by unlocking your phone each day. You can take surveys, view video ads, and refer friends for more points.

What can I get with S'More points?

You can redeem S'More points for gift cards for select retailers.

Is S'More legit?

S'More is legit, but users report a lot of problems and customer service is nonexistent.
Logan Allec, CPA
Logan is a practicing CPA, Certified Student Loan Professional, and founder of Money Done Right, which he launched in July 2017. After spending nearly a decade in the corporate world helping big businesses save money, he launched his blog with the goal of helping everyday Americans earn, save, and invest more money. Learn more about Logan.