Survey Junkie Review 2023: Here's EXACTLY How Much I Made!
Online Surveys
Basics: Survey Junkie is a survey company owned by consumer insights platform DISQO. When you take surveys on the platform, you are paid in your choice of cash (via PayPal) or gift cards.
Pros: Good user interface and low redemption minimums.
Cons: I only made $3.18 in the hour I spent taking surveys, and I did get one bad survey that wasted 10 minutes of my time before telling me that I was disqualified.

Payout Options

PayPal, Gift Cards, Bank Transfers (all $5 minimum)

Our Earnings

$3.18/hr

Mobile App

Yes, Android and iOS

Sign-Up Bonus

None
Survey Junkie is a paid survey platform that rewards users for taking surveys that Survey Junkie has aggregated from market research companies.
While the redemption minimum of five dollars is one of the lowest around, and you can redeem for cash via PayPal, there are some downsides of Survey Junkie that you should know about before jumping in.
To find out if Survey Junkie is worth it or not, I actually spent an hour of my time taking surveys on Survey Junkie.
If you'd like to see me do that before reading this Survey Junkie review, check out the YouTube video below of me taking surveys at Survey Junkie!
Survey Junkie Features
Survey Junkie is a pretty typical survey site, offering rewards in return for taking surveys on both a desktop and mobile app version.
BeFrugal Features
Payout Options
PayPal, gift cards, bank transfer
Minimum Payout
$5
Mobile App
Yes
Shows Time Estimates
Yes
Browser Extension
Yes
Qualified Survey Payment
$0.20 - $2.00 (in my experience)
Disqualified Survey Payment
$0.03
Signup Bonus
None
Referral Bonus
None
Payout Bonuses
None
BBB Rating
B
Trustpilot Score
4.5
Phone Number
(949) 743-3217
Address
800 N Brand Blvd #2100

Glendale, CA 91203-1245

Website
surveyjunkie.com
Signing Up for Survey Junkie
Survey Junkie's signup process is relatively seamless.
You visit their website, click "Join Now", enter your email address, click the box to agree to the Survey Junkie Terms and Privacy Policy, and then click "Sign Up".
Top Pick
Survey Junkie
As far as survey companies go, Survey Junkie is one of the more reputable companies. They also pay out in cash via PayPal.
Pros:
Good user interface

Low redemption minimums

Easy way to make a little bit of extra cash every month
Cons:
Low hourly rate compared to a regular job

Some surveys take too long to disqualify you
You can also use Facebook to sign up as well.
Note that there is no double-opt in for Survey Junkie.
After this, you are taking to a short initial survey that asks for the following information:
Your ZIP code
Your country
Your date of birth
Your gender
Your name
A password of your choice
Then you click the button "Log In and Start Earning".
After I completed this step, I received 25 points for signing up.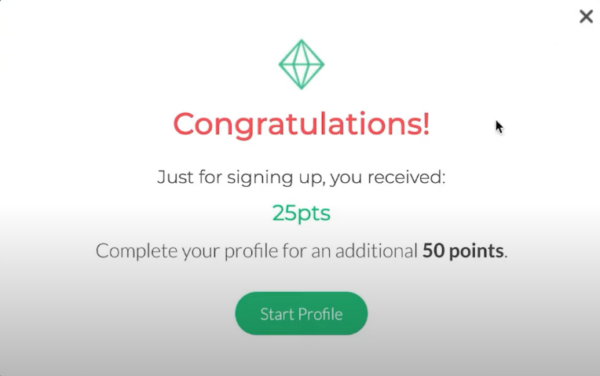 You're then asked to complete an initial profile survey for 50 points. This profile survey asks you the following questions:
What pets you own
How much of your household's grocery shopping you do yourself
Your living situation
Your marital status
Your race
Whether you speak Spanish
Whether you are of Hispanic, Latino, or Spanish origin
Whether you have children and if you do their genders and ages
The highest level of education you have received
Your household income level
Whether you are a registered voter as well as your political affiliation
Your employment status
The industry or profession in which you work
Your job title, level, or responsibility
The number of employees that work at your organization in all locations
After you answer this initial profile survey, you are given 50 points.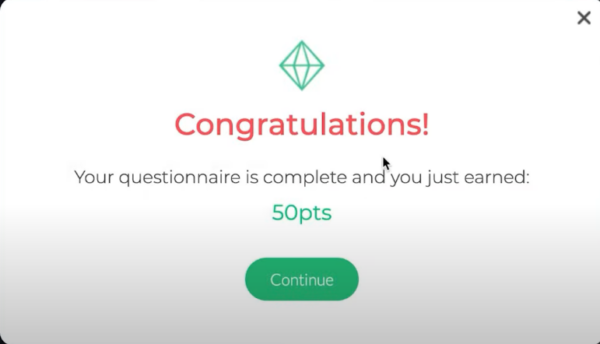 After you sign up, you're ready to start taking surveys.
I will now tell you about the surveys I took and my opinion on their quality.
User Interface
I found Survey Junkie's user interface to be appealing, simple, and straightforward.
On the left-hand side of the screen, you can easily see how many points you have and how much they are worth in dollars and cents.
In the main part of the screen you see all the surveys you can take, along with their point value and how many minutes Survey Junkie estimates each will take you.
Survey Quality
So are Survey Junkie's surveys good?
Well, overall, Survey Junkie's survey quality was above average. I qualified for the majority of surveys I took, and the ones I qualified for were fairly interesting and did not take too long.
I did, however, have a couple bad experiences that completely wasted my time.
Example of a Good Survey
One good survey I took was for 50 points and the estimated time to complete was 10 minutes.
It was a shopper survey that asked me about recent furniture purchases.
I completed the survey in 12 minutes and ten seconds and was awarded fifty points.
Although the survey took me a little bit longer than the 10-minute estimated time to completion, it wasn't by much.
Example of a Bad Survey
One bad survey I took was for 35 points and the estimated time to complete was five minutes.
It was about my activity levels and the degree to which I participate in sports and exercise.
It then asked me if I drink sports drinks. I answered no, and then the survey told me I did not qualify, but Survey Junkie still gave me three points.
I spent five minutes and fifty-two seconds on this survey before I was told I was disqualified.
How Much Does Survey Junkie Pay?
Survey Junkie paid me $3.18 for an hour of time taking surveys. In my experience, this is about average for survey companies, but note that I could not cash these earnings out until I had accumulated at least $5.00 of earnings within Survey Junkie.
However, it should be kept in mind that this amount included the bonus 25 points I received for signing up as well as the bonus 50 points I received for completing my profile.
Also remember that I specifically selected the surveys that would pay me the most for my time. If I were to spend 8 hours straight taking surveys, the quality of surveys I would be presented with would likely deteriorate, causing me to potentially earn less than three dollars per hour.
Is Survey Junkie Legit?
The question of whether a survey company is legit is a different question than whether a survey company pays well.
A survey company can pay very little but still be considered legitimate insofar as it pays as promised, does not make misleading promises, and does not spam users.
Using this definition of legitimate, Survey Junkie is legit.
Better Business Bureau
Survey Junkie is listed with the Better Business Bureau with a "B" rating.
The Better Business Bureau (BBB) has been in operation since 1912 to verify trustworthy businesses.
Any business which is listed with the BBB is not a scam, and it is not easy to get listed with them.
The BBB also serves to function as a third party resolution authority and has rated a total of 4 million businesses using its rating system.
The BBB rating system ranks businesses from A to F, with some listed business that are not rated (NR).
The components that go into the BBB rating model include unresolved complaints, the total number of complaints, age of business and general trustworthiness.
TrustPilot
Survey Junkie has aa 4.3 rating on Trustpilot, which is quite high for a survey site.
Here are some of the Trustpilot Reviews, of which there are over 28,000 pertaining to Survey Junkie.
Sherri Richardson: "I take Surveys on Survey Junkie! I love it. It is fast and easy to make a little cash and give my honest opinion on just about everything important to consumers"

Amber Peterson: "This site actually pays and they have legit surveys!!! They even pay you (only a couple points) if you try to do the survey and you don't end up qualifying. This is one of the few legit paying survey sites!"

Allison K.: "This site pays out. You do have to accept a phone call follow up before you can cash out, which is uncomfortable for those like me who hate phones. The person who called was friendly. I don't qualify for lots of surveys on this or other survey sites due to my lifestyle, but the disqualification points are satisfactory and worth my time as a disabled person who can't work. I feel like doing surveys is a job of sorts and gives me something to do"
How Survey Junkie Makes Money
Market data is paramount in the information age.
Companies need information on customer trends and patterns.
And this is essentially how survey sites make their money.
Effective surveys collected through reputable survey sites such as Survey Junkie are sold to these companies with full consent and transparency.
Surveys Fulfill a Market Need
So the surveys are used to fulfill a valid market need so companies can create better products.
Companies hire survey sites to distribute the surveys to customers, and it is a fair deal for all once customers can secure a reputable site instead of a scam, which are common in the field.
It is easier for them to outsource this role to survey companies than to organize it themselves, as survey panels will already have a pre-existing group of customers who are looking to fill out such surveys for extra cash.
Companies Are in Desperate Need of Consumer Opinion
Survey companies really do need the opinion of customers.
This makes sense.
Data is money, and Google and Facebook are known for harvesting customer data for market insights.
Android applications are also known for malware breaches and sending unsecured data to third party companies.
With Survey Junkie, you will be dealing with reputable surveys who have transparent and consistent policies regarding the information.
Survey Junkie Connects You to Many Survey Providers
Technically, Survey Junkie is not the survey provider.
It serves as an intermediary which connects customers with surveys.
So they are not directly involved with the surveys and you will be responsible for the terms and conditions of each individual survey you wish to complete.
While this can sometimes be a danger from a data perspective, Survey Junkie has a strict data policy and do not use any personal information.
When you join up with Survey Junkie, they will supply you with a list of surveys to join.
It functions more like a dashboard where you can choose what surveys you would like to take part in, consolidating all available surveys in one convenient location
Examples of the survey panels offered by Survey Junkie include Toluna, Harris Poll, and Mintvine.
Survey Junkie Feedback
The best way to evaluate any company on the internet is through unbiased reviews completed by customers.
This will give the best indication that the company you are dealing with is legitimate, and scams can quickly be brought to light.
In this regard, Survey Junkie ranks exceptionally well.
On-Time Payments
For those who earn more than 1000 points, a cash reward of $10 can be accredited to a PayPal address.
One point is equal to one cent.
They are known to pay on time without any problems.
Very Few Negative Reviews
There are some negative reviews of Survey Junkie, but most of these are likely unfounded.
People are far likely to post negative reviews than positive reviews.
However, there are some legitimate reviews.
Possible Upselling
Some users complain about the upselling completed by Survey Junkie.
After customers join the Survey Junkie panel, they are led to a paid site where users can sign up to if they wish.
And the second criticism is that Survey Junkie asks for user information even though they are not actually a survey panel themselves, more like middlemen.
Completely Free to Use
But on the other hand, Survey Junkie is a completely free site to use.
They are obviously going to upsell and promote in some fashion.
So these are not actually legitimate complaints relating to company operations.
The company has to make money, much like all others, and users are not required to sign up to the paid site or indeed pay any money at all.
If users are getting spam, they can just block the email.
Ironically, if a survey site has no ads or promotions and does not ask for your email, it is more likely to be a scam than a legitimate company.
Verification Can Take a While
The most common criticism of Survey Junkie is that sometimes verification can take a while before cashing out for the first time.
But the support team is very active, and you can get in touch quite quickly.
The majority of the negative reviews are also from people who have a problem, immediately post a negative review, and fail to get in touch with the customer service team.
Sample Survey Junkie Reviews From Around the Internet
All in all, the reviews are very positive and there are little criticisms of Survey Junkie.
They are among the best survey operators, well established and with a good reputation.
They are certainly not a scam and are an excellent way to make money for those considering some extra cash.
Is It Possible to Make Money with Online Surveys?
It is possible to make money with surveys, sometimes up to $200 per month.
Surveys are actually one of the quickest ways to make money online, if done correctly, with the right company and discipline.
You Will Make Money, But You Won't Get Rich
It is not a get rich quick scheme by any means.
But the pay is regular, and accounts are always credited.
It is not a full-time job, though there are people who sign up with good survey sites and make a decent and regular income from this type of activity.
Importance of "Sticking With It"
Again, finding the right site and sticking with it over time is a key element.
Survey Junkie reiterate on their site that customers will not get rich by taking surveys, but with commitment and regular participation it is easy to earn some extra cash.
There is a large number of legitimates survey sites online and a wide variety of testimonials with regard to these sites.
How Does Survey Junkie Pay?
Aside from a straight cash reward, which is the most common and sought-after kind of reward, there are also a number of gift vouchers, products, prize draws and chances to win items such as holidays, iPads and smartphones.
Different sites also offer different types of surveys, as some can be boring or tedious compared to others.
Sites that promise $500 a month easily and beyond are most likely scams.
And for most surveys, you won't be making near minimum wage, closer to $4-$6 an hour, though this can vary considerably.
When survey sites indicate how much you could make, it is often a huge exaggeration, listing the best case scenario using the best prices.
What you could make is always going to be far higher than what you can reasonably expect to make, an entirely different yet more likely scenario.
While the possibility of earning an extra $250 is enough to get most people to try it out, the more realistic scenario of earning $100 for the same length of time would deter most people, if they were aware of it.
Survey Junkie Lets You Know How Long Surveys Will Take
On the flip side, Survey Junkie lists the better type of surveys which pays the most, and is a premier site in terms of quality of survey as well as speed of payment.
There are surveys which pay $50 that are estimated to take around 2.25 hours to complete.
This amounts to nearly $25 per hour for one survey.
While not all surveys are like this, they do come up now and again, and those who are regularly completing surveys are more likely to stumble across them.
Similarly, while most of the surveys can be quite tedious, every now and again it is possible to get an interesting survey on a matter you enjoy looking asking questions about.
Be Careful Which Survey Site You Choose
When you are considering a survey site, remember if it sounds too good to be true, it most likely is.
There is a lot of competition among such companies and a variety of dubious actors.
How to Spot a Survey Scam
Always remember to avoid sites where you have to pay a membership fee in advance.
This is often the first sign of an illegitimate site.
They frequently advertise exclusive access to an exclusive list of surveys, which are actually readily available online in most cases.
Thankfully, Survey Junkie is free and always will be.
Avoid Membership Survey Sites
Some survey sites try to trick people into buying another membership for another list, which is the exact same list.
They can even link to competitor sites which have the same list because they get a referral fee.
Aside from wasting your time and energy, there is another component to choosing the right survey site.
While many marketing sites are bound by industry standards not to use your data in any kind of unethical way, some of the middlemen do not make such promises and do not have to honor basic marketing practices.
Avoid Membership Survey Sites
By the mere act of joining such a site, you may have given the site and all of its marketing partners the opportunity to solicit you.
Personal information is very valuable to these companies, with data being described as the new oil.
The US Federal Trade Commission limits unsolicited marketing calls, but when they are perceived to be solicited, then customers are marketing prey.
It can help to be aware of some general online security techniques and to get informed on your digital privacy rights when participating in online surveys.
Survey Junkie Pros and Cons
Pros
Pros
Decent user interface: You are presented with all your surveys on-screen (no endless scrolling).
Up-front survey transparency: For each survey, Survey Junkie tells you how many points it's worth as well as approximately how long it will take you to complete.  Personally, I found the time approximations roughly accurate.
Low redemption minimum: Once you reach five dollars in rewards, you can cash out.  Some survey companies have very high redemption minimums, which makes it almost impossible to cash out.
Survey quality: The surveys were fairly interesting and well-organized.
Non-qualifier points: Even if you don't qualify for a survey, Survey Junkie still gives you two or three cents for attempting it.  Not all survey companies do this.
Cons
Cons
Some bad surveys: I spent 10 minutes taking a survey about baby strollers only to be told at the end that I did not qualify.  In my opinion, this is a poorly-designed survey; it should have disqualified me up-front before I had to waste 10 minutes of my life.  Hopefully, in the future, Survey Junkie does a better job of weeding out bad surveys like this.
Less than minimum wage: I made $3.18 for the hour I spent taking surveys on Survey Junkie.  While this can be OK if you're just planning on taking surveys while watching TV or something, it's obviously not something you can live off of.
Why Survey Junkie
Online surveys sites are a legitimate way to make money online.
Unfortunately, the area is rife with scams.
And of the survey sites that are not scams, most of the rest perform poorly and it is difficult to make any substantial earnings.
Survey Junkie is one of the few survey sites which is proven not to be a scam, and which has an incredible track record on Trustpilot topping 28,000 reviews.
You can be sure your data is safe, that you will get compensated, and that you are in fact getting access to the best online surveys.
If you think that online surveys are a good way to earn some extra cash, at least with Survey Junkie you can rest easy knowing that it is safe, and among the most highly regarded online survey sites.
Author:
Logan Allec, CPA
Logan is a practicing CPA and founder of Choice Tax Relief and Money Done Right. After spending nearly a decade in the corporate world helping big businesses save money, he launched his blog with the goal of helping everyday Americans earn, save, and invest more money. Learn more about Logan.