Updated
December 03, 2021
NFT Projects December 2021: What I'm Looking At This Month
Cryptocurrency
These are the NFT projects that I'm participating in or thinking about participating in for December 2021.
If you're new to NFTs, check out these general reminders that go for all NFT projects:
In order to get the latest information about an NFT — such as details of how to actually get the NFT on the mint date — you generally need to join the NFT's Discord server (which is 100% free and does not obligate you to purchase an NFT). In this article I give you a link to join the Discord server for each NFT project I mention unless a Discord does not exist.
Scams abound in the world of NFTs. You will likely get direct messages in Discord from scammers trying to pose as the NFT creators or administrations. Ignore these direct messages. Most of the time, NFT creators will explicitly stated in their Discord channel that they will never direct message you. I would even go so far as to suggest you just turn off direct messaging in your Discord by going to Privacy & Safety under Preferences and deselecting "Allow direct messages from server members".

In order to purchase an NFT, you will need a wallet for the network the NFT is built on, with VeVe being an exception. Below I have indicated which network each NFT is built on. Here are the wallets I use for each network:
Also — and forgive me if this is obvious — you will also obviously need to purchase the relevant cryptocurrency on an exchange and send it to your wallet in order to purchase the NFT as well. Personally, I use Binance to purchase my cryptocurrency and then send it to wherever I want to send it, be it to a wallet to purchase an NFT or to another exchange where I can earn interest on my cryptocurrency.
IMPORTANT: Later this year, Coinbase will be launching its own NFT platform. This will be HUGE for the NFT space — I truly believe that there will be a second NFT gold rush once Coinbase opens the floodgates of NFTs to the masses, just like it did with Bitcoin back in 2012. Because Coinbase knows that demand will be extremely high for its NFT platform, it has a WAITLIST for those who want to get in. You can join the waitlist here and get ahead of the masses. It doesn't cost anything to join the waitlist; I'd recommend you do so immediately even if you're not sure that you are interested. It really doesn't hurt.
HAPEBEAST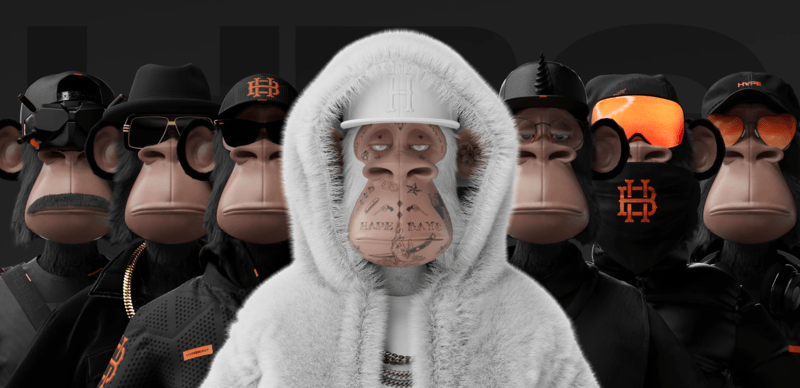 HAPEBEAST is an ethereum-based project consisting of 8,192 digital apes that will launch later this month.
Learn more about HAPEBEAST in this article.
OverCloudz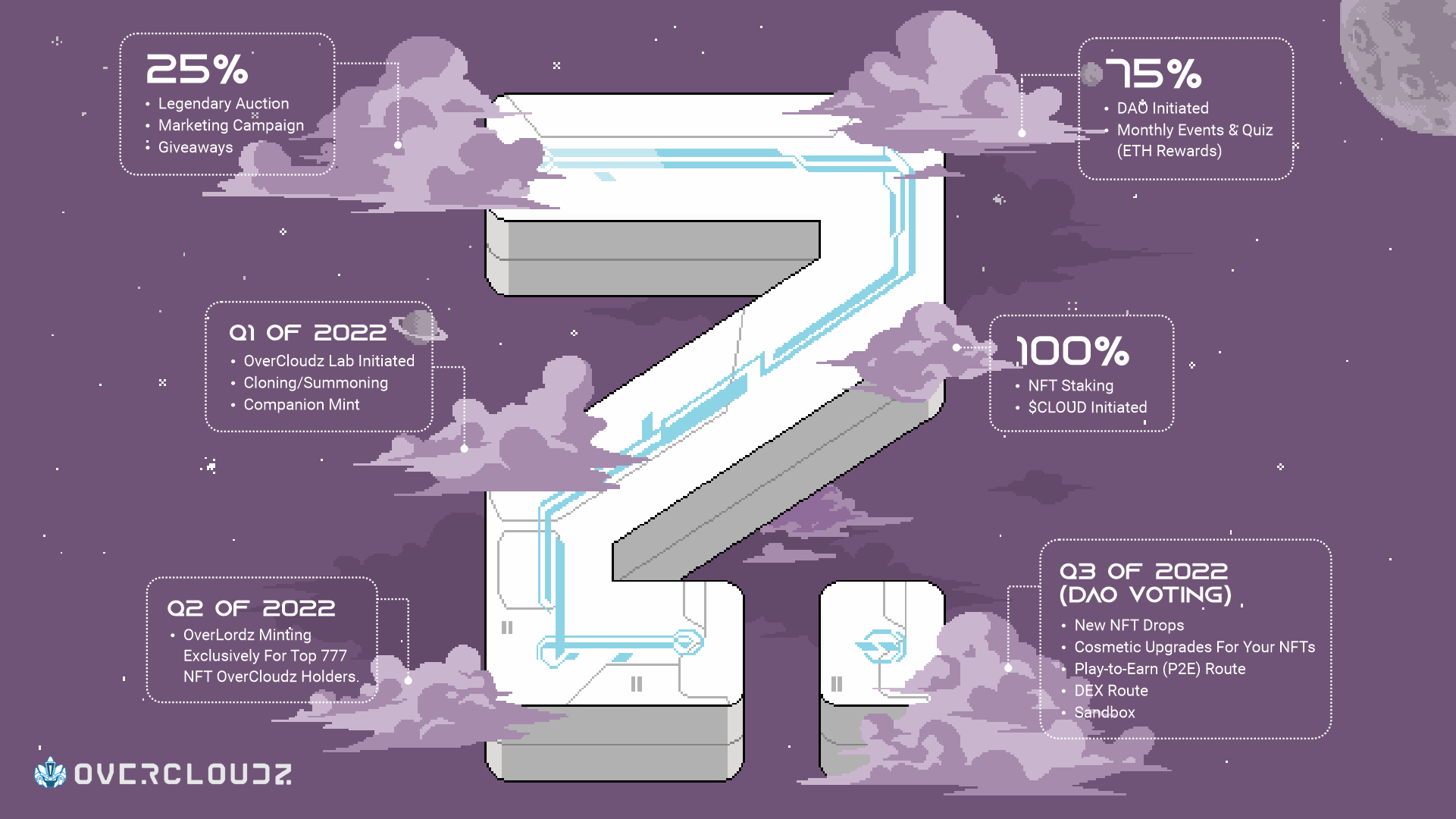 OverCloudz is an ethereum-based pixel-art project consisting of 7,777 "cloudz" that generate $CLOUD token.
Of these 7,777 cloudz, seven are "legendary".
Learn more about OverCloudz in this article.
Old Projects
Disney "Golden Moments"
During the second week of November Disney launched its first-ever NFTs that included iconic brands such as Pixar, Star Wars, and Mickey Mouse.
These pilot Disney NFTs are known as the Golden Moments collection.
This is huge for the NFT space in my opinion!
I'm such a big believer in this project that I bought every one of the 11 NFTs in this set.
Learn more about this project — as well as what I paid for it — in this article.
BearX
Mint
3,700 Bears
+ Mini-Bears
My friend Michael told me about this Ethereum NFT project. By design, it's low-key with not a lot of marketing involved.
The first whitelist competition was kind of a bust because so many people wanted to get in, but the Discord crashed.
Finally, after waiting a couple hours for them to get it working, the whitelist competition happened.
You had to hand draw a bear with their full discord name and !chomp below it and upload this image to the whitelist competition discord channel. The first 500 people who drew a bear and followed the instructions got a whitelist.
Here is my entry: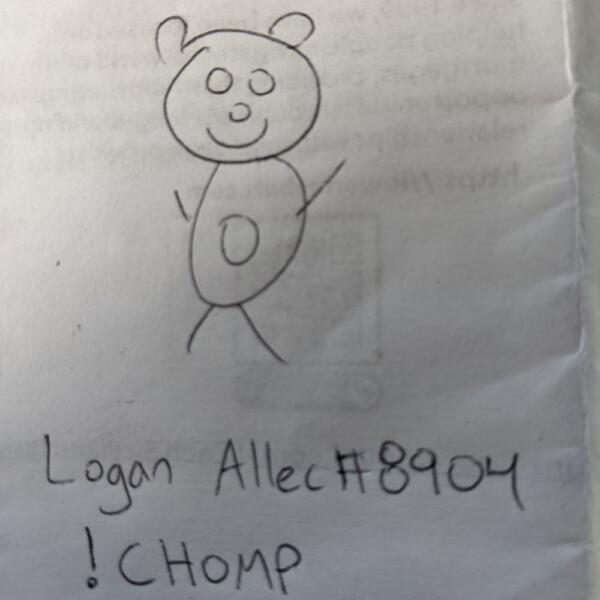 And guess what? I got whitelisted! I have no idea how because it seemed that my image failed to upload, but I guess it worked.
The whitelist is now closed, and the mint has now happened, but you can still buy BearX NFTs on OpenSea.
(Personally, I bought the maximum of two BearX NFTs on the mint and six subsequently on OpenSea.)
I believe that the BearX NFT project has a lot of potential because:
Each BearX NFT generates 10 ROOTx token per day — an actual cryptocurrency that can be traded on Uniswap (can you say passive income?).
The community is just plain awesome and loves their bears.
BearX just announced a huge partnership with the major cryptocurrency exchange Binance. This is the first long-term NFT partnership that Binance has entered into!
We are happy to announce the start of our partnership with @bearx_NFT! 🐻

To kick things off, you can find their one of a kind bear collectibles on the Binance NFT marketplace here! 👇https://t.co/7wMQAsIkNq

There's alot more to come, so watch this space 👀 pic.twitter.com/FgpnTKxvGR

— Binance NFT (@TheBinanceNFT) November 17, 2021
I mean, love it or hate it, Binance is a massive player in the cryptocurrency space, and I think this partnership bodes well for BearX.
Learn more about the BearX NFT in this article.
The Doge Pound
Mint
10,000 Doges
+ Puppies
The Doge Pound is, in my opinion, a blue-chip NFT project with massive potential.
Perhaps its most innovative feature is its launchpad.
Through The Doge Pound launchpad, celebrities and other influencers can launch their own NFT projects.
In return, The Doge Pound community gets early and even whitelist access to these projects.
For example, I was recently able to get whitelisted on the much-anticipated JRNY Crypto NFT project simply because I held a Doge Pound NFT.
There's a lot more to know about The Doge Pound — learn more in this article.
JRNY NFT
Mint
November 22
Unknown Quantity
Cost
0.5 - 1.0 ETH?
Plus Gas
Tony A.K.A. JRNY Crypto is a respected crypto YouTuber who is now launching his own NFT.
And this isn't just an NFT; it's a ticket to an ecosystem that gives owners access to:
Future JRNY NFT sets
Private community chats and announcements
Exclusive NFT videos
Early access to partner NFT projects
And this list is by no means exhaustive.
The JRNY NFT economy is going to be massive, and I haven't been more excited about any one NFT project in quite some time — learn more about it here.
Bounty Hunter Space Guild
Oh man, I am very excited about this Solana NFT that will launch on November 20, 2021.
The team has created a lot of buzz surrounding the project with a cool Star Wars-inspired lore, a well-developed road map (you can read more about it in the project's Discord), and pretty sick art.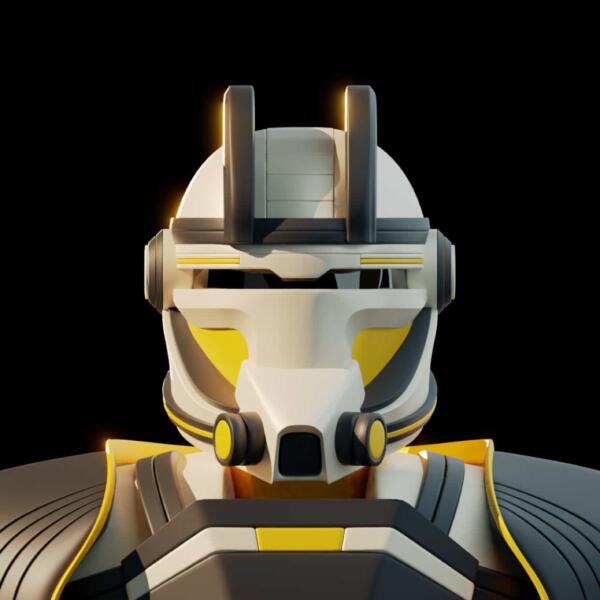 I can't wait to get my hands on one of these babies.
And the best thing? Bounty Hunter Space Guild gives away free NFTs from time to time through in-Discord games.
This is pretty significant for a project with a mint price of one to three Solana, which comes out to $200 – $600.
NFTs Unlocked is the exclusive NFT community and training program I'm a member of.

I've found some of my most profitable NFT opportunities through this membership!

And for a limited time, you can immediately get a $200 discount off your membership with my promo code MDRNFT.

I'll see you inside!
Solana Slugs
I heard about this no-whitelist Solana NFT project from the BitBoy Crypto YouTube channel. It was supposedly a free mint, but then things got sketchy fast.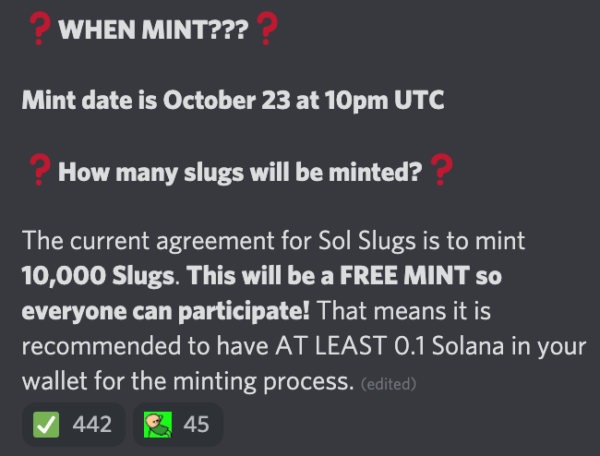 Ten minutes before the mint time, Solana Slugs dropped a link on their Twitter to the Solana Slugs mint site.
OUR MINTING SITE RIGHT HERE:https://t.co/Cd1JSZSVUT

CONNECT YOUR WALLET AND GET READY!

🚀🚀🚀🔥🔥🔥🐌🐌🐌

— Solana Slugs | MINT TODAY 10PM UTC (@SolSlugsNFT) October 23, 2021
OK, fine. So I go to the site and connect my Solana burn wallet in Phantom.
At the mint time, I click "MINT", and I get an error that the "mint failed". I tried again — same thing, "mint failed".
Then I see that Solana Slugs has posted on their Twitter to send 0.2 SOL to a certain address to confirm you're not a bot.
Attention Slugs!
Our minting protocol is not working properly but we still have 673 Slugs left!🐌
To mint them securely just send 0.2 SOL to this address:
CDsbHnBwFpUVYf7BZcmWpd7pUjLXm7QNt5eDrwhWBpbc
to confirm you are not a BOT.
Your SOL will be sent back with NFT, thank you!

— Solana Slugs | MINT TODAY 10PM UTC (@SoISlugsNFT) October 23, 2021
At that point, the whole thing felt a bit too sketchy for me. I didn't send any SOL to that address and guess I won't be participating in this NFT project.
Booberts
Mint
10,000 Ghosts
10/29/21
I heard about this Cardano NFT project from the BitBoy Crypto YouTube channel.
This NFT has 10,000 ghosts with various traits based on Halloween characters such as cats, devils, mummies, and witches.
Flashing rainbow is ultra rare — only 19 Booberts will have a flashing rainbow — and only 10 Booberts will have a "complete matching trait set," which I take to mean that there will only be one Boobert with all the traits of a cat, one Boobert with all the traits of a devil, etc.
There is no whitelist — I'm not sure theCategoriesy even need one with this many Booberts being minted — but there is an invite contest with the following prizes:
Invite Contest 1st Place: Free Boobert NFT + 50 ADA
Invite Contest 2nd Place: Free Boobert NFT + 30 ADA
Invite Contest 3rd Place: Free Boobert NFT + 20 ADA
Invite Contest 4th – 10th Place: Free Boobert NFT
So if you'd like to help me out with the invite contest and join the Boobert discord where you can get all the information you need about the mint, use my invite link here.
McDonald's McRib NFT
i present to u the most important NFT. RT for a chance to win one of ten exclusive #McRibNFT

no purch. nec. 50 U.S./DC, 18+ only. winners need crypto wallet to receive NFT. rules: https://t.co/2QRhsPlpur pic.twitter.com/KYmWI67PhG

— McDonald's (@McDonalds) November 1, 2021
Well, McDonald's — like many brands — is getting into the NFT space.
And unlike most NFTs, this one is completely free — and also gives you a McRib NFT.
In order to win, you simply need to retweet the from your personal Twitter account by midnight Eastern Time on November 7.
You will need an Ethereum wallet to accept the NFT if you win. No purchase of Ethereum is necessary, so you might as well give the tweet above a nice retweet to enter this sweepstakes.
CyberTrees
Whitelist Mint
3,200 Trees
11/12/21
Cost
0.07 ETH
Plus Gas Fees
I heard about this Ethereum NFT project from the BitBoy Crypto YouTube channel.
You get CyberTrees whitelist access by being one of the first 3,000 users to invite at least 10 people — so use my invite link *hint hint* — and the top 10 users with the most invites will earn access to the ability to mint 10 CyberTrees
The Cardanival
I heard about this Cardano NFT project from the BitBoy Crypto YouTube channel.
The theme here is "carnival wonders."
They recently posted that their develop has encountered some technical problems but is back on track now. Although that's a little bit concerning, I appreciate their honesty.
The Cardanival does not yet have a minting timeline, so stay tuned to their Discord for more information.
Author:
Logan Allec, CPA
Logan is a practicing CPA, Certified Student Loan Professional, and founder of Money Done Right, which he launched in 2017. After spending nearly a decade in the corporate world helping big businesses save money, he launched his blog with the goal of helping everyday Americans earn, save, and invest more money. Learn more about Logan.