Updated
February 25, 2022
Upcoming NFT Projects I'm Looking At Right Now
Cryptocurrency
These are the NFT projects that I'm participating in or thinking about participating in in the near future.
Note that I generally do full-scale writeups on larger NFT projects that you can find here.
This article is specifically about under-the-radar projects.
If you're new to NFTs, check out these general reminders that go for all NFT projects:
In order to get the latest information about an NFT — such as details of how to actually get the NFT on the mint date — you generally need to join the NFT's Discord server (which is 100% free and does not obligate you to purchase an NFT). In this article I give you a link to join the Discord server for each NFT project I mention unless a Discord does not exist.
Scams abound in the world of NFTs. You will likely get direct messages in Discord from scammers trying to pose as the NFT creators or administrations. Ignore these direct messages. Most of the time, NFT creators will explicitly stated in their Discord channel that they will never direct message you. I would even go so far as to suggest you just turn off direct messaging in your Discord by going to Privacy & Safety under Preferences and deselecting "Allow direct messages from server members".

In order to purchase an NFT, you will need a wallet for the network the NFT is built on, with VeVe being an exception. Below I have indicated which network each NFT is built on. Here are the wallets I use for each network:
Also — and forgive me if this is obvious — you will also obviously need to purchase the relevant cryptocurrency on an exchange and send it to your wallet in order to purchase the NFT as well. Personally, I use Binance to purchase my cryptocurrency and then send it to wherever I want to send it, be it to a wallet to purchase an NFT or to another exchange where I can earn interest on my cryptocurrency.
Want to Make Money With NFTs?
Degen Den is the brand-new exclusive NFT community that I founded.

In this community, you get access to:

• A private Discord community of likeminded NFT profiteers
• Whitelist opportunities to hyped NFT projects
• Early intel on what NFT projects I will be covering on my NFT-focused YouTube channel
• And a lot more!

I'll see you inside!
Related: How to Turn $500 Into $50,000 With NFTs in 2022
Important: Obviously we've all heard the news of the Russian invasion of Ukraine, and I do want to remind you all that especially in turbulent economic times, NFTs are an extremely speculative asset class. And when people are scared — when there is economic fear globally — typically investors sell their most speculative assets first to double down on things they feel are more secure. I say this all the time — nothing here is financial advice, and you absolutely must do your own research.
Capybaras Country Club NFT
So Capybaras Country Club is an NFT project whose goal is to "provide the first country club experience in the Sandbox."
They have a very easy-to-follow whitepaper, so I'm basically just going to go through that.
So just like with real-life country clubs, the word here is "exclusivity." Capybaras wants to "create an exclusive pass for members to access experiences, games, and private zones inside The Sandbox."
There will be 7,700 unique capybaras, each fully animated.
There will be over 200 traits and four different types:
Natural Capybaras, which are common rarity
Robot Capybaras, which are uncommon rarity,
Slime Capybaras, which are rare
1/1 Capybaras, which are the most rare i.e. legendary
So I think the art is cute. It's pretty simple in my opinion, but that's OK because I think it meets a minimum acceptable quality and really the bent of this NFT is in the experience and not so much the art. Let me explain.
So the country club will be in the Sandbox. They do want to acquire four LANDs in the six-month short-term, nine lands in the one-year mid-term, and eighteen lands in the two-year long-term. Two Sandbox lands have already been purchased. Here is the Capybaras Country Club Sandbox profile where you can see the two lands.
And these are just their ambitions with the proceeds of the NFT mint; they say they want to increase their Sandbox land holdings through various forms of income including gambling zone commissions, entry fee from the gaming zones, royalties, and future investors.
So now let's talk about the country club itself. It will contain three different zones: a gambling zone, a gaming zone, and the VIP zone. So let's talk about each of these.
The gambling zone will be free to access to anybody willing to bet their $SAND tokens to play in the gambling games in the gambling zone. There is a fee charged on users each time someone wins a bet, but this fee is waived for Capybaras NFT holders, and the fee charged to non-holders goes directly to the community wallet that goes to support the development of further games and experiences, the purchase of new Sandbox lands, and ensure long-term sustainability.
And by the way, beyond the fees that go to the Capybaras community, the bets placed by players are player-to-player, not against the house.
Then we have the gaming zone. Non-Capybaras NFT holders have to pay a fee to enter the gaming zone — these fees go to the community wallet — while Capybaras NFT holders can enter for free. The details of what specific games will be included are not available yet, but these games will have prizes.
And then we have the VIP zone, which is exclusively for Capybaras NFT holders. This zone will have social hangout areas, NFT museums, special events, and exclusive giveaways.
So this project sounds really cool to me. I like the idea of having this club developed in the Sandbox where NFT holders and non-NFT holders alike can hang out and have fun.
I would like to see a bit more hype for this project. Right now, there are just under 6,000 Twitter followers and about 4,400 Discord members. The mint is over two weeks away, so there's still some time to build hype.
In terms of the mint, the whitelist presale is March 12 at a price of 0.08 ETH for OG members and 0.09 ETH for whitelisted members, the public sale is March 13 at a price of 0.11 ETH, and the reveal is March 15.
OG members can mint up to three NFTs in the presale, whitelisted members can mint up to three NFTs as well in the presale, and everyone can mint up to three NFTs in the public sale. These limits are per wallet.
Whitelist spots are manually given by the team in the Discord. In the next week, will be giving a giveaway of five whitelist spots on Twitter as well as ten whitelist spots in my private Discord, the Degen Den, links to both of those are in the description below.
Ailoverse NFT
Ailoverse is a 10,000-piece collection of basically artificial intelligence cat-driven robots whose mission it is to repopulate the humanless world after apparently all the humans disappeared or died.
So like many NFT projects, the storyline is pretty random, but fun.
The team has intentionally not specifically filled out all the details of the story but has claimed to leave its outlines "as broad as possible" in order to involve the community.
So if we look at the roadmap, it may feel a bit delayed as a result, but let's go through it.
And keep in mind that we're still early on this one, so there's not a whole lot of details we have.
So Ailoverse says that this month, February 2022, it should be releasing its NFT mechanics with details TBA. In the Discord, it doesn't look like they've released much on that front so far. We still don't know the exact mint date other than it will be in March; we do not know the mint price either.
But in terms of the longer-term roadmap, they do want to launch a $100,000 community grant fund, various creative projects, staking, but the end goal here is an Ailoverse animation series.
This is becoming a pretty popular meta — the animated series meta — and I'm a fun, but the only thing is we haven't really seen a project without an existing, pre-NFT brand build a brand from scratch through the NFT project and carry it home to actually develop and distribute an animation series.
Don't get me wrong; I'm a big fan of the idea; but just know that it is untested waters.
I think until we have some of the details filled in from the Ailoverse team here, the strongest thing I see right now in Ailoverse is the team, specifically the art team.
If we look at the team, they have 3Dprint guy, who has worked on production for Pixar, HBO, Netflix, and Disney. He has a YouTube channel with over 300,000 subscribers.
I couldn't find his real name, so I wouldn't really call him doxxed. Also, I noticed that in his latest tweet about Ailoverse from four days ago he used the past tense. He said, "Things are shaping up with Ailoverse! Fun project I had the pleasure of working on." Not sure if I want to read too much into that.
There are other team members as well with significant experience; some of them are doxxed, such as Eugene Shilin.
But you know I think the art I've seen does look pretty cool in the sneak-peeks channel in the Discord.
So there is still a lot we don't know about this project; however, I do think there's some potential here given the apparent depth of the team.
I will be doing a whitelist giveaway for Ailoverse both on Twitter and in my private Discord community.
Neuromod NFT
Neuromod is a project with a fully doxxed team. This one caught my eye because fellow NFT YouTuber Liam Evans, who is known as NFTZerk, is on the team. So obviously that's cool.
Other than team members include thedjentist.eth — who I don't know much about — says he is a student dentist, so I'm not too sure of the NFT experience there.
We have Ant — don't know much about him either.
The artist is Andy A.K.A. @robopo.
It looks like the dev team is Latency Labs, which I don't know a whole lot about either.
So I do applaud the team for doxxing themselves, despite not having a lot of experience.
I think that is commendable, and sometimes you find that these young, doxxed teams can surprise you.
The collection will be somewhat large at 8,888 launching next month. We don't know the mint price yet.
I am not in the Discord, so I can't tell you too much about the project.
You can see some of the art here — the Neuromods do certainly look interesting.
The roadmap involves the minting obviously as well as merch and surprise physical and digital goods.
Later in the year, they're looking at the launch of the $NEURO token to purchase whitelist spots from other projects, enter raffles, claim airdrops, and more.
And there's also an educational aspect here as well called NeuroLABS that will include NFT trading courses, masterclasses by NFT experts and influencers, and a startup/investment program to help Neuromod community members launch their own NFT set or Web3 project.
And then the last phase of the stated roadmap is the Gen 2 collection; they are also apparently planning a Gen 3 collection as well.
So there is still a lot we don't know about this project, but it was interesting enough to catch Liam's eyes, so I do intend to keep my eye on it as well.
I will be doing a whitelist giveaway for Neuromod on my Twitter and in my private Discord community, the Degen Den, in the coming week or so.
55Unity NFT
🧨🧨 𝟓𝟓𝐔𝐍𝐈𝐓𝐘 𝐖𝐇𝐈𝐓𝐄𝐋𝐈𝐒𝐓 𝐆𝐈𝐕𝐄𝐀𝐖𝐀𝐘 🧨🧨

Rules:

1️⃣ Follow @loganallec, @DegenGrandpa, and @55UNITY ✅

2️⃣ Like + Retweet ❤️

3️⃣ Tag 3 Friends 🙏

ENDS IN 4 HOURS! WINNERS NEED TO RESPOND WITHIN 2 HOURS OF NOTIFICATION – PROJECT MINTS TOMORROW ⏰ pic.twitter.com/H83wRF1ZDX

— Logan Allec (@loganallec) February 24, 2022

55Unity describes itself as a Social RPG — that's "role-playing game" for you uninitiated — centering around a nature-centered apocalypse in the year 2032.
And it is minting tomorrow, but I have whitelist spots for you all on my Twitter and in my private Degen Den Discord.
And 55Unity is apparently a group of survivors of this apocalypse in Rio de Janeiro.
And here they are. They range from kind of goofy to a little more B.A. I'm not going to go through all their bios, but you can check them out on the 55Unity website if you want.
They claim they want to create not just a PFP project, but a brand. And they make some pretty bold claims like this one: "Would you like to invest in the next Avengers? Here's your chance."
And part of this brand is building out things like comics and an animated series. As far as I know, there's no hard plans yet for production and distribution on those fronts, so take this as you will.
One thing I do like about their roadmap is they categorize the elements of the roadmap into three different categories: Complete, In Progress, and Concept.

So for example, with respect to the game itself, they're saying that the main storyline is completed, the game mechanics are in progress, and the game dapp is still just a concept so hasn't been worked on yet.
Now the way the game will work is pretty interesting. 55Unity says:
"Each aspect of the game's universe will change based on community actions. Anyone that holds a 55Unity NFT will be able to choose what will happen next. Everything between story, enemies, lands, economy, and much more will be dynamically affected by those decisions. It's a game that we, as a community, will decide how and if we gonna survive."
I don't know exactly how that is going to work, but it sounds interesting.
The team, by the way, is doxxed. You can check out their LinkedIn profiles.
In terms of hype, there are about 19,000 in the Discord right now and a little over 15,000 Twitter followers.
In terms of collection size, it is 4,999. The Discord seems fairly active.
In terms of the mint, there are three separate mint times.
The first is tomorrow, February 25 at 7:00 AM Pacific Time. This is only for those on the Survivorlist. This is a guaranteed mint. So from February 25 at 7:00 AM Pacific Time until February 26 at 7:00 AM Pacific Time, everybody on the Survivorlist can mint at least one NFT at a price of 0.115 ETH.
The next mint phase is the presale phase, which begins on February 26 at 7:00 AM Pacific Time. And this is what I am currently giving away whitelist spots for. The mint price here is 0.125 ETH, but the thing to know is that simply being on the presale list does not guarantee that you will be able to mint. The max mint per wallet is three.
And then the next mint phase is the public sale, which if any NFTs are remaining from the previous two phases, will begin on February 27 at 7:00 AM Pacific Time at a price of 0.15 ETH.
Sakura NFT
Next project is Sakura.
I do have whitelist spots to give away on Twitter as well as in my private Discord, the Degen Den community. We will likely be giving those away in the coming days, so be sure to follow me on Twitter if you want to get in on that. And be sure to check out the Degen Den as well where I give away even more whitelist spots than I do on Twitter.
Sakura is an anime-themed NFT of 5,678 unique, hand-drawn anime- and Final Fantasy-inspired NFTs.
Their stated goal is to create a rich storyline that will translate into a manga series and an anime series.
The manga series will come first; they say they will develop it in-house and the characters will be selected and determined by the NFT holders.
And holders of the NFTs used in the manga will receive licensing royalties, so there is a passive income play here.
In terms of publishing, it sounds like the team would prefer to work with a publisher but is also willing to self publish if they don't find a publisher.
Then there's also merch with the particular items created to be voted on by the community.
And finally the last stage of the roadmap is an anime series. Obviously, that's a lofty goal and well into the future and very dependent on the success of the comic series first.
But if the anime series does work out, there will be the licensing revenue as well for holders of NFTs used in the series.
Now, right now the team is undoxxed, but they have committed to doxing themselves at the earlier of the Discord hitting 25,000 or at some point before the public mint. They say the dox "will 100% happen; it's just a matter of timing." So we'll have to see about that.
Now let's talk mint details. One thing I love about this project is the low mint price of 0.06 ETH. This is one of the lowest mint prices that I've seen in a while, and this low mint price combined with the relatively low supply (at least compared to 10,000-item collections) is generally a good sign.
That said, there are only about 12,000 members in the Discord; the Twitter though has over 42,000 followers.
The mint is still a week or so away, so there's still more time for the project to build hype.
There are three whitelist groups: SeeDling, Order of the Blossom, and Order of the Cherry.
Basically what you're gunning for now is Order of the Blossom, which will be able to mint on March 2 along with Order of the Cherry.
SeeDling will mint on March 3, and the public sale will be on March 4.
I don't know the exact time yet, but if you're interested in following this project, be sure to follow it on Twitter and join its Discord.
Also keep your eye out on my Twitter account, where I will be doing a Sakura whitelist giveaway here in the next few days or week or so. I will also be giving away even more Sakura whitelist spots in my private Discord community, the Degen Den.
House Game NFT
The next project is called House Game, which describes itself as "an innovative play-to-earn real estate game."
And basically if you look at the whitepaper, how it works is each building in House Game is a separate NFT with different models, attributes, and rarity levels.
And each house and building, when staked, yield a variable amount of the $CASH token daily based on their model.
So there are seven different house models, ranging from the lowly treehouse which yields 12 $CASH daily to the lofty castle which yields 37 $CASH daily as well as the utility building, which can yield up to 280 $CASH daily and operates at full capacity when all houses are staked.
When you stake a house, you are assigned a tenant with a rating between one and ten, and your tenant's score determines how much $CASH you earn or lose based on property damages. So for example, if a tenant has a seven rating, there's a 70% chance the tenant won't cause property damages.
Utility buildings work a little bit differently; they don't receive tenants; but whenever a house owner claims $CASH, 25% of the $CASH claimed is distributed evenly among all staked utility buildings.
And yes, $CASH token will be able to be exchanged for ETH on Uniswap.
There is also a leaderboard concept in which the top 300 players on the leaderboard receive ETH airdropped to their wallet. And the way you move up the leaderboard is by paying voluntary taxes in $CASH token.
Alright, now let's talk about the supply and the mint.
There will be 14,000 houses and 700 utility buildings.
On the mint — and by the way, we do not know the mint date yet — but on the mint, users will be able to mint half the houses, so 7,000 houses, and all 700 of the utility buildings.
The price to mint a house will be 0.07 ETH, and the price to mint a utility building will be 0.7 ETH.
There is a whitelist presale of 2,000 whitelist spots; each whitelisted wallet will be able to mint three houses or one utility building.
The public sale will be a Dutch auction that will start 24 hours after the whitelist presale with the price of a house starting at 0.35 ETH and the price of a utility building starting at 3.5 ETH. The Dutch auction will last approximately 60 minutes until the floor price is reached.
The remaining 7,000 houses will be minted by using $CASH.
So this is obviously an interesting concept; we have seen projects like this before — for example, I covered Metroverse here on the channel, in which you stake your city blocks to earn the in-game token — and this House Game although not exactly the same is similar in some ways.
I personally like projects like this, so I will be keeping my eye on this one.
If you want whitelist on this one, I unfortunately do not have spots to give away, but according to the earn-whitelist channel in the House Game Discord, you can earn whitelist spots by being active in the community, playing in the Discord casino, and winning giveaways.
Rubber Duck Bath Party NFT
Rubber Duck Bath Party is a pfp collection of 10,000 hand-drawn, party-loving ducks living on the Ethereum blockchain.
Rubber Duck Bath Party hasn't officially announced their mint date, but they are aiming for late February 2022.
The Rubber Duck Bath Party team is fully-doxxed.
Jishai Evans is the founder of the Rubber Duck Bath Party. He's currently a product lead at Palantir Technologies and was formerly the CEO of Dadaviz and WikiBrains.
Gal Shir is the artist behind the project. Outside of Rubber Duck Bath Party, he's also helped create another NFT project called SlimesNFT. Gal was previously an art director for Lemonade, so he has experience creating masterpieces that appeal to large audiences.
Art
Rubber Duck dynamic PFP project with over 200 hand-drawn traits.
The art has a Cool Cats meets a Rubber Duck-style to it. Simple, yet creative.
Quack me to the moon and back. pic.twitter.com/hHkPjr6bxk

— Rubber Duck Bath Party (@RubberDuckBP) January 25, 2022
The art might not be highly detailed, but I admit they make for good profile pictures. They are easily identifiable and have some unique attributes.
February 2022… 🐥 pic.twitter.com/RyhamKnTNS

— Rubber Duck Bath Party (@RubberDuckBP) January 9, 2022
Here's a demonstration of Gala creating a Rubber Duck Bath Party NFT.
Guess I made something new.@RubberDuckBP – follow for updates! pic.twitter.com/2ipn6XlF3X

— Gal Shir (@thegalshir) December 16, 2021
What makes these ducks so dynamic is that they can change attributes post-mint.
Utility
Most PFP NFT projects are about the art and completely disregard utility. Still, Rubber Duck Bath Party took the path less traveled and added utility to their project via bath parties.
Rubber Duck Bath parties are virtual events happening on the blockchain. No party is the same, and the only thing we can promise is that your duck will come home changed forever.
To attend a bath party, you'll need to stake your duck. Nobody knows what happens in these bath parties, except that your ducks will change. Ducks that go to the party will come out with different attributes.
NFTs can have a night of their life, coming out with more rare attributes, or they can have a rough night, losing valuable characteristics in exchange for common.
Each party has its own mechanics, and some are riskier than others. For example, one party may only change minor attributes, while others will make drastic changes.
I like the idea of being able to change attributes for a chance to make your NFT more valuable.
The stakes are high because you can gain it all or lose everything, but that's what makes it exciting.
Many pfp projects fall off post mint. This is a great way to stay relevant and keep the community engaged.
How to Get Whitelist
The team hasn't announced the official mint date, price, or limit per wallet yet. However, they have announced they'll have a whitelist, or as they call it, a pregame list.
The pregame list gives you access to the Rubber Duck Bath Party pre-sale.
Like most NFT projects, RDBP wants to build a strong community organically. So to do that, they're handpicking members who naturally engage in their Discord, getting to know other duckies, and participating in challenges.
If you don't want to live in Discord to get a whitelist spot, you can win one via Twitter.
Duckies fly together! 💛 Tag 2 best frens, retweet, follow us, and you might win a spot on our pregame list. pic.twitter.com/qLHlywaLMT

— Rubber Duck Bath Party (@RubberDuckBP) January 26, 2022
They haven't announced how many spots are on the pregame list, but now's a great time to join, with roughly a month until drop.
Toyz NFT
Toyz NFT is a collection of various childhood toys that have been transformed into NFTs.
This project is still in the early stages (Discord is still closed), but they plan to launch in February 2022.
Toyz NFT is founded by @Kindie_eth and @Theorus3D. If you check out their Twitter accounts, you'll notice they are from France.
Kindie claims to be an NFT and Pepe Meme Connoisseur, but I couldn't find his true identity.
Theorus is much easier to find information on because he provides his Link Tree in his Twitter bio. He's a digital artist based out of Paris, France.
You can check out his portfolio of digital artworks here. He has various pieces from backgrounds, animations, portraits, and more.
Theorus even has YouTube and Twitch channels, where he demonstrates his art skills first-hand while teaching people how to draw and paint.
Art
Toyz NFT is a gif art NFT project. Each Toyz NFT is a 3 to 5-second video clip.
While they are video NFTs, they aren't piggybacking on the looping NFT trend we've seen recently from Invisible Friends and Imaginary Ones.
The art looks super clean and incorporates different popular childhood toys, taking me right down memory lane.
We're Bringing Back Your Childhood…

Toyz are coming to life… Are You Ready? pic.twitter.com/J65zuWcsLQ

— TOYZ (@ToyzNFT) January 17, 2022
Right off the bat, one of their first sneak peeks incorporated a Pokémon card as the head, which I'm a huge fan of.
Play Your Cards Right and You'll Get in…

Look Closely… pic.twitter.com/I91xZpMeX8

— TOYZ (@ToyzNFT) January 17, 2022
They incorporated childhood gems like GameCube, Yo-Yos, and even skateboards for the kids who liked to spend time outside.
When the game comes to life… so do YOU!! pic.twitter.com/5PrUbUVgdW

— TOYZ (@ToyzNFT) January 20, 2022
I think this is an excellent concept for a project because seeing all the old toys really pull on your heartstrings.
Take this Toyz NFT, for example. I can feel the rug burn I used to get on my knees from ripping Hot Wheels cars through the fast lanes.
Simon Says to look into his eyes. Simon says to choose between the red and the blue pill. Simon says the answer will reveal itself to you if you look hard enough.

Simon Says:

1. Follow
2. Like/Retweet
3. Tag 4 NEW Toyz
4. Prepare for the Castle to open 🛎🏰 pic.twitter.com/3Ab7wQv08v

— TOYZ (@ToyzNFT) January 26, 2022
There are many different ways to go with the art because of all the famous childhood toys.
We've only seen a few sneak peeks so far but judging by their Twitter, but I think it's safe to say they have something for everyone.
Keys & Toy Boxes
Toyz NFT doesn't have a website yet, and the Discord is closed, so there isn't much information about the utility behind the project.
However, they tweeted out keys without saying what they open or what's inside, only that you should want them.
I wonder what they open…

I wonder what's inside… 👀

Give us your best guess. pic.twitter.com/fFWjcIB8Ms

— TOYZ (@ToyzNFT) January 18, 2022
A week later, they announced what the keys unlocked – toy boxes.
What's in the Box/Chests??

*Subject to change. Items will be added/removed as time progresses.

The saying still goes: You want keys. pic.twitter.com/ubZJ5UtDP9

— TOYZ (@ToyzNFT) January 25, 2022
Toy Boxes contain hidden prizes, including whitelist spots, discord access, and more keys.
Judging by the prizes that followers can win, these aren't related to the project's utility. To me, toy boxes seem like a way to get users active in Discord and build FOMO in the community leading up to launch.
I'll be waiting for more information to come out about the roadmap and utility of the project to see if it'll hold value long-term.
How to Get Whitelist
As I mentioned earlier, Toyz NFT doesn't have a website, and the Discord is still closed. Although Toyz NFT has announced they'll have a whitelist, users will need to access the Discord first to find out how to get pre-sale access.
We've seen many projects lock Discord in the early stages to build a strong foundation and prevent bots from flooding in.
So, how do you join the Toyz NFT Discord?
Toyz NFT has been periodically dropping discord invite links on Twitter and capping the number of people allowed to join at one time.
What's unique is how the team releases these codes. For example, you may find a Discord invite code hidden in a message or you'll find them in more subtle places, like on a bubblegum bubble.
Yo-Yo Noti Gang, here's a sneak peak with a little something extra in it… pic.twitter.com/3HwYlTBEqP

— TOYZ (@ToyzNFT) January 18, 2022
The team switches their ways to keep followers and bots on their toes. The best way to gain access to Discord is by turning Twitter notifications on for their account.
You never know when they will drop a discord invite link, but I can guarantee you the spots will be gone fast.
The Cryptoids NFT
The Cryptoids NFT is a collection of 7,777 virtual pets living on the Ethereum blockchain.
Seven thousand of these NFTs are divided between seven families: clouds, sea, jungle, volcano, glacier, space, and autumn forest.
Additionally, 77 Cryptoids will be designed exclusively for easter eggs, games, collabs, contests, and tournaments.
Cryptoids are blockchain agnostic, meaning they can adapt to various blockchains to explore other options outside of Ethereum's blockchain in the future.
The project was created by a small un-doxxed team of three.
Cromain and Myu co-founded the project and brought on Creggers as a marketing advisor. Unfortunately, none of the team members are doxxed, which is concerning, but that could change as more information is released.
Art
The Cryptoids NFT is a pixel art project. I'm not a huge fan of pixel art, but I'm okay with it if the project incorporates a game.
The team describes the art as cute virtual pets, which they exactly are. They're small NFTs that reminds me of a more pixelated Pokémon.
The more it goes on, the more I want to keep them all
。.+*。(🝦 ω 🝦)b゚*.+。 pic.twitter.com/B9y4QLQuZO

— The Cryptoids | Playable & Interactive NFTs (@The_Cryptoids) January 8, 2022
What makes these NFTs unique is that they're interactive and playable, meaning holders can interact with their NFT.
We haven't seen anything like this in the NFT space. Check it out for yourself.
⭐INTERACTIVE NFTs⭐

We are happy to announce that The Cryptoids will be INTERACTIVE and PLAYABLE.

A NEW technology in the NFT space 🚀
PLAY – TRAIN – EARN directly on @opensea

More info coming soon.

Help us 🤝❤️RT, follow and tag friends#NFT #InteractiveNFT #NFTs pic.twitter.com/suiwJz8DlT

— The Cryptoids | Playable & Interactive NFTs (@The_Cryptoids) December 17, 2021
Utility
As I touched on earlier, the Cryptoids NFT is a play-to-earn game created with Godot, an open-source engine.
Cryptoids holders will be able to play, train, and earn directly on Open Sea.
They haven't announced the game's goal or details of how everything will work, but they have released a gameplay video to give holders an idea of game mechanics.
As you know, our collection is interactive, but have you already tested interactivity on OS? Generative Dungeon is also working on this amazing technology, check their demos!

Win a WL spot for Generative Dungeon:
🧙RT &❤️
🧙Follow @The_Cryptoids & @GenerativeDng
🧙Tag 3 friends pic.twitter.com/1TiDgaWbx6

— The Cryptoids | Playable & Interactive NFTs (@The_Cryptoids) January 20, 2022
The game and technology are fascinating and got me excited about the project.
However, the roadmap is extremely bland, which is concerning since it's an un-doxxed team. The only milestone on the Cryptoids roadmap is completing the mint of the virtual pets, nothing about game development.
There may be more information about the gameplay and the team's future plans for the project in Discord, but since it's locked, I can only use the information available to me.
How to Get Whitelist
If you want a whitelist spot for the Cryptoids NFT, there are a few different ways to get one.
Engaging in Discord is always an option, but you'll have to find a way in first.
Similar to Toyz NFT, Cryptoids also releases hidden invite codes via Twitter.
Oh wow! Thanks for being so willing to help, we had so many volunteers in such a short time!
So, who will be the first 50 to bring Luna back to the Discord?🍀 pic.twitter.com/Ay1VQrYmta

— The Cryptoids | Playable & Interactive NFTs (@The_Cryptoids) January 19, 2022
The open spots get swept up quickly, so make sure to turn notifications on to increase your chances.
If you want to skip the discord grind and go straight to the whitelist, Twitter is your best option.
Cryptoids NFT runs giveaways and collabs for followers to win whitelist spots and access to their pre-sale.
We're happy to announce an official collaboration with The Cryptoids!
A fully interactive nft game.

To celebrate we're giving away whitelist spots on twitter!

1. Follow @The_Cryptoids and @FurballsNFT

2. Like, Retweet & Tag 3 friends

Winners announced in 24-48 hours! pic.twitter.com/NY3V5YmMGh

— Furballs (@FurballsNFT) January 23, 2022
P2E blockchain games have been all the hype so far in 2022, so I can't help but keep an eye on this project, even if the team isn't doxxed.
I think all three of these projects have a lot of potential and are at a point where NFT investors can still get in early.
As more information is released, I'll be paying close attention to each of these projects.
That's just my opinion. Feel free to disagree. Let me know your thoughts in the comments, and follow me on Twitter.
Balloonz NFT
🎈🎈🎈 𝗕𝗔𝗟𝗟𝗢𝗢𝗡𝗭 𝗪𝗛𝗜𝗧𝗘 𝗟𝗜𝗦𝗧 𝗚𝗜𝗩𝗘𝗔𝗪𝗔𝗬🎈🎈🎈

Rules:

1️⃣ Follow @loganallec, @DegenGrandpa, and @Balloonz_NFT ✅

2️⃣ Like + Retweet ❤️

3️⃣ Tag 3 Friends 🙏

ENDS IN 24 HOURS! ⏰

MORE WL WILL BE GIVEN AWAY IN MY PRIVATE DISCORD! 🔥 pic.twitter.com/OANtNONjz2

— Logan Allec (@loganallec) February 23, 2022

Balloonz is cute. It describes itself as "a floating joy in the metaverse" with all the Balloonz wanting "to get to the promised land in the sky, where they could be with their friends and be happy."
And of course the release of the balloons into the sky is the mint of the Balloonz NFT: 7,777 Balloonz NFTs being released into the air of the blockchain.
With the eyes on some of these guys as well as the side-profile angle, there is some Doodle inspiration here; no doubt about that; but I'm cool with it.
So what's the gameplan with Balloonz?
Well, after the mint, it appears that Balloonz is going to do giveaways to Balloonz holders and also wants to create Balloonz Gamez — which they describe "hyper-casual games for iOS and Android."
In the Discord, they say they want to develop a wide range of games that appeal to multiple audiences.
And a percentage of aftermarket NFT sales as well as 100% of the ad revenue from the games will be deposited into the community-govererned Balloonz treasury that will be used to make investments and create more opportunity for Balloonz holders.
Now, my complaints about the project are as follows. First, the team is not doxxed. Obviously that does not mean that this is automatically a rug, but it's something to be aware of.
Also, a big part of their roadmap is the development of these games.
But is the Balloonz team even qualified to make games? I have no idea because I have no idea who they are.
They do have a Google Form job application, and you can apply to be a game/character designer, and frankly that doesn't exactly inspire confidence in me about the game development process just to be frank.
Now, the team did address this in the announcements channel in the Discord, where they basically said they're not going to dox themselves "at least for a while."
They do claim that they have produced a variety of apps and games that have been used by more than 400,000 people. Of course, there is no way to verify that claim.
So I just want to put that out there. If you follow my channel, you know my approach to whitelists: If I have a whitelist spot on a project, I generally wait to see how the demand on the secondary is doing before minting so I'm not left holding the bag.
And I'm particularly vigilant when it comes to projects with anonymous teams, and Balloonz is no different.
That said, I think the art is cute, and if the team is able to execute on its roadmap, this could be a very interesting project.
The whitelist presale is on February 26 at 4:00 PM UTC, which is 8:00 AM Pacific Time, which is 11:00 AM Eastern Time for those of you in the United States.
The public sale begins 24 hours after the presale begins, and the reveal will take place 48 hours after the public sale.
The maximum per wallet on the presale is two Balloonz per wallet, and the maximum on the public sale is ten Balloonz per wallet.
At this point, it's going to be quite difficult to get on the whitelist organically; however, there are still Balloonz whitelist giveaways going on, and I'm actually running one right now on my Twitter account and will be giving away even more Balloonz whitelist spots in my private Discord community.
Mono Locco NFT
🔥CAESAR GIVEAWAY🍷

🎁 5x MonoLocco WL Spot
🎁 30x MonoLocco WL Raffle

To enter:
1⃣Follow @MonoLocco_
2⃣Like & RT
3⃣Tag 1 friend (Each Tag = 1 Entry)

Winners will be announced in 48 Hours⏰#NFT #NFTgiveaway pic.twitter.com/ZXivuHLfKx

— Mono Locco (@MonoLocco_) February 23, 2022

Mono Locco is a smaller collection: 6,666 unique Monos to free your spirit animal. I will be doing a whitelist giveaway for Mono Locco both on my Twitter as well as in my Degen Den private Discord community.
And these Monos — according to the the-legend channel in the Discord — are the result of an accident involving Febergé Eggs lost in the jungles of Mexico in 1917. It's kind of a far-fetched story; you can read it in the Mono Locco Discord.
So I guess I would call the art here multicultural. It is intended to incorporate elements of both Mayan culture as well as the European high-fashion industry.
I think the art is very good; it really catches my eye; and it's different. After reveal, the team has stated that each piece will be updated until all of them can be rotated 360°. So that's pretty cool.
So what's the roadmap with this project?
Well, after the mint — and I'll tell you the details about the mint and the whitelist later — the team's plan is to partner with a workshop to create in-real-life monos art toys.
And then there are these capsules, which are in-real-life drops of clothing, accessories, jewelry, and decorative items replicating the objects and items worn by the Mono Locco NFTs.
And apparently, these capsules will be sold as merchandise.
And everybody who holds a Mono Locco NFT will receive an airdrop that, when you add it to your NFT, can give you the possibility of sharing in 80% of the profits from the Mono Locco capsules.
So Mono Locco NFT holders get an 80% profit share from these capsules — but only if you hold a Mono Locco NFT that has the attribute that was sold.
So if a black beanie was sold, and your Mono Locco has a black beanie, you share in 80% of the profit from that sale along with all the other Mono Locco holders whose Mono Locoo has a black beanie.
So this is an interesting roadmap; obviously the utility is in the profit sharing; but it's not clear how much demand there will be for these Mono Locco capsules; it's not known at this point what they will sell for; it's not known how the team will calculate the "profit" on each sale (will it just be gross profit or will they allocate overhead costs against it).
So there are a lot of questions there. But I do like the art; I think the project is doing something different; so I did want to share it with you all.
In terms of the team, the core team is doxxed:
In terms of the mint, it will be on March 1 with a mint price of 0.25 ETH. Yes, I agree, that's expensive, so if you do make the whitelist and don't have a lot of liquidity, I would say you should probably just see how the demand is on the secondary market before minting. That's my general strategy when it comes to minting.
There are three classes of whitelist:
4,666 MONOLIST spots, which will be able to mint one NFT
1,000 LOCCOLIST spots, which will be able to mint two NFTs
WHITELIST RAFFLES, which will be able to mint one NFT of those left after MONOLIST and LOCOLIST mint.
And if there are any pieces remaining — which is not a guarantee — they will be made available to the public.
Before I move on to the next project, I do want to say that one cool thing about Mono Locco is that they have hosted some educational workshops for the NFT community.
🗓On Wednesday, we are going to start our series of "NFTs for dummies".

💎 This time we will be speaking about "How to avoid scams in NFTs".

🍌From Mono Locco we think is important to have our community aware of the kind of scams.

👀 RT for no more Scams and a WL Raffle👀 pic.twitter.com/XQdsq8N0Iv

— Mono Locco (@MonoLocco_) February 6, 2022

I will be running a Mono Locco whitelist giveaway on my Twitter as well as in my Degen Den private Discord community.
Chiptos X NFT
The Official @ChiptosX Teaser.
7680 3D-Rendered Chiptos.

Choose Your Build 3/22.

Prepare for the Chiptoverse. https://t.co/jNrRbG5tpe#NFT pic.twitter.com/L3amprf4Hq

— Chiptos NFT (@ChiptosX) February 21, 2022

Chiptos X is a project being launched by Chiptos, which already has a successful NFT collection.
The Chiptos Genesis collection launched in August 2021 and currently has a floor price of 1.6 ETH.
So that's a good sign for the Chiptos X collection because Chiptos X will not be the Chiptos' team's first NFT rodeo.
And Chiptos is calling the new Chiptos X collection its "flagship collection." I will be doing a whitelist giveaway for Chiptos X on both on my Twitter as well as in my Degen Den private Discord community.
Now, the thing that caught my eye on this one is the team and the art.
I think the detail on the art looks really good and extremely detailed. You can check it out for yourself on Chiptos' Twitter feed as well as in the sneak-peeks channel in their Discord.
And in terms of the team, the founders are doxxed. One founder is Ahmed aka GaperArt. Last year he built a Chiptopunk sculpture that was in Times Square during NFT New York City last year.
The other cofounder is Cam from Vancouver. He has a degree in graphic design. He worked for the 2010 Winter Olympics graphic design online store and then in 2011 he got a job at EA Sports working on the FIFA franchise.
He says he got a lot of great experience there in terms of 3-D and motion design and got into NFTs last year. He met Gaper and the rest was history.
In terms of the roadmap, there will be a treasury fund and donations and community events and merch, but the end game here is Metaverse avatars.
So to be honest, the roadmap is pretty basic, and I think the team acknowledges that when they say:
Whilst we have big plans for the Chiptos community and brand as a whole, we want to be honest and clear about our intentions. We don't believe in making big promises and not delivering. What we do promise is to continue to push the envelope and take the Chiptos community to the next level and beyond.
And they also list some other possible ideas there.
So while maybe the roadmap as it exists right now doesn't suit everybody's tastes, I do like the doxxed team on this project and I do like the art. That said, as of recording, Chiptos has less than 7,000 Twitter followers and only about 5,500 members in its Discord, so it has some growing to do if it's going to sell out that 7,680-supply collection, but the fact that it already has an existing Genesis collection is obviously helpful.
Like I said, I will be doing a Chiptos X whitelist giveaway on my Twitter as well as in my Degen Den private Discord community.
FilterYa NFT
Introducing FilterYa's NFT Wearable Marketplace! https://t.co/OSYDcjrMAP will be a Web 3.0 application that allows you to create an avatar and share it through the metaverse!🚀 pic.twitter.com/EAiLkW4mBC

— FilterYa (@filterya) December 7, 2021
So FilterYa got on my radar when I saw that JRNY Crypto was partnering with them, so that piqued my interest. I reached out and will be doing a whitelist collaboration with them as well — more on that later.
FilterYa is a fashion NFT project that allows you to create a photorealistic avatar — from just one selfie of yourself — that you can use in the Metaverse.
You can also customize your avatar with NFT wearables and animate your avatar as well.
For example, they made one of Cardi B, and if you go to Filter Ya's Instagram, you can actually use these avatars as AR filters, so people were having fun with that.
But the bigger picture here is that FilterYa wants to create a marketplace for NFT metaverse wearables that will allow users to trade and resell digital clothing.
FilterYa is releasing its genesis collection on March 2. This genesis collection is called, "Smile, you're in the metaverse."
According to the FilterYa website, for every one of these genesis items you mint, you get four NFT wearables — one headwear NFT, one top NFT, one bottom NFT, and one shoes NFT.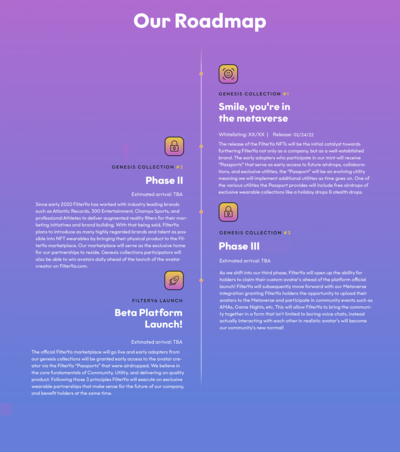 Also, those who get in on the initial mint will receive a FilterYa "passport" that according to the roadmap will supposedly supply additional utility.
They are also planning on doing partnerships with apparel and accessory brands as well as pro athletes to integrate their brands into the FilterYa marketplace.
And then there is the integration of users' custom avatars into the FilterYa metaverse where they can interact in the metaverse with other members of the FilterYa community.
Which metaverse? Well, one of the mods said this in the Discord:
…they are making it multiverse so you can go from Decentraland to Sandbox without worrying if your NFT will function properly.
And then, finally, the last bit of their roadmap is the launch of the FilterYa marketplace.
One thing to note is that while we know that phase one of the roadmap — the launch of the genesis collection — is scheduled for March 2 (not February 24 as stated on the roadmap image), there is no expected date yet for the arrival of the other phrases of the roadmap.
In terms of the details March 2 mint for the genesis collection, it will be a 10,000-piece supply. The time has not been announced yet; if you'd like more details, follow FilterYa on Twitter and join their Discord as well.
One thing to note is that the mint will be on Polygon. This was a conscious choice by the FilterYa team to obviously save its minters on gas fees.
If you've never used Metamask with Polygon before, there is a channel in the FilterYa Discord called how-to-polygon that you might want to check out.
In terms of the mint price, the team is expressing it in USD as $450 worth of MATIC. I imagine they are doing this because of how volatile the cryptocurrency market can be especially smaller coins like MATIC — not that MATIC is super small; it is a top-20 coin; but nevertheless its price can be quite volatile.
If you'd like to learn more about FilterYa, be sure to join their Discord; there is a link in the description below for it.
Also, I am doing a FilterYa whitelist giveaway on my Twitter account right now, giving away five FilterYa whitelist spots on Twitter, and I will also be giving away some more this week in my Degen Den private Discord community.
And tomorrow I will be doing a whitelist giveaway for the next project, which is 88 Dynasty.
88 Dynasty NFT
Coming your way is The Realm where Lion Masters are destined for infinite good fortune and prosperity. Happy Lunar New Year.

Stay lucky.
新运就在你面前#NFT #NFTcommunity #NFTs #nftart pic.twitter.com/4rQ3M26apL

— 88 Dynasty (@88DynastyNFT) January 31, 2022
88 Dynasty is a Chinese dragon-themed NFT that was announced on Lunar New Year.
The project's initial tweet said:
Coming your way is The Realm where Lion Masters are destined for infinite good fortune and prosperity. Happy Lunar New Year.
It looks like this lion's name is Wu Zi, and frankly this one wasn't really on my radar until I saw that Takoa was coming onboard as a project advisor for 88 Dynasty.
I like Takoa as an influencer, and I don't think he'd stake his name on this project if he didn't see something in it, so that's when I decided to reach out and collaborate with them as well.
I believe that we will be doing a whitelist giveaway on Twitter and in my Degen Den private Discord last this week if we can work something out with the 88 Dynasty team.
Now, I will be honest here — I have not been able to make it in the Discord; it is closed right now, but I do like the art, and I think this project is continuing the Asian meta that has been popular in NFTs recently but it's not just an Azuki knockoff or another waifu project.
So while I wouldn't typically talk about a project that I don't know a whole lot about, I do respect Takoa as an influencer and believe in things that he's staked his name on.
Super Ordinary Villains NFT
This is Cliff. The random generator spit him out, and he looks like the Joker. Cliff has the finger gun power. We didn't think that name through.

We announced our mint window of March, so Cliff's giving away 3 keys (WL) villains.

🗝️ Retweet
🗝️ Tag your 2 favorite NFT projects! pic.twitter.com/i11VarzhcY

— Super Ordinary Villains (@SOVillains) February 21, 2022

Super Ordinary Villains is an interesting project. It's not really perpetuating any of the metas we've seen recently — it's not the walking meta; it's not the Asian meta; by the looks of it, the NFTs probably wouldn't work as good PFPs — but the project is kind of going for this fun / funny / let's-not-take-ourselves-too-seriously vibes.
First tweet was on February 2, when they said, "The Super Ordinary Villains are coming….well, at least according to the guy in the video."
And since then, they've been tweeting a lot of some of these super ordinary villains attached to a whitelist spot giveaway.
And the jingle from this one from February 2 kind of gives a clue to what is meant by super ordinary villains. The jingle goes, "They do everything that you do but could tear your car in two."
And you can see the art is unique.
So these are basically just villains with normal jobs and normal lives but apparently they have villainous superpowers.
And in fact they've also kind of mocked other NFT metas lately, like in this tweet from February 3.
And they also have these silly videos with older men in them. This guy's actually a villain, by the way, if you watch the whole video.
So, I know what you're thinking about this project: "Logan, isn't the trend your friend? This project's kind of weird."
And to that I say, "Yes, the trend is definitely your friend, but in my opinion the recent trends have been pretty overdone, and I think it's refreshing to see a new project that's doing something a bit different."
The Discord is closed, and I haven't been able to get in, but I hopefully I will be able to soon, so I can't really speak very much to a roadmap or anything like that, but from what I can tell so far based on what I've seen on Twitter, it seems that Super Ordinary Villains is trying to be creative and different in the space.
Will it rise to the level of disruptive? I'm not sure; I don't even think they're going for that in the first place; but regardless, I'm keeping my eye on this project.
WAGMI World NFT
introducing @wagmiworld 🚀✨
a collection of 10.000 NFT's designed to feel cute and nostalgic ❤️👀

giving away 500 WL (Wagmi List) spots to some lucky people that:

⏺️ retweet this post!
⏺️ follow @wagmiworld
⏺️ tag 3 friends!

goodluck & enjoy ❤️ pic.twitter.com/38e8mycx7d

— Wagmi World (@wagmiworld) February 8, 2022
The first project is WAGMI World, which describes itself as "a collection of 10,000 NFTs designed to feel cute and nostalgic." I am currently running a whitelist spot giveaway for this project on my Twitter account and will be doing so in my private Discord community the Degen Den as well.
Looking at the sneak peeks in the Discord, I'm not entirely sure what animal the WAGMI World NFTs are supposed to be. I get kind of turtle face vibes combined with walrus. I'm not really sure, but it looks like one is something like a cop, and the other sneak peak is not going to make it.
No roadmap yet; they just say it's "coming soon," but there is some more information we can learn about this project in the FAQ channel in their Discord.
For one thing, they state that they "aim to become a leader for this space by educating newcomers on how to safely trade and collect NFT's in various ways such as an animated web series, alpha discord, blogs, and much more."
So I guess that's where the name comes from. If you're new to the space, WAGMI stands for, "We're all gonna make it," meaning that those of us in crypto or NFTs, we're all going to make it some day and be living the good life.
So this is obviously a noble goal.
The team is undoxxed, but in the team-info channel in the Discord, they do have some writeups on the team members. The founder is Neok, a 20-year-old graphic designer from Amsterdam.
They have 3seater as a project advisor, who as I understand it is an undoxxed Twitter NFT influencer. You can read about some other team members as well.
Now, the most kind of doxxed aspect to the team here is utilizing Kryspa Labs to develop long-term partnerships for WAGMI World as well as future roadmap utility.
So Kryspa Labs was founded by TNA Kirsh in 2021, and TNA Kirsh is of course doxxed. If you want to learn more about him, you can check out my More Than Gamers video I published a while back, where I dug into TNA Kirsh's past and all that.
So even though the team isn't doxxed, I have a generally good feeling that this is not a rug.
In terms of the getting whitelist for WAGMI, you could follow my Twitter because I am doing a WAGMI World whitelist giveaway on my Twitter right now, so giveaways is one way to do it.
There are also giveaways on the official WAGMI World Twitter itself, there are giveaways in the WAGMI World Discord itself, it looks like there's something of an invite contest here, there's being an active member fo the Discord, spreading kindness, being a good member of the WAGMI World community, and of course doing fanart.
This is a large collection of 10,000, which seems large. I would like to see the team be fully doxxed with a collection size this large because, for good reason, NFT enthusiasts are becoming less and less trusting of undoxxed teams.
We don't know the mint date or the mint price yet.
There's a lot we still don't know, but I think this is one to keep your eye on, and if you would like to secure a whitelist spot, be sure to enter my Twitter giveaway. I am also giving away whitelist spots to WAGMI World in my private Discord community, the Degen Den as well.
Starcatchers NFT
40k stars on Twitter ✨ pic.twitter.com/rn2YhfmKz1

— Starcatchers (@StarcatchersNFT) January 28, 2022
Next project is Starcatchers, which are stars. And I think they're fun and cute and catchy.
Unfortunately I haven't been able to find my way into the Discord, but there are somethings I can learn just from their Twitter.
The team appears to be undoxxed, at least as far as I could tell.
That said, some of the team members are followed by important accounts in the NFT space, for example Rovy is followed by Otto Suwen and Beutrec is followed by The Doge Pound and Doodles and Ryan D Crypto and Shamdoo and Kosher Plug.
That's not to say that that makes everything OK. I would obviously prefer a doxxed team. But at least these folks aren't coming out of nowhere.
The mint date is February 22, and on January 21, they made a promise on Twitter pertaining to the founder's minting revenue.
(1/3) We at Starcatchers believe that accountability is the most important facet of our brand. We are officially announcing that the majority of the founder's minting revenue will be locked away via time locked contract for a period of four years.

🧵👇

— Starcatchers (@StarcatchersNFT) January 21, 2022
Obviously that's pretty respectable of the founders to lock away the majority of their minting revenue for four years.
And they have given a breakdown of the mint revenue as follows:
60% to the community treasury or StarVault
5% to the founding team immediately, which is fair
35%, which is the remaining founder's revenue, locked away
This got great reception from crypto influencers like Matt's Crypto, Andrew Wang, and others, so that's a good sign.
I hope that I can get into the Discord to learn more about this project and possibly get some whitelist spots for my Twitter as well as my Degen Den community, but if not, it's alright, there are other projects in the sea.
Fishman's Laboratory NFT
3000 #finions
To the Mooon !! 🚀#NFTCommunity #nfts pic.twitter.com/bzHkxVLZ4f

— Fishman's Laboratory (@FishmansLabs) January 22, 2022
Fishman's Laboratory is a project that caught my attention purely just based on the fun art.
It obviously has a nautical theme. It's fun and it's light and it's colorful, and I think that if a well-developed roadmap is thought through, this one can do well.
However, we don't really know anything about the roadmap or the team at this point.
All we know is that this is a collection of 12,121 fish trying to escape Dr. Fishman's evil plans, heading toward the OpenSea.
Now, the one thing I'm concerned about is the large supply of 12,121, especially since the team is not doxxed.
This week especially we've seen projects with undoxxed founders or devs really not do well. The HYPEBEARS floor is, well, on the floor; Squiggles was likely a rug.
So we're going to see a lot of people stop trusting undoxxed teams, and I'm not sure that with a supply of 12,121, Fishman's Laboratory will sell out, especially with an undoxxed team.
Old Projects
Disney "Golden Moments"
During the second week of November Disney launched its first-ever NFTs that included iconic brands such as Pixar, Star Wars, and Mickey Mouse.
These pilot Disney NFTs are known as the Golden Moments collection.
This is huge for the NFT space in my opinion!
I'm such a big believer in this project that I bought every one of the 11 NFTs in this set.
Learn more about this project — as well as what I paid for it — in this article.
BearX
Mint
3,700 Bears
+ Mini-Bears
My friend Michael told me about this Ethereum NFT project. By design, it's low-key with not a lot of marketing involved.
The first whitelist competition was kind of a bust because so many people wanted to get in, but the Discord crashed.
Finally, after waiting a couple hours for them to get it working, the whitelist competition happened.
You had to hand draw a bear with their full discord name and !chomp below it and upload this image to the whitelist competition discord channel. The first 500 people who drew a bear and followed the instructions got a whitelist.
Here is my entry: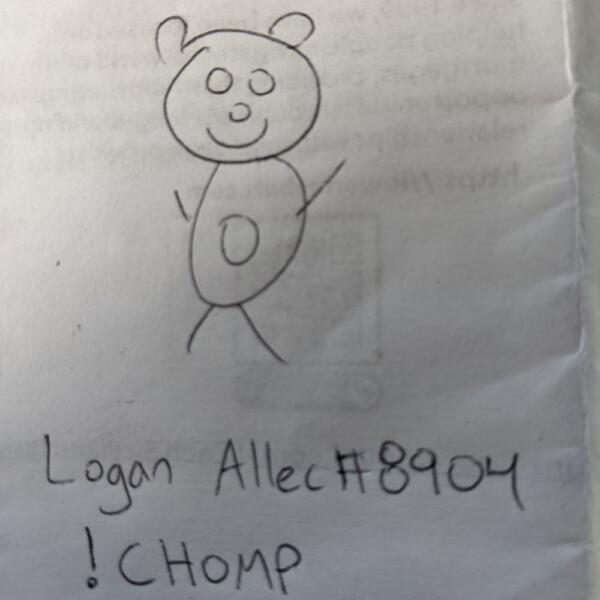 And guess what? I got whitelisted! I have no idea how because it seemed that my image failed to upload, but I guess it worked.
The whitelist is now closed, and the mint has now happened, but you can still buy BearX NFTs on OpenSea.
(Personally, I bought the maximum of two BearX NFTs on the mint and six subsequently on OpenSea.)
I believe that the BearX NFT project has a lot of potential because:
Each BearX NFT generates 10 ROOTx token per day — an actual cryptocurrency that can be traded on Uniswap (can you say passive income?).
The community is just plain awesome and loves their bears.
BearX just announced a huge partnership with the major cryptocurrency exchange Binance. This is the first long-term NFT partnership that Binance has entered into!
We are happy to announce the start of our partnership with @bearx_NFT! 🐻

To kick things off, you can find their one of a kind bear collectibles on the Binance NFT marketplace here! 👇https://t.co/7wMQAsIkNq

There's alot more to come, so watch this space 👀 pic.twitter.com/FgpnTKxvGR

— Binance NFT (@TheBinanceNFT) November 17, 2021
I mean, love it or hate it, Binance is a massive player in the cryptocurrency space, and I think this partnership bodes well for BearX.
Learn more about the BearX NFT in this article.
The Doge Pound
Mint
10,000 Doges
+ Puppies
The Doge Pound is, in my opinion, a blue-chip NFT project with massive potential.
Perhaps its most innovative feature is its launchpad.
Through The Doge Pound launchpad, celebrities and other influencers can launch their own NFT projects.
In return, The Doge Pound community gets early and even whitelist access to these projects.
For example, I was recently able to get whitelisted on the much-anticipated JRNY Crypto NFT project simply because I held a Doge Pound NFT.
There's a lot more to know about The Doge Pound — learn more in this article.
JRNY NFT
Mint
November 22
Unknown Quantity
Cost
0.5 - 1.0 ETH?
Plus Gas
Tony A.K.A. JRNY Crypto is a respected crypto YouTuber who is now launching his own NFT.
And this isn't just an NFT; it's a ticket to an ecosystem that gives owners access to:
Future JRNY NFT sets
Private community chats and announcements
Exclusive NFT videos
Early access to partner NFT projects
And this list is by no means exhaustive.
The JRNY NFT economy is going to be massive, and I haven't been more excited about any one NFT project in quite some time — learn more about it here.
Bounty Hunter Space Guild
Oh man, I am very excited about this Solana NFT that will launch on November 20, 2021.
The team has created a lot of buzz surrounding the project with a cool Star Wars-inspired lore, a well-developed road map (you can read more about it in the project's Discord), and pretty sick art.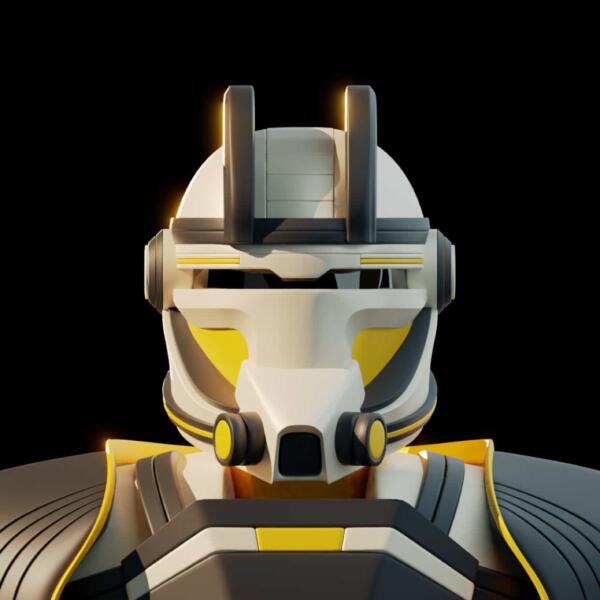 I can't wait to get my hands on one of these babies.
And the best thing? Bounty Hunter Space Guild gives away free NFTs from time to time through in-Discord games.
This is pretty significant for a project with a mint price of one to three Solana, which comes out to $200 – $600.
NFTs Unlocked is the exclusive NFT community and training program I'm a member of.

I've found some of my most profitable NFT opportunities through this membership!

And for a limited time, you can immediately get a $200 discount off your membership with my promo code MDRNFT.

I'll see you inside!
Solana Slugs
I heard about this no-whitelist Solana NFT project from the BitBoy Crypto YouTube channel. It was supposedly a free mint, but then things got sketchy fast.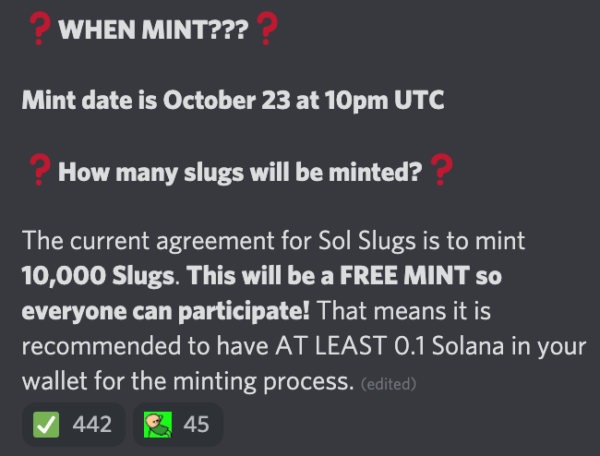 Ten minutes before the mint time, Solana Slugs dropped a link on their Twitter to the Solana Slugs mint site.
OUR MINTING SITE RIGHT HERE:https://t.co/Cd1JSZSVUT

CONNECT YOUR WALLET AND GET READY!

🚀🚀🚀🔥🔥🔥🐌🐌🐌

— Solana Slugs | MINT TODAY 10PM UTC (@SolSlugsNFT) October 23, 2021
OK, fine. So I go to the site and connect my Solana burn wallet in Phantom.
At the mint time, I click "MINT", and I get an error that the "mint failed". I tried again — same thing, "mint failed".
Then I see that Solana Slugs has posted on their Twitter to send 0.2 SOL to a certain address to confirm you're not a bot.
Attention Slugs!
Our minting protocol is not working properly but we still have 673 Slugs left!🐌
To mint them securely just send 0.2 SOL to this address:
CDsbHnBwFpUVYf7BZcmWpd7pUjLXm7QNt5eDrwhWBpbc
to confirm you are not a BOT.
Your SOL will be sent back with NFT, thank you!

— Solana Slugs | MINT TODAY 10PM UTC (@SoISlugsNFT) October 23, 2021
At that point, the whole thing felt a bit too sketchy for me. I didn't send any SOL to that address and guess I won't be participating in this NFT project.
Booberts
Mint
10,000 Ghosts
10/29/21
I heard about this Cardano NFT project from the BitBoy Crypto YouTube channel.
This NFT has 10,000 ghosts with various traits based on Halloween characters such as cats, devils, mummies, and witches.
Flashing rainbow is ultra rare — only 19 Booberts will have a flashing rainbow — and only 10 Booberts will have a "complete matching trait set," which I take to mean that there will only be one Boobert with all the traits of a cat, one Boobert with all the traits of a devil, etc.
There is no whitelist — I'm not sure the project even needs one with this many Booberts being minted — but there is an invite contest with the following prizes:
Invite Contest 1st Place: Free Boobert NFT + 50 ADA
Invite Contest 2nd Place: Free Boobert NFT + 30 ADA
Invite Contest 3rd Place: Free Boobert NFT + 20 ADA
Invite Contest 4th – 10th Place: Free Boobert NFT
So if you'd like to help me out with the invite contest and join the Boobert discord where you can get all the information you need about the mint, use my invite link here.
McDonald's McRib NFT
i present to u the most important NFT. RT for a chance to win one of ten exclusive #McRibNFT

no purch. nec. 50 U.S./DC, 18+ only. winners need crypto wallet to receive NFT. rules: https://t.co/2QRhsPlpur pic.twitter.com/KYmWI67PhG

— McDonald's (@McDonalds) November 1, 2021
Well, McDonald's — like many brands — is getting into the NFT space.
And unlike most NFTs, this one is completely free — and also gives you a McRib NFT.
In order to win, you simply need to retweet the from your personal Twitter account by midnight Eastern Time on November 7.
You will need an Ethereum wallet to accept the NFT if you win. No purchase of Ethereum is necessary, so you might as well give the tweet above a nice retweet to enter this sweepstakes.
CyberTrees
Whitelist Mint
3,200 Trees
11/12/21
Cost
0.07 ETH
Plus Gas Fees
I heard about this Ethereum NFT project from the BitBoy Crypto YouTube channel.
You get CyberTrees whitelist access by being one of the first 3,000 users to invite at least 10 people — so use my invite link *hint hint* — and the top 10 users with the most invites will earn access to the ability to mint 10 CyberTrees
The Cardanival
I heard about this Cardano NFT project from the BitBoy Crypto YouTube channel.
The theme here is "carnival wonders."
They recently posted that their develop has encountered some technical problems but is back on track now. Although that's a little bit concerning, I appreciate their honesty.
The Cardanival does not yet have a minting timeline, so stay tuned to their Discord for more information.
Author:
Logan Allec, CPA
Logan is a practicing CPA and founder of Choice Tax Relief and Money Done Right. After spending nearly a decade in the corporate world helping big businesses save money, he launched his blog with the goal of helping everyday Americans earn, save, and invest more money. Learn more about Logan.