It's the end of September.  That means in a little over a month it's Halloween, which is relatively easy as far as holidays go.  But beware.  You only have 23 days after that to figure out Thanksgiving plans.  And then — BOOM! — the most stressful season of the year hits you like a lump of coal: Christmas.
The holiday season is the time of the year when Americans feel the most financially stretched.  There are traveling expenses to visit friends and family.  There are gift exchanges at office holiday parties.  And of course there are the gifts you want to give your children.
So who couldn't afford to make some extra cash between now and December 25?  To help you out with this, we've put together a list of 12 ways to make extra money for the holidays — one for each of the 12 Days of Christmas.  Who knows?  Maybe you'll earn enough to buy 5 gold rings. 😉
🚗 1. Drive with Uber.  You can make more during the holidays!
The holiday season is the busiest time of the year for ride sharing services.  Halloween is routinely one of the top earning days of the year.  And then you have all the out-of-town relatives arriving for Thanksgiving and Christmas.  Then there are all the holiday parties where young and old guzzle down a little too much eggnog.
So this is all to say that you can make more than enough for some holiday cheer by driving with Uber over the next few months.
Interested?  Click the button below to get started! 👇
👩‍💻 2. Take online surveys.
So maybe you have little ones at home and would like to make some extra cash before Christmas from the comfort of your own home.  Nothing wrong with that!  Working from home is great, and surveys are one of the quickest ways to earn extra money from home.
The trick is that there are only a few legit survey sites.  Most of them are spammy, but Swagbucks ($5 Bonus) and Survey Junkie are 100% legit, and they do not send you spammy junk emails.
Their payouts are excellent, and they pay you in cash via PayPal.  I actually recommend that you sign up for both of them to maximize your earnings!
Members receive $5 just for joining and earn up to $35 per survey! Swagbucks is known for giving out fun, top-paying surveys.  And you can also get paid to play games and watch TV!
And yes, you are paid in cash via PayPal!  So if you'd like to start taking Swagbucks surveys for cash, click here to grab your $5 sign-up bonus and get going!
Survey Junkie's interface is super smooth and intuitive (unlike the majority of survey company websites that look like they were built in 1997), and members are paid in cash via Paypal.  Oh, and Survey Junkie also has an 8.9/10 rating on TrustPilot — the highest of any online survey company.  Click here to start earning money with Survey Junkie.
Another great thing about Survey Junkie is that they tell you exactly how much you can expect to earn in what amount of time per survey.  For example, before I even begin, I know the survey below will make me 125 points (which equals $1.25) for 8 minutes of my time.  Not too shabby!  If you'd like to start making extra cash with Survey Junkie, click here now.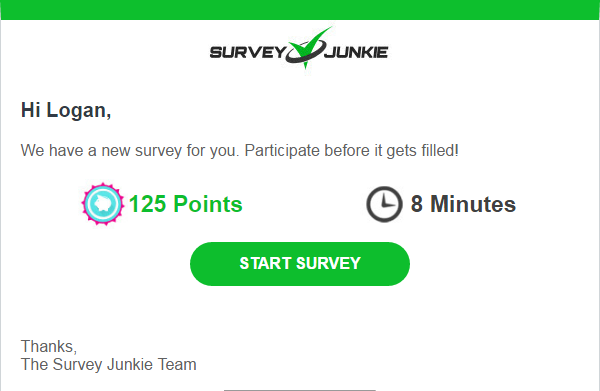 🏡 3. Join a work-from-home network.
Work-from-home networks are free-to-join services that match people with the top work-from-home opportunities that best suit their availability and income goals.  No matter if you only have an extra 1-5 hours a week to commit or 30-40 hours, there are opportunities in the network for you.  If you'd like to join a top network to see what opportunities are available for you, click here to sign up.
💻 4. Make money while shopping online.
Every year, more and more holiday shopping is done online.  And it makes total sense!  Why deal with long lines and parking lots when you can get all your Christmas shopping done in your pajamas?
And there's another, lesser-known benefit to shopping online: you can make money while doing it!
Check out these ways to get paid while you shop.
🦋 Best way to get paid to shop online
     Butterfly Saves
Butterfly Saves is similar to Ebates, except it is a 100% free browser extension in Google Chrome.
So rather than logging in to a central website first and then, Butterfly Saves give you money whenever you make an online purchase at over 2,800 merchants.
Which is better, Butterfly Saves or Ebates? It really depends on where you shop.  Butterfly Saves has better savings for some stores, and Ebates for others.
Our opinion?  Use both!
If you use Google Chrome, click here to start saving on online purchases automatically through Butterfly Saves.
👇 Check this one out too if you shop online.
     Paribus
Picture this.  You buy something online.  The price of whatever you purchased drops.  You get a refund based on the price drop without lifting a finger.  You don't even have to know about the price drop in order to get your refund!
Sound too good to be true?
Well, it's not.  There's a new, 100% free tool called Paribus that will do exactly that.  Once you sign up for Paribus, it will scan your emails for any purchase receipts from dozens of online retailers.  It will then track the price of the item(s) your purchased and give you a refund when the price drops.



Again, Paribus does the work for you behind the scenes.  All you have to do is sign up for Paribus, and it will do all the work for you, automatically.
If you'd like to start getting refunds on your online purchases, click here to sign up for Paribus.  Remember, it's 100% free!
Check out this 15-second video to learn more about Paribus. 👇

Click here to get started with Paribus.
💰 5. Get sign-up bonuses.
This has to be the easiest way to make an extra $5, $10, or even $50 for some stocking stuffers:  sign up for a website or app, and collect a sign-up bonus.  Our favorite is the Wealthsimple $50 Sign-Up Bonus exclusive for Money Done Right readers.  If you open a new Wealthsimple account and fund it with at least $100, you get a $50 sign-up bonus!   You can check out our full list of sign-up bonuses in our article Best Website and App Sign-Up Bonuses.

⌨️ 6. Start a blog.
Blogging is my #1 side hustle, and I was making money from it my first month!  Not only do I find it extremely enjoyable to share what I know about my passion (personal finance) with others, but I am making thousands of dollars a month from it — and I just launched my blog this year!
And as an accountant by trade, I had absolutely no formal training in either writing or computers!
 If you would like additional information about setting up your blog as well as making money from it (and more!), I recommend that you sign up for my free blogging e-course below.

🥧 7. Hold the pie.
From the kids' Halloween candy to an extra helping of stuffing at the Thanksgiving table to the endless supply of pie, the holiday season is rife with diet deathtraps.  Well, it may pay off handsomely for you to limit your intake because you can literally get paid to lose weight through a new company called HealthyWage.
Check out this Good Morning America special on HealthyWage that explains how it works:
You can bet as little or as much as you want, but obviously the more you bet, the more you stand to win!.
Click here to see how much you could win.
🚘 8. Rent out your car.
If you have a car you don't use very often, or don't use during a certain part of the day, then renting it out while you're not using it could be an easy source of extra holiday income for you.
There is a website called Turo that acts as a private rental car listing-service.  When you rent your car through Turo, your car is protected against physical damage, up to its actual cash value, for collision and most "comprehensive" causes, including theft.  You are also covered by $1 million in liability insurance.  If this sounds like something you would be interested, click here to sign up to rent out your car at Turo.
🔑 9. Rent out your spare room.
Renting out lodging can be an incredible way to earn extra money between now and Christmas.   I know some people making thousands of dollars a month, all by renting out an extra room to short-term guests.
Now, if you wanted to do this 10 years ago, you would've had to post an ad in the classifieds or on shady old Craigslist.  Gladly, those days are over.  You can now put up your spare room for rent on Airbnb and screen out prospective guests.  (Guests are rated by their hosts for things like cleanliness and communication.)
If you'd like to sign up to become an Airbnb host, check out my article How to Become an Airbnb Host.
📱 10. Sell your old phone.
About 50% of iPhone users and 40% of Android users upgrade their cell phone as soon as their wireless company allows (typically every two years).  If you're one of these folks, then you probably have at least one or two old smartphones laying around somewhere.
Well, guess what?  With each passing year, those old smartphones are losing market value as their technology becomes more and more obsolete.  So it is in your best interest to sell them immediately.
And you might as well do it in the next few months so you have extra Christmas cash!
Although you could list your phone yourself on eBay or Craigslist, this can prove to be quite a hassle.  When I was looking to get rid of my old smartphone, I sold it on Gazelle for cash.  This is probably the easiest way to do it.  If you'd like to get an extra $10 back on your trade-in, use my Gazelle $10 bonus link by clicking here.
Amazon also has a trade-in program for consumer electronics.  You can access the Amazon trade-in program by clicking here.
Another option is to bring your old phone to Best Buy, Walmart, or your wireless provider, to see what kind of trade-in value they will give you toward a new phone.
💿 11. Sell your old CDs, DVDs, and video games.
Along with your old cell phone, you may have some old CDs, DVDs, and video games laying around, never to be used again.  Well, why not give them a new home where they can be enjoyed and loved?  Decluttr makes it super easy for you to sell your old CDs, DVDs, and video games.  All you have to do is input the barcodes for the items you want to sell, and Decluttr gives you an instant offer.  Click here to see what you can get for your old items through Decluttr.
🚗 12. Find seasonal work you enjoy.
Now until New Year's is the busiest time of the year for part-time seasonal work.  Even a few hours of work a week could provide much-needed cash flow during the holiday season.  You'd be surprised at the opportunities out there, from retail to bookkeeping to delivery services.
Search for "seasonal" in the box below to look for part-time seasonal work in your area! 👇
Sign up and get FREE online access to the 2018 Work At Home Summit ($297 Value)