I absolutely love working from home, and the Internet makes it easier than ever!
There's nothing like being able to flip on my computer and make a few bucks at my leisure.
So whether you're a stay-at-home parent, a student, or someone who just wants to make some extra money, you owe it to yourself to check out these top 3 ways I've made money from home.
💡 1. Take online surveys.
Surveys are one of the quickest ways to make money online.  Survey companies really want to know your opinion and are willing to pay top dollar for it!
The trick is that there are only a few legit survey sites.  We recommend Survey Junkie.
It's 100% legit, and they do not send you spammy junk emails.
Their payouts are excellent, and they pay you in cash via PayPal.
Survey Junkie has an 8.9/10 rating on TrustPilot — the highest of any online survey company.
And they also have some really fun surveys.
For example, in the screenshot below you'll see a pretty awesome music review survey that I recently did.  I made $50 reviewing music!  🎶

Click here to start making extra cash with Survey Junkie.
Now, I must tell you that not all surveys are this fun, and not all pay this well, but every once in a while you get a great one like this!
Also, it's satisfying knowing that companies will use my opinions and inputs to make decisions about not only music, but also food, restaurants, consumer products, movies, and a lot more.
⌨ 2. Start a blog.
Blogging is Logan's and my #1 side hustle, and we were making money from it our first month!  Not only do we find it extremely enjoyable to share what I know about our passion (personal finance) with others, but we are making thousands of dollars a month from it — and we just launched our blog this year!
And as accountants by trade, we had absolutely no formal training in either writing or computers!
 If you would like additional information about setting up your blog as well as making money from it (and more!), we recommend that you sign up for our free blogging e-course below.

6 More Ways to Make Money From Home:
💰 1. Get cash back on stuff you buy anyway.
There's a little-known app called Ibotta ($10 bonus if you click here) that literally gives you cash back on things you buy anyway, just for taking pictures of your shopping receipts!
To date, I have made $1,357.09 from this little app.


And yes, they pay you cash through Paypal!
And oh yeah, if you sign up with Ibotta through our special $10 bonus link (click here), you'll get a $10 bonus when you submit your first receipt!
📺 2. Get paid to watch videos online.
Believe it or not, there is a company out there that will pay you to watch videos online.
This company is called Swagbucks, and you can get a $5 sign-up bonus if you click here to sign up through our Swagbucks $5 bonus link!
📦 3. Share your Amazon purchase history.
If you're a regular Amazon shopper, you can earn money each month simply by letting a research company track your purchase history.
Shoptracker will instantly send you a free $3 Visa gift card, plus another $3 for every month you keep it installed.
It's not a fortune, but it adds up!
Also, they don't do anything weird with the information. They simply want to help companies better understand what people are purchasing online these days so they can serve you better.
Click here to start earning monthly income with Shoptracker.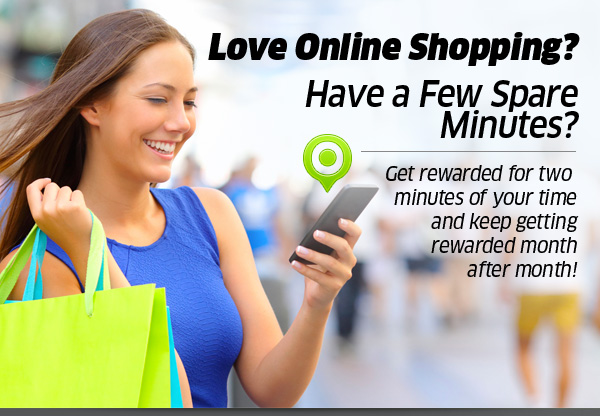 🛍 4. Make money while shopping online.
Picture this: you buy something online.
The price of whatever you purchased drops.
You get a refund based on the price drop.
Sound too good to be true?
Well, it's not.  There's a new, 100% free tool called Earny that will help you do exactly that.
Once you sign up for Earny, it will scan your emails for any purchase receipts from dozens of online retailers.
It will then track the price of the item(s) you purchased and work to get you a refund when the price drops.

Sign up for Earny, and let it do the heavy lifting for you.
If you'd like to start getting refunds on your online purchases, click here to sign up for Earny. Remember, it's 100% free!
🍪 5. Lose weight.
If you can commit to shedding some pounds, it may pay off handsomely for you to cut that habit because you can literally get paid to lose weight through a new company called HealthyWage.
Check out this Good Morning America special on HealthyWage that explains how it works:
You can bet as little or as much as you want, but obviously the more you bet, the more you stand to win!  Also, you can bet on your weight loss of any period between 6 and 18 months.
🤖 6. Use a free money-saving bot.
Sometimes the best way to make money is to save money.
Subscriptions, especially those that go unused, can add up over time.
Thankfully, there's a free money-saving bot called Trim that will go through all your subscriptions, let you know how much you are paying for each of them every month, and cancel them with a simple text message if you'd like.
And Trim not only keeps track of your subscriptions, but it also negotiates your monthly bills such as cable and Internet so you keep more money in your pocket.
Trim users have saved over $8,000,000! To learn other benefits that Trim can offer you, check out our full-scale Trim review.
Click here to start saving with Trim! It's 100% free!
Earn 💵 Save 💰 Grow
Sign up to get new posts about earning, saving, and growing money!