Basics: Slide was launched in 2020 and gives users 4% cash back at more than 250 retailers. The app can be used for online purchases or in-store — either will earn the same rate.
Pros: The service is free and provides instant cash back. As soon as the purchase is made, the money goes to your account. The rate is guaranteed at 4% across the board.
Cons: The list of retail partners is limited. Compared to Rakuten which has over 2,500 retailers, Slide will only work with about 250 stores.

Number of Stores:

250+

Minimum Payout:

$15

Payout Options:

Paypal, Venmo, or future purchase on the app.

What's Unique?

4% cash back, every time.
There's a new twist to earning cash back for purchases from an app called Slide. Instead of purchasing through Slide, you actually purchase with Slide by using the app at checkout.
What Is Slide?
Slide is an app-only service that offers a high percentage of cash back at about 250 retailers nationwide if you use their app at checkout instead of a credit card or cash.
The Slide app is unique in that every store they partner with gives you 4% cash back.
No matter the day, the retailer, or the purchase amount — you will receive 4% cash back.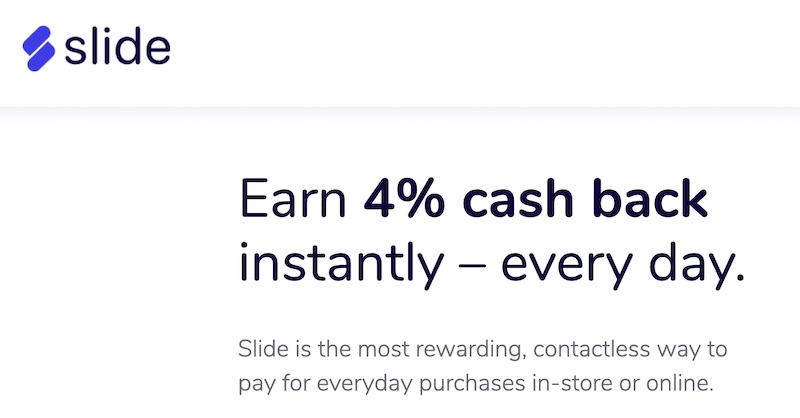 Preloading your account earns an additional 1%, so your effective cash-back rate with Slide could reach 5%.
Slide involves a slightly more cumbersome process than most cash-back apps, requiring an extra step at checkout.
However, once the purchase has been made, you will receive the cash back immediately.
Compare that to the 90-day payout schedule of cash back competitor Rakuten, and you can see why some people are getting on the Slide.
Let's get into our Slide app review and cover everything you need to know about this new competitor in the cash-back arena.
Related: How to Save Money: 75+ Tips and Ways to Save Money on Everything
Slide At a Glance
| | |
| --- | --- |
| Number of Stores | 250+ |
| How to Earn Cash Back | By using the Slide app when you checkout |
| Fees | No |
| Minimum Payout | $15 |
| Payout Timing | Immediately after purchase |
| Payout Options | Paypal, Venmo, or future purchase on the app |
| Payout Bonuses | No |
| Mobile App | Yes |
| Desktop Version | No |
| Browser Extension | No |
| In-Store Cash Back | Yes |
| Coupons | No |
| Sign-Up Bonus | Yes |
| Referral Bonus | Yes |
How Does Slide Work?
Slide works a bit differently than most other cash-back platforms, both for online and in-store purchases.
We'll describe the process in detail later, but these are the basics:
You link a credit card or other payment method to your Slide account.
You go directly to the online or physical store of one of their 250+ retail partners, and shop like you normally would.
At the moment of purchase, you use the Slide app to pay.
You'll earn 4% back on every purchase, every time.
Different, huh? If you aren't 100% clear on the details at this point, don't worry, we'll explain everything.
Number of Stores
Slide currently has more than 250 retail partners on its app.
While that's a much smaller number than most other cash-back programs, Slide seems to have prioritized quality over quantity.
Top retailers like Lowe's, Lululemon, and Office Depot are among their 250 partners.
To give you a flavor for their selection, these are the brands listed in the "Baby & Kids" category at time of writing.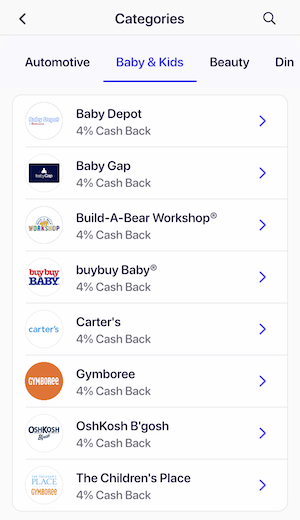 Slide clearly doesn't have every baby clothing brand out there but their selection does have many of the big names in the baby world.
Don't expect to use Slide to save on everyday items.
None of the big box retailers like Walmart or Target are partners, and the only major grocery option is Instacart.
Some stores are listed on Slide as "Slide Selects."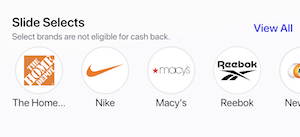 These are stores where you can use Slide to pay, but you won't earn any cash back.
This gives you the option to use your Slide balance to pay, even if you aren't going to get any reward.
Ways to Get Cash Back
With Slide, making purchases is the only way to earn cash back.
While most other cash-back sites take anywhere from 30-90 days to credit your account, your Slide wallet will be credited as soon as the purchase goes through.
Fees
There are no fees to use the Slide app.
Payouts (Minimums, Timing, Options, Bonuses)
Payouts are quite simple in Slide.
Cash back from your purchases is added immediately to your account.
Once the cash is in your account, you need a minimum balance of $15 for your Slide money to be withdrawn (as you can see, I wasn't quite there yet).
From here, you can withdraw your money in one simple step.
Go to your account and click "withdraw" under your balance.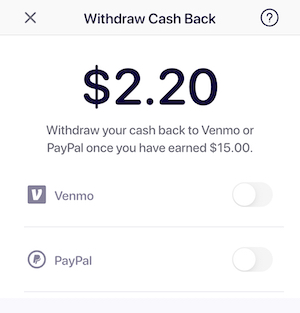 You will see two options, Paypal and Venmo. Just select whichever method you prefer and the money will be sent to you immediately.
Slide does not offer payout bonuses.
Platforms (Mobile App, Desktop Version, Browser Extension)
Slide is only available as an app. They do have a website, but it's basically just an ad for the app.
Unlike Rakuten, TopCashBack, and others, there is also no browser extension available.
I am personally a fan of browser extensions because they can alert you when an online retailer you're visiting offers cash back.
When using Slide, you have to manually go through the list of retailers on their app to see if they have cash back available.
With all of that said, the app is simple, functional, and pleasant to use.
It is a fairly standard cash-back app with the ability to search for stores by name or category.
Here is the home screen of the app.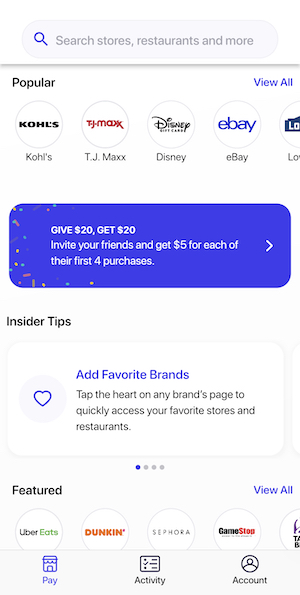 Within the app, you can refer friends, cash out, view your past activity, and more.
In-Store Cash Back
All retailers on the app can provide cash back for in-store purchases or online purchases.
Purchasing in-store gives you a barcode that the cashier can scan as if it were a gift card, fully paying for your purchase.
Coupons
Coupons are not available with Slide — only the standard 4% cash back.
Sign-Up Bonus
Slide offers a sign-up bonus of $5, but it must be used to make a purchase within seven days of downloading the app.
There are additional bonuses for new customers, but they all require making purchases.
Referral Bonus
Slide currently offers a fairly decent referral program that they call "Give $20, Get $20."
When you refer someone, you will receive $5 for all of their first four transactions over $10. That means you can get up to $20 per referral.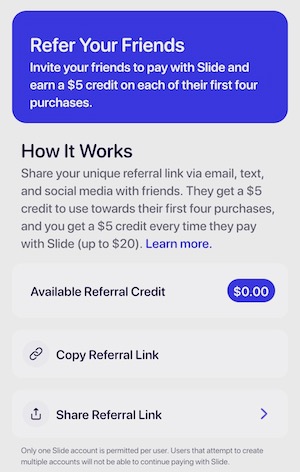 The person you refer will also receive $5 off their first four purchases, so they can also get up to $20.
Related: 90+ Best Referral Programs to Make Money
How To Buy Through the Slide App
Before you can buy anything, you are required to choose or add a payment method.
Slide supports Google Pay, Apple Pay, and BitPay, but you can also link a credit card, debit card, or PayPal.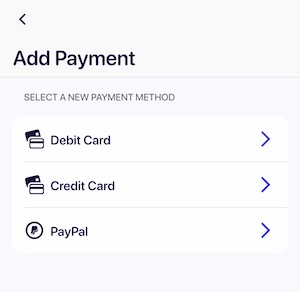 If you are using a cash rewards credit card, this process will allow you to double dip rewards.
You will be receiving the cash back from Slide while also receiving whatever rewards your credit card is offering.
The process of making a purchase is slightly different depending on whether you are buying online or in a physical store.
Using Slide For Online Purchases
For online purchases, most platforms require you to start on their app, then activate a link to shop.
Slide works through the retailer's normal website or in-store checkout process.
The difference is that after you go through the normal checkout process, you input the total payment value in the Slide app.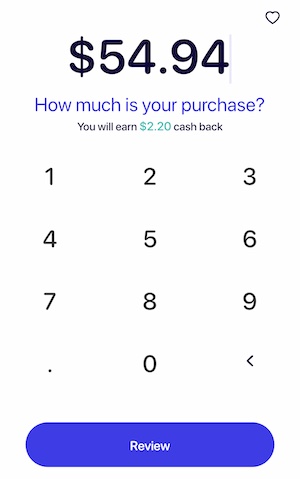 Then, Slide will provide a gift card number that you use to pay for your purchase.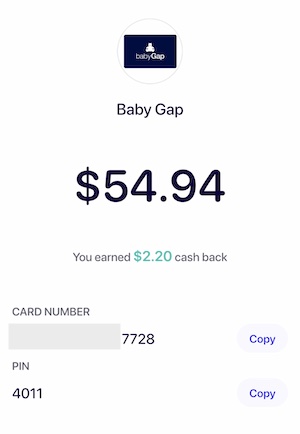 Using Slide for In-Store Purchases
When making a purchase in-store, the process is a bit more cumbersome.
Once the cashier has scanned all of your items and presented you with the total balance, you will then input that number into the app.
From here, Slide will present a barcode that the cashier can scan, or they can enter the gift card number into their system.
After this, you will get a gift card number that you can input online or a barcode that will be scanned for in-person shopping.
The cash back is immediately added to your account and can be withdrawn once your balance is $15 or higher.
Preload Your Account for Extra Cash Back
There is one additional way to earn cash back on Slide.
Slide gives users the option to preload money into their account for an additional 1% cash back on their purchases.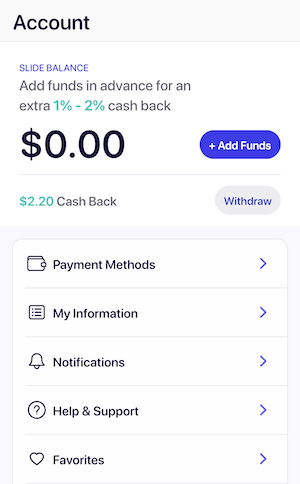 Here's how it works. Say you load $100 into your Slide account.
You will immediately receive 1% back, in this case, $1, which is added to your Slide balance.
You can then use your Slide balance to pay for purchases.
How Much Money Can You Make With Slide?
Slide makes it simple to calculate the cash back received.
No matter which store you choose out of the 250+ retailers, you will receive 4% cash back.
You can make your purchases online or in-person (if they have physical stores), and you will receive the same 4% either way.
With a $100 purchase, users will receive $4 back into their Slide balance.
There is additional money to be made from the referral program (up to $20 per referral) and you can also get an extra 1% back by preloading money into your account.
Some of the retailers available on Slide include:
Lowe's
Gap
Chipotle
AutoZone
eBay
As with most cash-back apps, Amazon is not included in the program.

Available Stores
250+
All partners are top retailers.
Minimum Payout
$15
Cash is available immediately after purchase.
Payout Options
PayPal or Vemmo
Or apply payouts to future purchases.
Is Slide Legit?
Slide is owned by the makers of the Raise app, which has been around for years giving people discounts on gift cards.
It appears that this app uses the same service (gift cards), but instead of providing users with a discount on the cards, it is returned to them in the form of cash back.
Slide states on their website that they have given over $500,000 to users since their founding in 2020.
Slide app reviews are mostly positive on both the Google Play Store and the Apple App Store.
On Apple, the app currently has an average rating of 4.1 with over 1,100 reviews.

On Android, the app has over 1,600 reviews with a flat 4.0 rating.
The negative reviews tend to center on technical issues rather than shady business practices.
Slide Tips and Hacks
1) Refer!
Some cash-back portals have great referral programs while others have none.
I would place the Slide program right in the middle.
You can get up to $20 per referral, quickly boosting your money in Slide.
2) Preload your account.
Although you will only receive an additional 1%, the cash-back world is one of percentages.
Boosting your potential rewards from 4% to 5% can make a difference if you are a heavy shopper.
3) Use a rewards credit card.
If you have a rewards credit card, make it your default payment method on Slide.
With proper use, you can easily boost your cash back close to double digits for certain purchases.
Slide Pros and Cons
Pros
Useful for Online and In-store Shopping: While some cash-back sites limit you to online shopping, Slide allows you to shop in-store for any of its partners with physical stores.
Consistent, High Cash-Back Rate: The rate is guaranteed at 4% for all partner retailers. While this means you won't get the higher offers, it's a lot higher than the typical 1-2%.
No Waiting Period: As soon as you make the purchase, the cash-back goes to your account. There's no 90-day waiting period as with the competition.
Good Referral Program: With up to $20 earned per referral, there is good money to be made by having your friends use Slide.
Good Customer Service: Unlike most cash-back apps, Slide offers customer service by phone.
Cons
Limited Selection: Rakuten has over 2,500 stores. Slide only has slightly above 250.
Cumbersome Process: Having to input the purchase price, and then add a gift card number to the website, adds a few steps to the checkout process.
No Large Reward Boosts: Other cash-back sites will occasionally offer cash-back percentages as high as 15% on certain sites. Slide is always at 4%, no matter what.
Alternatives to Slide
| | Slide | Rakuten | TopCashBack | BeFrugal |
| --- | --- | --- | --- | --- |
| | | | | |
| Number of Stores | | | | |
| Fees | | | | |
| Minimum Payout | | | | |
| Payout Timing | | | About 2 months after qualifying purchase | 30-60 days after qualifying purchase |
| Payout Options | Paypal, Venmo, future purchase credit | | ACH Direct Deposit, PayPal, gift cards | Zelle, ACH deposit, Paypal, Venmo, gift cards |
| Payout Bonuses | | | | |
| Mobile App | | | | |
| Desktop Version | | | | |
| Browser Extension | | | | |
| In-Store Cash Back | | | | |
| Coupons | | | | |
| Sign-Up Bonus | | | | |
| Referral Bonus | | | | |
Is Slide Worth It?
Slide is not designed to replace your income.
But it is a very good way to get a guaranteed rate of return on qualifying purchases.
The app is free to use, and when you sign up you get $5 for free, so to me, there is no downside to at least testing it out and seeing if it's for you.
Who Slide Is Best For
Slide is best for people who don't mind putting in a little extra effort to earn cash back.
The rewards can be quite lucrative (up to 5% if money is preloaded), and if you are a frequent shopper at any of the 250+ available stores, you will find Slide to be very useful.
Who Slide Is Not For
Slide is definitely not for anyone that doesn't want to involve extra steps in their buying process.
The in-store process is frankly very cumbersome, and if you don't tend to make large purchases, the 4% back won't add up very quickly.
If you tend to do all of your online shopping on Amazon, Slide will not be great for you as they do not offer cash back on Amazon.
How to Use Slide (Step-by-Step)
Signing up on Slide can only be done on the app, not on the website. With that said, the process is simple.
Step 1: Download Slide from the Apple app store or Google Play.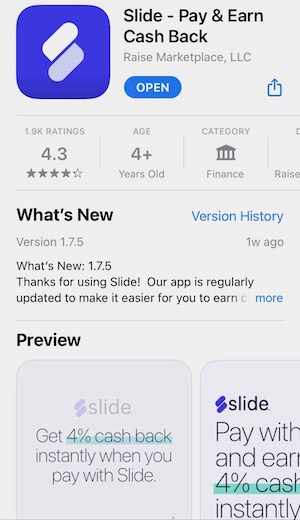 The app is available for Apple and Android users.
Step 2: Click the "get started" button.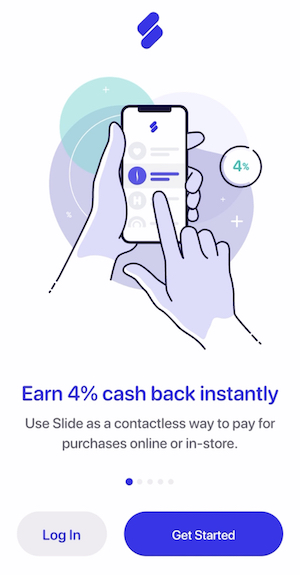 If you want, you can scroll through the screens for a mini-tour first.
Step 3: Create an account.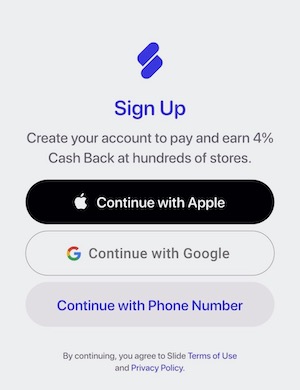 You can use Apple, Google, or your phone number.
Step 4: Add a payment method.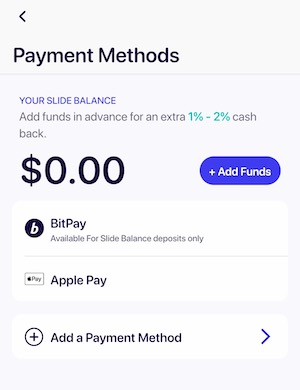 Once the account has been created, you are required to add a payment card before you can begin earning cash back.
Step 5: Start shopping and earn your 4% back.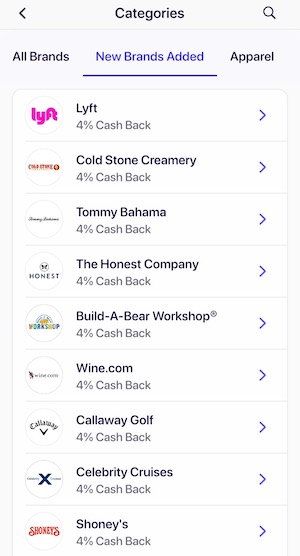 You can find your favorite stores via search, alphabetical list, or category.
Final Thoughts on Slide
Slide at times tries to be more simple than its competitors.
Keeping the cash back at a flat 4% regardless of retailer is nice and makes it easy to know exactly how much cash back you will get every time.
This simplicity comes at the expense of the extra steps needed when it comes to purchasing.
If you don't mind the requirement to input the value of your purchase and then typing in a gift card number for your payments, you will likely enjoy using the app.
For me, the limiting factor is the fact that only 250 retailers are available on Slide.
With that said, the guarantee of 4% back on all purchases with those retailers — which you can boost to 5% if you preload your account — makes Slide worth considering.
No shenanigans, just 4% back on every purchase. Pair with a rewards credit card to stack your cash back.
Frequently Asked Questions
Here are some short answers to basic questions people often have about Slide.
Is Slide safe?

Yes, Slide is safe to use.

The company states that they don't store payment data and that all customer data is stored and encrypted.

It's true that Slide has access to your credit card information — but so does any retailer you buy from.

How does Slide make money?

Slide is likely earning money from the targeted offers and ads that they are permitted to serve according to the app's privacy policy.

This is a common way for cash-back apps to earn money from advertisers.

Why does Slide need to know my location?

The app collects real-time location information to serve you offers and promotions based on where you are, according to their privacy policy.
Author:
Logan Allec, CPA
Logan is a practicing CPA and founder of Choice Tax Relief and Money Done Right. After spending nearly a decade in the corporate world helping big businesses save money, he launched his blog with the goal of helping everyday Americans earn, save, and invest more money. Learn more about Logan.