Recur Pass NFT: I Minted 10 of Them, and Here's My Strategy
Cryptocurrency
How many NFT projects can say they raised $50 million in the first round of Series A funding?
I'll answer that question for you: one — RECUR NFT.
RECUR announced in September that investors like Gary Vaynerchuk, Steve Cohen, the Winklevoss Twins, and more all invested in its seed round.
So what is the RECUR Pass NFT at a basic level?
The RECUR Pass NFT gives holders early beta access to their extensive list of licensed intellectual property NFT.
Essentially if you want access to some of the biggest IP experiences in pop culture like Hello Kitty, you'll have to go through them.
So what made the owner of the New York Mets and Gary Vaynerchuk buy in? Let's dive in!
Before we get started, I'd like to disclaim that I do hold ten RECUR Portal Passes, and so while I have financial interest in the success of the project, it hasn't affected the integrity of my content. I still give my honest, unbiased opinion.
Who's Behind RECUR NFT?
So who's the team behind the RECUR NFT?
Well, you don't raise $50 million with an un-doxxed team. RECUR NFT was founded by Trevor George, a licensing expert, and Zach Bruch, a technology and crypto expert.
Trevor George
Trevor is a licensing industry expert who's founded three different high-growth companies. For the past 11 years Trevor has been the CEO of Trevco.
Trevco is a licensing company that helps brands materialize their vision. They've amassed the largest register of licensed brands with 1,500+ and counting, including beloved brands like Disney, Marvel, Star Wars, and more.
Zach Bruch
While Trevor has the licensing and marketing background, Zach handles the tech and crypto side of things. Zach has held leadership roles at the likes of Kraken, Cumberland/DRW, and JST Capital.
Bruch also founded Manna, an investment firm that's backed several prominent crypto projects like Switchboard, a Solana based oracle network.
The founders bring a lot to the table. Trevor has a ton of relationships with well-known brands already which can help bring on IPs in the future.
Other Team Members
Other core members of the team have worked as SVP of Licensing at Disney, GM of Warner Bros Consumer Products, VP of Games for Disney and NBC Universal, and Director of Engineering at Poloniex.
While many NFT founders are anonymous or undoxxed or if they are doxxed, unknown, RECUR NFT has a STRONG team of proven individuals accompanied by prestigious investors.
How Does The RECUR Portal Pass NFT Work?
RECUR didn't release a specific collection size. Instead, they opened a 24-hour window where people could mint as many as they wanted. Once the window closed, there would never be portal passes released again.
RECUR NFT opened the 24-hour window on December 9, 2021, during which 64,031 were minted, so it's already closed and sold out. I personally minted 10 RECUR NFTs for $300 apiece during this time.
But now if you want to buy the RECUR NFT, you'll have to go through RECUR's secondary market — more on that later.
So the RECUR Portal Pass offers lifelong access to RECUR's extensive roster of licensed IP.
Right now, one of the IPs they have locked in is Rugrats. Imagine if Rugrats announced they were releasing an NFT. The market would go crazy and everyone would want to be a part of it.
There are already millions of players in the NFT space, and drops like that would flood even more buyers into the market.
It'd be almost impossible to mint with insane gas prices if this were a traditional fastest-fingers mint. That's where the Portal Pass comes into play. It gives you early access to these types of mints, increasing your chances of minting an NFT.
What's unique is their utility.
RECUR explains their utility as so:
"RECUR utilizes first-of-its-kind technology allowing NFT owners to earn recurring royalties on their digital assets across the crypto ecosystem."
What stands out to me is the "across the crypto ecosystem" — RECUR isn't tied down to a specific blockchain. It's blockchain agnostic.
Blockchain Agnostic
Blockchain agnostic means that RECUR's licensed NFTs can be built on and operate on different underlying blockchain technologies.
While most NFT projects are built on a specific blockchain like ETH or Solana, RECUR NFTs can be adapted to almost any chain.
To me this is a huge deal.
We don't know which blockchain will be the most successful long term or what the next upcoming chain will be. What's important is that the RECUR NFT can adapt to any chain, making it hold long-term value regardless of the chain it's minted on.
For example, you can buy the RECUR Portal Pass NFT on the Polygon network using MATIC or with ETH on the Ethereum blockchain.
You can buy a Portal Pass on one chain and move it to a different chain and they'll still receive royalties from the secondary sale.
RECUR Portal Pass
So Portal passes give you access to future NFT drops but they are also NFTs themselves with their own unique attributes and rarity.
Portal passes have six unique attributes that determine the rarity of each pass:
Color Sets (# of Colors)
Properties (Pattern Tags)
Pass Number
Digit Sum
Color
Sequence
Color Sets are the amount of colors included in your Portal Pass NFT. The less colors on the Portal Pass, the more rare it is.
You can have mixed, prismatic, trichrome (three colors), dichrome (two colors), or monochrome (one color).
Properties come from the numbers on your Portal Pass. Your Pass could have multiple properties or none.
Here's a list of properties that your pass can obtain and their frequency.
Pass Number directly corresponds to the number Pass you minted out of the 64,031 total. If you were the first to mint, your pass number would be one. If you were last your pass number should be 64031.
Digit Sum is an attribute that sets passes apart from one another. By adding up your pass numbers together, you get your "digit sum".
For example, if your pass number is #214 (2+1+4), your digit sum is seven. Seven is one of the most rare digit sums. If you want to see how rare your digit sum is you can use this chart.
Color directly correlates with the most occurring color of your Portal Pass. Most passes are colorful, but each pass has a most occurring color. The color that your pass has most recurring, is its main color.
Red, blue, purple, and white are the rarest main colors to get. Neutral, Pink, Cyan, and Black are the most common recurring colors.
Longest Sequence is the amount of numbers strung together. The longer the sequence the more rare the NFT.
For example, if your number is #550, your longest sequence is two (two 5s). If your number #51111, your longest sequence is 4 (four 1s).
Want to Make Money With NFTs?
Degen Den is the brand-new exclusive NFT community that I founded.

In this community, you get access to:

• A private Discord community of likeminded NFT profiteers
• Whitelist opportunities to hyped NFT projects
• Early intel on what NFT projects I will be covering on my NFT-focused YouTube channel
• And a lot more!

I'll see you inside!
Community Fund
Post launch RECUR announced a community fund where 100% of the proceeds from the secondary sales fee RECUR collects (which is 5% of each secondary market sale) will be deposited.
The funds will be used to support and educate the RECUR community by supporting artists, granting scholarships, and much more.
But who decides how the funds are used?
RECUR created the RECUR Community Crew — a group of non-RECUR elected NFT OGs to make informed decisions.
The Community Crew is made up of seven members who are Punks, Bored Apes, Doodles, Cool Cats, CloneX, and Adam Bomb Squad holders.
The RECUR community itself can also make recommendations on how the fund is spent. I've seen a lot of projects add a third-party committee to control the fund so it's decentralized but keeps the project's best interest in mind and in good hands.
Characters
RECUR has secured branded characters licensed IP from the likes of Hello Kitty, Rugrats, TMNT, and that's just the beginning. They have secured more beloved IPs but haven't officially released what they are quite yet.
Portal Pass holders will have exclusive access to NFTs built around these characters and more.
Movies and TV
You can gain access to NFTs from your favorite movies and TV shows with a Portal Pass. Movies offer thousands of collectibles. RECUR has the licensed IP for The Godfather, Star Trek, Ferris Bueller's Day Off, and Mean Girls with more to come!
Sports and NFTU
RECUR is also involved with universities across the United States with some of the most dominant schools in college sports under their belt.
They have also gone on to create NFTU — aka NFT University — the official collegiate NFT experience. There isn't a ton of information about it since it's still in such an early stage, but they do have a website where you can see all the schools they've partnered with so far and sign up.
Sneak peek at the first NFTU NFT ?

Coming to you in March ?

Stay updated by joining our Discord: https://t.co/3q5qV3JTla pic.twitter.com/WGCgJBucOb

— NFTU (@_NFTU) December 7, 2021
How to Buy the RECUR Portal Pass NFT
The RECUR Portal Pass was released on December 9, 2021, and sold out. As mentioned above, there wasn't a set collection size you could mint as many as you wanted in the 24-hour window, but 64,031 ended up minting.
After that, 10% more are added to the lot for giveaways, team, community, etc. and that's it. There's never another drop; these are the only ones released. If you missed the chance to get one live, you gotta go to the secondary market.
With an hour to go during the mint on December 9, 2021, 50,000 passes had been minted, meaning that over 14,000 were minted in the last hour!
?60 Minutes Remaining ?

We're still tallying everything up… Thrilled to say ~50,000 Passes Minted!

We love being here with you! Wow are we early!

Pass Sale Ends at 11:00 AM ET!
Get yours: https://t.co/RmsGDbDXZd pic.twitter.com/rFRiGVGWiw

— RECUR (@RecurForever) December 10, 2021
RECUR partnered with Nifty Gateway and Polygon to co-list the passes. They agreed to mint exclusively on the Polygon Blockchain. To celebrate the partnership ,Polygon Studios agreed to mint 10,000 RECUR passes that they'd airdrop to their community.
One unique thing that they did was two days before the drop on December 7th, they auctioned off their "Pure White Zero Pass" — the most rare pass — at Christie's Auction.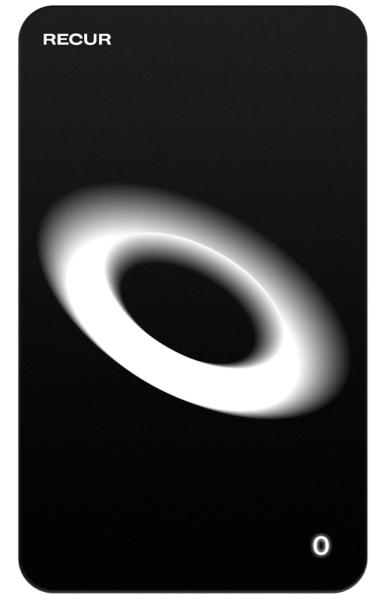 The pass sold for a total of 96 ETH ($420,000 at the time) and can be found on OpenSea.
Now if you want to buy a pass, you need to use RECUR's secondary marketplace.
The floor price (as of writing) is $680, which is a little over double the original mint price of $300.
It's come down from a high of $730 but has a total trading volume of over $2 million in less than a month, which is strong.
My Strategy for The RECUR Portal Pass NFT
I minted 10 RECUR Portal Passes, so I love to see the recent pump and I'm excited to see what brands and IP they partner with moving forward.
When it comes to NFTs my process is very similar to how I view stocks and financial planning — conservative.
And when it comes to NFTs because they are probably the most speculative asset class I invest in, my approach is particular conservative. I prefer to take my costs basis out quickly and let the remaining assets ride for infinite ROI.
Since I minted 10 NFTs, my cost basis is $3,000 (10 x $300). I plan to sell three for $1,000 each and let the remaining seven ride.
If it doesn't look like a $1,000 floor will be reached in the short-term (first two months), I would list four for a minimum of $750 and let the other six ride or maybe five for a minimum of $600 and let the other five ride.
As a CPA, I am much more conservative than the typical NFT investor. I am willing to forego maximum gains in favor of getting my cost basis out quickly.
This might not be the best strategy for everyone, nor is anything in this article financial advice, so be sure to develop your own NFT investment strategy that works for you. For me, the conservative approach has worked, earning me decent gains while shielding me from degen losses.
As of now you can't cash out your balance on RECUR. You can sell,but you won't be able to cash out your account until "early 2022". If you sell your portal pass the funds are frozen in RECUR until the cash out option is live on the site.
As you can see, similar to VeVe, some people aren't too happy with RECUR because they didn't know their funds would be frozen if they sold.
The team seems adamant that holders will be able to cash out soon, yet they still haven't announced a hard date the option will be available.
Since I can't withdraw the funds yet and it hasn't reached my target price of $1,000, I'm just holding my passes for now to see how the market responds to the release of more IP as well as specific NFT projects in the coming months.
They've stated that the licensed brands live on their site are only a small portion of the licensed IP they have – there's more to come!
I imagine as they announce more brands they are partnering with, the hype around the project will increase, in turn increasing the floor.
That's just my opinion. Feel free to disagree. Let me know your thoughts in the comments, and be sure to follow me on Twitter for more NFT updates.
Want to Make Money With NFTs?
Degen Den is the brand-new exclusive NFT community that I founded.

In this community, you get access to:

• A private Discord community of likeminded NFT profiteers
• Whitelist opportunities to hyped NFT projects
• Early intel on what NFT projects I will be covering on my NFT-focused YouTube channel
• And a lot more!

I'll see you inside!
Author:
Logan Allec, CPA
Logan is a practicing CPA and founder of Choice Tax Relief and Money Done Right. After spending nearly a decade in the corporate world helping big businesses save money, he launched his blog with the goal of helping everyday Americans earn, save, and invest more money. Learn more about Logan.