Money Done Right does not run display ads or accept sponsorships to promote particular products or services. However, we may receive a commission if you purchase or sign up through links on this page. Here's more information about how we make money.
Waldo

Waldo gets you get cash back by taking advantages of retailers' price protection policies to get you a refund when the price drops on something you purchased online.
When beneficial to you, Waldo also taps into your credit card's price protection policy.
Waldo does need access to your email account, but it doesn't collect personal emails and uses 256-bit encryption to make sure your data is safe and secure.
Everywhere you look online, sites are promising to put more money in your pocket. You can play games, go shopping, and do surveys all while earning money.
Here's another recently released cash back site with a promising premise: You get back some of the money you've already spent.
What is this site? Waldo.
You are probably picturing a skinny, bespectacled young man decked out in red and white stripes, hiding among all manner of chaos.
And if you've ever searched for Waldo, you can spend hours scanning every square inch of art looking for him.
The same is true for your money. Once you spend it, it's (generally) gone, but guess what? You are probably owed some of it back.
When a retailer reduces pricing on an item shortly after you purchase it, price protection policies give you the right to the new price.
But the task of combing through purchase agreements and price reductions to discover those hidden dollars is as daunting as finding our cartoon friend Waldo.
This is what Waldo does for you.
IMPORTANT: As of December 2019, we recommend Paribus rather than Waldo when it comes to getting price drop refunds since Paribus does not charge a success fee. Click here to check out our full Waldo review.
Waldo Review: Is Waldo for Me?

In 2019, three friends, Ben Sanders, Greg Lamp, and Colin Ristig, decided to create a company to save you money without you having to work so hard.
See, most of these money-saving apps and websites only work if you manage them, for example, by uploading receipts, submitting rebates, or taking some kind of manual action yourself.
But these friends wanted to create a website you could set and forget, while a smartypants artificial intelligence combs your financial transactions looking for lost money. You wouldn't have to do anything but live normally, and money would find its way back to you.
That is the promise of the Waldo cash back site.
How Does Waldo Work?
Waldo works because of two important factors: dynamic pricing and price protection.
Dynamic Pricing
Retailers use algorithms to continually change their prices (especially online) based on supply and demand. The systems behind these algorithms are so sophisticated that prices change not only weekly or monthly but often multiple times a day.
For example, Amazon, Walmart, Best Buy and Target fully embraced dynamic pricing and adjust their prices every 10 minutes. This doesn't mean every product changes its price that frequently, but that these retailers continually do a sweep of all pricing and making adjustments where necessary.
This can be both a win and a loss for you as a consumer.
You may have spent $800 on a TV and a week later it is $1000. Or you spent $800 and tomorrow it is $500. You just never know.
Waldo watches the changes for you and gets you refunds on these price drops.
Price Protection
You know all those terms and conditions that come along with most purchases. You've never read them, have you? Waldo has. At many retailers, if you buy something today, and it goes on sale tomorrow, you have a right to the new price.
But here's the problem. You don't have time to follow up on pricing changes, especially when you may make multiple purchases from different merchants.
Waldo uses artificial intelligence to examine your purchases, analyze the terms and conditions, and track pricing changes.
If the pricing drops, they secure a refund for you.
Getting Set Up With Waldo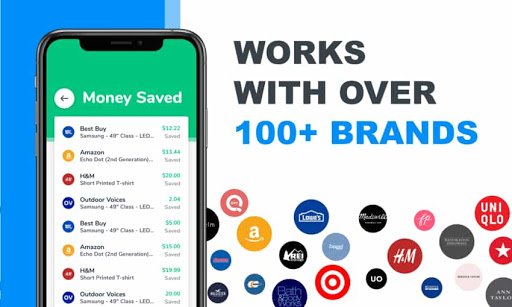 Waldo is an online application.
There is no need to download anything or monitor your purchases.
Waldo can manage your purchases directly through receipts in your email inbox.
The process is simple; click here to get started.
As soon as you enter the website, Waldo asks at which email address you receive your shopping receipts.
You will need a Gmail account to activate Waldo. Make sure you use this Gmail address for receipt delivery when you make purchases.
Waldo will then ask you whether you want to receive refund notifications via text or email. Choose either, and Waldo will send you updates about price drops to whichever you prefer.
Next, you will need a place for Waldo to send your money. Use the credit or debit card you use to make purchases. Not only does it make it convenient for Waldo to transfer money, but it also lets Waldo examine the card's price protection policy to find you more money.
Once this step is complete, you don't have to do anything more.
The Waldo Secret Formula
Waldo uses Artificial Intelligence to scan and monitor the vast amount of pricing data from hundreds of vendors to find their users refunds.
It is not only their unique algorithms that make Waldo different from other money-saving sites, but also the fact that Waldo takes advantage of multiple price protection policies and finds the one that will benefit you the most.
Not only do retailers have their own price protection policies, but most credit card companies also do as well. Again, very few of us have the time to devote to determining eligibility for product refunds.
Waldo can scan both.
The combination of their price scanning technology, their support for over +100 different retailers, and the ability to sift through both retailers and credit card policies gives them a big advantage over most of their competition.
Is Waldo a Scam?
You are probably thinking this, aren't you? This sounds too good to be true. There has to be a catch. Waldo must be a scam.
It is not. It is totally legitimate.
Waldo does have access to your email and banking information, but the application is completely secure as we discuss below.
It's a fact that refunds from many of your purchases are available.
Of course, there is no guarantee of refunds. However, their unique algorithm and artificial intelligence make finding refunds likely, especially if you're a frequent shopper.
Who Does Waldo Work With?
Waldo has worked hard to provide price drop support for hundreds of brands. Most places you shop today can be found on Waldo, especially online retailers.
On Waldo's site, you can scroll through the list of companies or use their convenient search tool to find places you currently shop.
Amazon
J. Crew, Ann Taylor, LOFT
Bed, Bath, & Beyond
Bass Pro Shop
Dick's Sporting Good
Gap
Home Depot
JCPenney
Kohl's
Macy's
Target
Walmart
And more!
Waldo Features
The Basics
Waldo is a newcomer to the money-saving space, and many potential features are on the horizon.
We believe the current version is robust enough, even though we are excited to see how they continue to innovate.
Today, they have created a dashboard where you can view your purchases, expired items, and refund amounts.
Referrals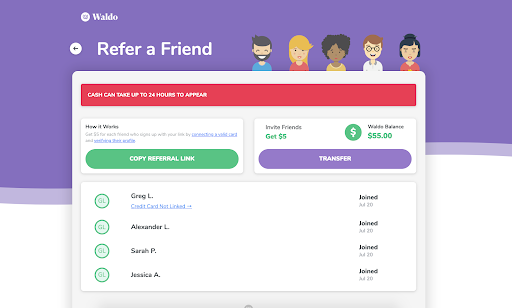 Like other sites, you can receive money by referring friends to Waldo.
They have taken referrals to a whole other level with their refer-a-friend program. Once you sign up, you are able to spread the word to your friends and social networks and get paid $5 for each user you refer who signs up and links a credit card. You even get a $5 bonus when you link your own credit card!
This is a nice feature that provides more than the one-time referral many companies give.
Is Waldo Safe?
Waldo is first and foremost committed to privacy and transparency.
Use of Personal Data
They regularly tell you what data they collect and how they use it. They are committed to never sharing or selling your personal data.
Personal emails are never collected either. Waldo uses email filters just like you probably do today to only capture data from specific retailers. All your personal correspondences are ignored.
And what kind of data is Waldo collecting from your emails? Waldo is looking for products' SKUs, pricing, color, size, and quantities. It is those pieces of data that help the AI find products online and price drops.
High-Encryption Security
As for security, Waldo uses 256-bit encryption. This is the security your own bank and financial institutions use.
It's in Waldo's best interest to keep you private, safe, and secure because their business model depends on it.
If they abuse their responsibility to security and privacy they endanger their own revenue source as well.
Commitment to Transparency
When you go to their site and sign up for Waldo, within a couple of screens you will be introduced to their privacy and security statement.
They are transparent about how they use your data and are serious about communicating this information to their customers.
How Does Waldo Make Money?
For every refund Waldo finds, it takes a success fee of 25% of the refund amount, and you get 75%.
So let's say you recently bought a TV online at Macy's for $500, and in two days it goes on sale for $300, and Waldo finds that $200 owed to you. Waldo would receive $50, and you get $150.
Waldo does a tremendous amount of work to create that $150 for you, and most of us would not have the time and resources to pursue all the price refunds available to us.
Letting Waldo have that 25% is worth every penny for something you would have never gotten on your own. Would you rather have 75% of your refund or 0%?
After you sign up for Waldo, you will see receive updates on future enhancements.
Waldo Payouts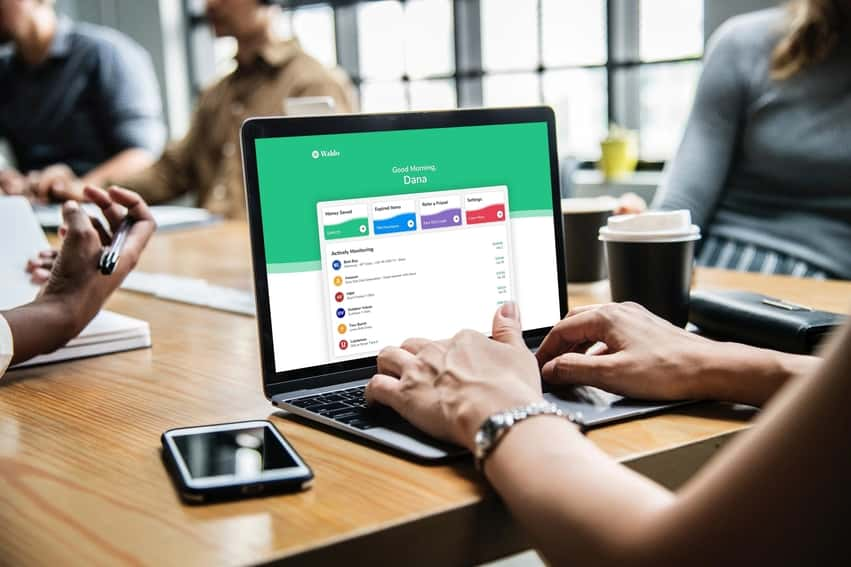 Payouts in Waldo can vary based on the price protection policy of the retailer.
Some retailers will refund the amount directly to your bank. Others will refund the amount back onto your credit card. Believe it or not, there are some that will send your refund in the form of a paper check.
Payouts and timing of payouts are determined by the price protection policies of the retailer or your credit card company.
You will be notified by email or text as soon as a refund is available. They will be posted to your dashboard as well. Even if the retailer's time table on the refund is slow, Waldo will provide you that information.
Proof of Refunds
Because anyone who signs up to get Waldo is curious about whether it is really working, they provide a visual dashboard of your refund progress.
You do not need to go to the dashboard, but it is available for you to see the total number of refund possibilities and whether Waldo is able to find extra money for you.
Waldo vs. Paribus
For better or for worse, Paribus is the most well-known price drop refund website.
Like Waldo, Paribus does not share your data with retailers, so you will not get massive amounts of promotional emails by using their service.
However, Paribus solely uses the price protection policies of retailers to determine refunds.
Waldo, on the other hand, uses both the policies of your credit card and retailers to find and secure refunds. This greatly speeds up the process of delivering refunds to you the consumer.
Waldo not only works with online purchases but with brick and mortar stores as well. As long as the store can deliver the receipt by email, Waldo can scan and compare with their online prices to get you money back. Paribus does not do this.
Also, they are able to find more refunds by using both strategies. Often a retailer will not have a price protection policy that allows a refund, but the credit card company does.
The benefit Paribus has over Waldo is longevity. Waldo is the newcomer to cash back refund sites, and their track record for finding refunds is thin. There are very few reviews or comments online about their performance. Paribus, on the other hand, has been around much longer, and you can find information about how successful they are at finding refunds.
Even though Waldo is new, we like the sophistication they have developed in securing refunds. They have built an impressive artificial intelligence system that is very comprehensive in determining price reductions.
Waldo vs. Earny
Earny is another price drop refund site. One main difference between Waldo and Earny is the sharing of your data.
Earny shares your email with its partner retailers. This provides those retailers a way to send you offers and updates on their products.
Most folks feel like their email inboxes are already overstuffed with promotional content, so this aspect of Earny is a drawback.
This is where Waldo wins. Waldo does not share your email information, and signing up with them won't generate more promotional emails. Their business model is not built on promoting you to retailers, but on finding you price reduction and refunds.
Earny's refunds are based on your credit card company's price protection agreement rather than the retailer's price protection policy. Waldo uses both methods and finds the one that benefits you the most.
Waldo also can scan email receipts from brick and mortar stores. Earny, like Paribus, only monitors online purchases.
The biggest negative in using Earny is knowing your email will be shared with hundreds of retailers.
Waldo Review: Conclusion
Waldo is an innovative way to get cash back on countless purchases you make every year.
Purchases are not limited to online retailers only.
Many brick and mortar businesses will deliver receipts via email. If they do, Waldo can scan those purchases as well for extra money.
In doing so, Waldo partners with you and does something you will never have the time to do.
They become a financial extension and defender of your dollar. When prices drop, Waldo finds it and you win.
Simple to Use & Mobile Friendly
As you saw in the screenshots above, Waldo is extremely simple to use. Signup is quick and easy. Once you sign up, there is nothing left to do but to watch for refunds to come to you.
Now, some people might shy away from Waldo because they do not offer a mobile app.
But mobile apps are only necessary when you must monitor and engage with activity on a regular basis. With Waldo, there is no work to be done. You can set it, forget it, and Waldo will go to work in the background of your life.
Of course, their site is mobile friendly. So if you prefer to work off your phone, signing up with a mobile device is simple as well.
We love that Waldo utilizes both the retailer's and the credit card company's price protection policy. By using both, refunds come to you quicker. They may even be able to find credit card benefits that you are not maximizing today.
This is truly a beneficial weapon you should put in your financial arsenal.
Secure & Private
Your information is private and secure with Waldo, and you will not be overloaded with promotional emails and spam as soon as you sign up. Waldo is truly a partner in helping you manage a portion of your financial life.
Jump onto their site and get Waldo for yourself. After a couple of minutes of signup, you can be earning real money on many of your daily purchases.
Logan Allec, CPA
Logan is a CPA, Certified Student Loan Professional, and founder of Money Done Right, which he launched in July 2017. After spending nearly a decade in the corporate world helping big businesses save money, he launched his blog with the goal of helping everyday Americans earn, save, and invest more money. Learn more about Logan.