Money Done Right may be compensated if you make a purchase after clicking on a link.
Farmland is a tried-and-true investment that has minted millionaires over the centuries. And there's no reason why land shouldn't continue to be valuable. To quote Mark Twain, "they're not making it anymore."
But how do you invest in farmland if you're not… well… a farmer? That's where crowdfunding platform AcreTrader comes in.
AcreTrader provides accredited investors with a way to buy shares of farmland. Potential profits aren't dependent on how well a crop performs, but rather, on the appreciation of the land or on the rents the tenant farmers pay. That makes AcreTrader safer than what you might expect.
If you're interested in AcreTrader and the idea of becoming a "land baron" yourself, keep reading our AcreTrader review.
What Is AcreTrader?
AcreTrader is a real estate crowdfunding company. But unlike other platforms that offer investments in residential or commercial property — such as Fundrise — AcreTrader's listings are working farms.
The CEO of AcreTrader is Carter Malloy. Despite his background in finance, he's no "city slicker" — Carter grew up on a family farm in Arkansas. He founded the company in April 2018 and manages operations from AcreTrader headquarters in Fayetteville, Arkansas. The company is the perfect opportunity for him to combine lifelong passions for agriculture and investing.
How to Invest With AcreTrader
When I first heard about AcreTrader, I assumed that profits would be based on each farm's crop yields. This would mean that a bad drought or overly rainy spring could lead to diminished gains.
However, this is not the case. When you invest in AcreTraders, you can profit in two ways:
Land appreciation
Annual farm rent
When you fund an investment, you're purchasing shares in a legal entity separate from AcreTrader that owns the farmland. Each share is equivalent to one-tenth of an acre. So if you buy 20 shares, that represents two acres of farmland.
The entities you invest in are completely managed by AcreTrader. The company handles all the heavy lifting of administration and property management. And AcreTrader works with farmers to ensure best practices and sustainability.
The tenant farmers pay cash to each entity on an annual basis in advance of planting season. The rent money is held in the bank, according to AcreTrader, "to reserve against any taxes owned or potential capital improvements," until a December payout. At that point, AcreTrader disburses annual income.
You can think of these payouts as an annual dividend! (However, note that payouts may vary and are not guaranteed.)
In addition, AcreTrader investors will profit from an annual value appreciation. AcreTrader combines value appreciation and rent payouts to investors for a target unlevered internal rate of return (IRR) of 3%-5%.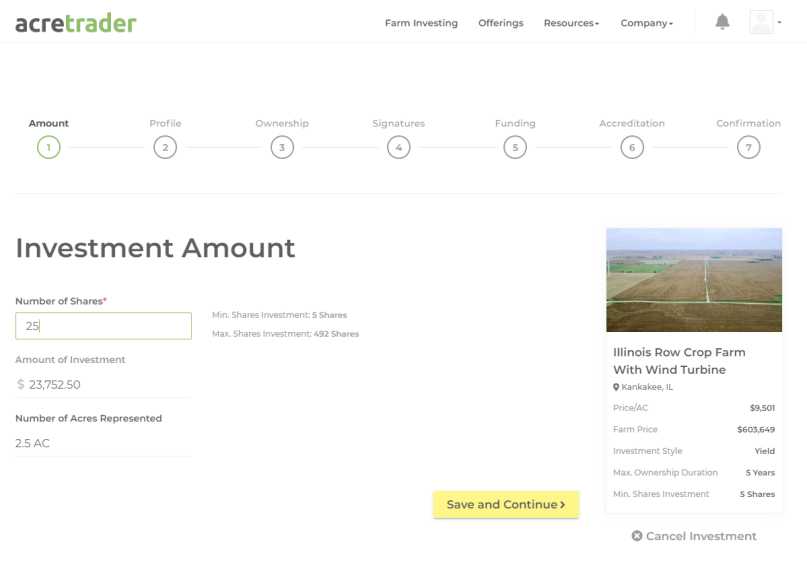 What Are the Properties?
Currently, there are three offerings on the AcreTrader website. The minimum investment in each ranges from just over $4,000 to $50,000 and typically represents a half or entire acre of land. Why such a difference in price?
The two less-expensive offerings are for both for corn and soybean farms in Illinois. Corn and soybeans are popular rotation crops. This practice ensures that the soil's nutrients remain healthy and balance. The corn uses up the nitrogen, but it's replenished by the soybeans.
AcreTrader grants both of these offerings the safer "A" rating.
The more expensive investment — at $50,000 per share — is for an almond farm in California. This property carries greater risk (given a B2 rating) but is expected to return a higher yield.
Although every investment in land (or anything else, for that matter) carries some degree of risk, AcreTrader does vet each and every offering. In fact, the AcreTrader team has chosen less than 5% of the farms it has considered.
Holding periods are for five, 10, or 20 years. However, AcreTrader intends to launch a marketplace soon that will allow investors to sell shares before their holding periods end.
Check out AcreTrader's current offerings.