Farmland is a tried-and-true investment that has minted millionaires over the centuries. And there's no reason why land shouldn't continue to be valuable. To quote Mark Twain, "they're not making it anymore."
But how do you invest in farmland if you're not… well… a farmer? That's where crowdfunding platform AcreTrader comes in.
AcreTrader provides accredited investors with a way to buy shares of farmland. Potential profits aren't dependent on how well a crop performs, but rather, on the appreciation of the land or on the rents the tenant farmers pay. That makes AcreTrader safer than what you might expect.
If you're interested in AcreTrader and the idea of becoming a "land baron" yourself, keep reading our AcreTrader review.
What Is AcreTrader?
AcreTrader is a real estate crowdfunding company. But unlike other platforms that offer investments in residential or commercial property — such as Fundrise — AcreTrader's listings are working farms.
The CEO of AcreTrader is Carter Malloy. Despite his background in finance, he's no "city slicker" — Carter grew up on a family farm in Arkansas. He founded the company in April 2018 and manages operations from AcreTrader headquarters in Fayetteville, Arkansas. The company is the perfect opportunity for him to combine lifelong passions for agriculture and investing.
How to Invest With AcreTrader
When I first heard about AcreTrader, I assumed that profits would be based on each farm's crop yields. This would mean that a bad drought or overly rainy spring could lead to diminished gains.
However, this is not the case. When you invest in AcreTraders, you can profit in two ways:
Land appreciation
Annual farm rent
When you fund an investment, you're purchasing shares in a legal entity separate from AcreTrader that owns the farmland. Each share is equivalent to one-tenth of an acre. So if you buy 20 shares, that represents two acres of farmland.
The entities you invest in are completely managed by AcreTrader. The company handles all the heavy lifting of administration and property management. And AcreTrader works with farmers to ensure best practices and sustainability.
The tenant farmers pay cash to each entity on an annual basis in advance of planting season. The rent money is held in the bank, according to AcreTrader, "to reserve against any taxes owned or potential capital improvements," until a December payout. At that point, AcreTrader disburses annual income.
You can think of these payouts as an annual dividend! (However, note that payouts may vary and are not guaranteed.)
In addition, AcreTrader investors will profit from an annual value appreciation. AcreTrader combines value appreciation and rent payouts to investors for a target unlevered internal rate of return (IRR) of 3%-5%.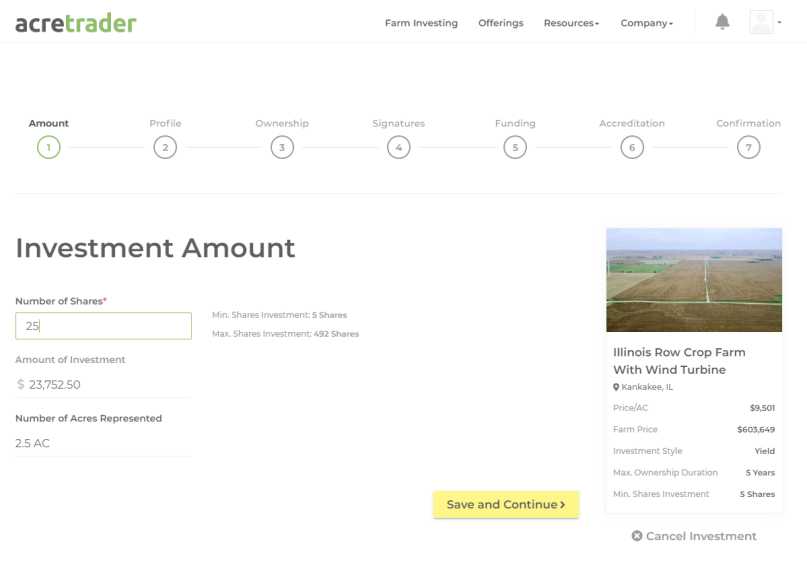 What Are the Properties?
Currently, there are three offerings on the AcreTrader website. The minimum investment in each ranges from just over $4,000 to $50,000 and typically represents a half or entire acre of land. Why such a difference in price?
The two less-expensive offerings are for both for corn and soybean farms in Illinois. Corn and soybeans are popular rotation crops. This practice ensures that the soil's nutrients remain healthy and balance. The corn uses up the nitrogen, but it's replenished by the soybeans.
AcreTrader grants both of these offerings the safer "A" rating.
The more expensive investment — at $50,000 per share — is for an almond farm in California. This property carries greater risk (given a B2 rating) but is expected to return a higher yield.
Although every investment in land (or anything else, for that matter) carries some degree of risk, AcreTrader does vet each and every offering. In fact, the AcreTrader team has chosen less than 5% of the farms it has considered.
Holding periods are for five, 10, or 20 years. However, AcreTrader intends to launch a marketplace soon that will allow investors to sell shares before their holding periods end.
Check out AcreTrader's current offerings.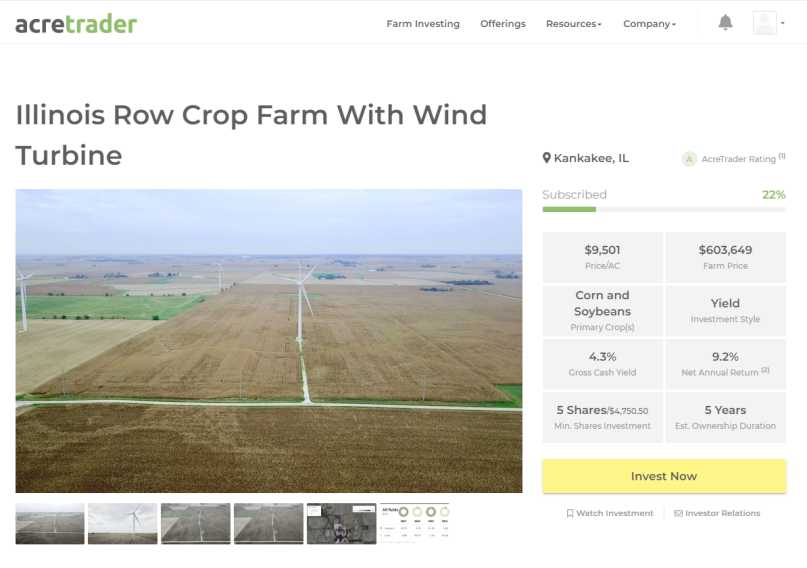 AcreTrader Fees
AcreTrader charges an annual management fee of 0.75%. In addition, there are individual project closing costs once you invest in a property. You can expect these to run about 2% of your investment amount.
How to Open an AcreTrader Account
Opening an account with AcreTrader is easy and streamlined. However, note that you must be an accredited investor to participate. This means two things:
Your income must have exceeded $200,000 in each of the two most recent years (or $300,000 combined with a spouse)
Your individual net worth — or your joint net worth with your spouse — must exceed $1 million.
The SEC determines the criteria for being an accredited investor. Although there's no formal certification for this status, AcreTrader is obligated to ask for proof from each interested party.
Investing in a selected property takes just a few minutes, and it can all be completed from within the app. In fact, you can log into your bank account to transfer funds from within the AcreTrader platform.
If you need any assistance, you can give the AcreTrader team a call from 8 a.m. to 5 p.m. Eastern.
Are AcreTrader Investments Safe?
It should always be noted that no investment is 100% safe. That said, AcreTrader takes steps to protect your investment.
When you deposit money into an AcreTrader investment, the company places that money into an escrow account with the North Capital Private Securities Corp. This entity is a registered broker-dealer and belongs to FINRA and SIPC.
Remember the legal entities that hold AcreTrader farmland? Those entities are "bankrupt remote" LLCs, meaning you'll retain ownership if AcreTrader itself goes out of business. In the event of AcreTrader's insolvency, each entity will come under the care of a separate management team that will carry on business as usual.
In addition, your financial transactions are kept safe and secure with 256-bit encryption. Your accredited investor documents are handled by a third party.
AcreTrader Review: Pros
A traditionally great investment: For centuries, farmland has been a solid moneymaker. Although there are risks inherent with every investment, traditionally, this has been a great place for your money. In fact, since the 1990s, professional money managers have seen positive returns on farmland.
Handpicked investments: AcreTrader strictly vets all properties. Fewer than 5% of the properties that the company considers are chosen.
Promotes sustainable practices: You can feel good knowing that AcreTrader is working hard to promote sustainable farmland practices and land conservation.
Portfolio diversification: Farmland (and real estate in general) is a great way to diversify your investment portfolio.
Profits not dependent on crops: You'll make money from land appreciation and annual rent payouts, not from how well a farmer performs.
SDIRA availability: AcreTrader will let you invest in a self-directed IRA if you so choose. If you're interested, contact the customer service team before investing.
Secondary market: There will soon be a secondary market for AcreTrader investments, so you will be able to sell them if you don't want to hold for the full term.
Totally passive investment: Once you invest your money, you just have to sit back and relax!
AcreTrader Review: Cons
You must be an accredited investor: To take advantage of an AcreTrader offering, you must demonstrate that you're an accredited investor. However, the company hopes to one day have a special offering (such as a REIT) that would be available to all.
Relatively high minimums: Currently, the lowest minimum for a share on AcreTrader is north of $4,000. To invest in the almond farm, you must invest $50,000. However, this is in line with other real estate crowdfunding sites.
The Bottom Line
Using a crowdfunding platform can be a great way to dip your toes into the potentially lucrative pool of real estate investing. It's truly passive income. Once you've invested your money, there's no work to be done on your part.
AcreTrader gives you a way to potentially profit from farmland without having to plow a field or study an almanac.
Find out how you can invest in traditionally profitable farmland with AcreTrader today.
Author:
Katherine Peach
Katherine Peach is the former managing editor of Money Done Right.  She has more than 12 years of experience in the financial industry. She particularly enjoys writing about stocks and the markets, as well as investing in art and antiques. Learn more about Katherine.