Updated
September 26, 2020
Earnest Student Loan Refinance Review: Quick and Easy Refi
Student Loans
If you're thinking about refinancing your student debt, there are many lenders to choose from. Earnest is one of those servicers, aimed at giving you competitive refi loan options along with industry-topping loan features. But is an Earnest student loan refinance right for you?
Whether you have $6,000 or $60,000 in loans, the right refi can not only get you out of debt faster but also save you serious cash in the process. Today, let's take a look at the ways you can optimize your own student loan refinance, as well as see whether Earnest should be on your radar.
What Is Earnest?
Founded in 2013, Earnest is an educational lender providing funding to students across the country. The company offers private student loans, refinancing, and even personal loans, all with competitive interest rates and unique loan features.
Back in 2017, Earnest was acquired by Navient, one of the biggest student loan servicing companies around. Initially, this meant that the company was unable to refinance any loans held by Sallie Mae. However, this agreement was lifted in January 2019, so now the door is open to almost all borrowers to refinance their student loan debt.
Whether you have federal or private student loans, you're likely to find a refi product that makes repayment easier, cheaper, and/or faster. There are a few considerations to keep in mind if you are planning to refinance federal student loans, but Earnest makes it easy to optimize the process.
Let's take a look at what you'll get with Earnest, where its service shines (or falls short), and whether this lender is the right one for your educational debt.
The Earnest Application Process
Checking your rate — and applying for a refinance loan — through Earnest is quick and easy.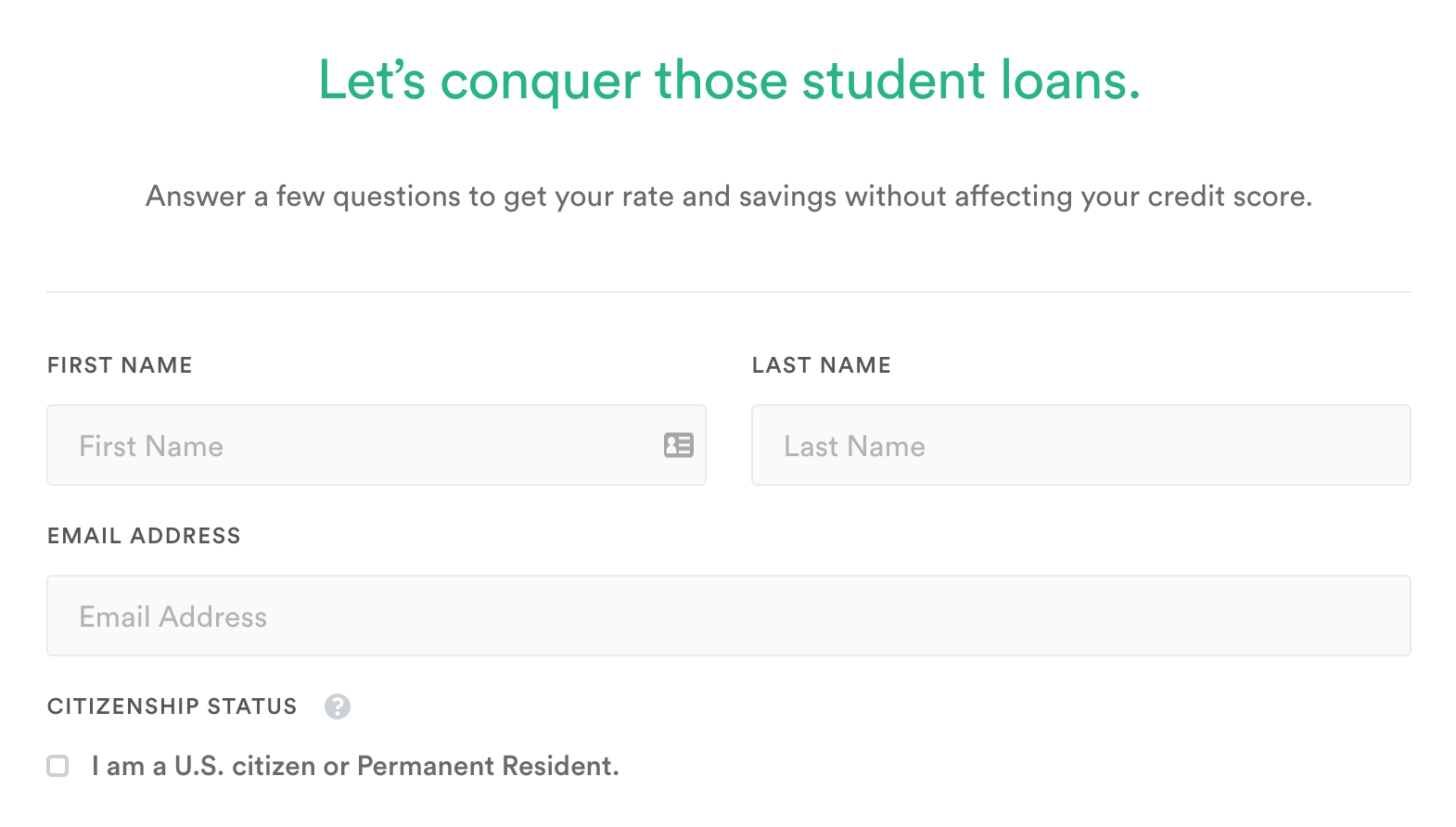 Getting a rate takes only two minutes or less and will not affect your credit score in the process.
All you'll need to provide is your:
Name and email address
Education information (school, graduation month and year, and highest degree completed)
Household financial information, including your income, investments/savings totals, and monthly mortgage/rent payment
Current address
Social Security number
Even though Earnest requires your SSN in order to get your offered rate, this process will not impact your credit in any way. Instead, the company will use this information to obtain a soft inquiry and verify your identity.
If you proceed with a loan application later on, Earnest will conduct a hard pull on your credit report. At that time, a hard inquiry will be noted, which will have a (minimal) effect on your credit score.
Earnest Student Loan Refinance Requirements
As you'd expect, refinancing tens of thousands of dollars in educational debt — or more! — without any real collateral necessitates a few important requirements.
No matter whom you choose to refinance your student loan debt through, you'll be expected to prove financial stability. This means having a steady income that can support your monthly loan payments (in addition to other expenses, such as your mortgage or rent). You will also need to demonstrate creditworthiness.
Additionally, there are a few Earnest-specific requirements you'll need to meet. These include:
Being 18 years of age or older
Being a U.S. citizen or possessing a 10-year (non-conditional) Permanent Resident Card
Residing in one of the 48 states Earnest services (residents in Nevada and Kentucky are out of luck) or the District of Columbia
Being in school less than half-time and having loans already in repayment or completing your degree at the end of the current semester
A minimum credit score of 650
A positive credit history with no bankruptcies or accounts recently in collection
There are also a few requirements that your educational debt will need to meet:
Your to-be-refinanced student loan debt needs to total $5,000 or more
The debt must all be from your own personal education
You must be the primary borrower on each of the existing loans
If you're trying to refinance existing Earnest loans, you'll need a positive repayment history of six months or longer before you can apply
The loans must have gone to a Title IV-accredited school
Earnest will take a comprehensive view of your credit and financial situation during the approval process. This includes looking at your savings and investments, annual income, spending habits, and the non-educational debt you carry. All of these will be factored into your refinance loan approval (or denial).
Earnest Loan Options
As with most other refinance loans, you'll be able to choose an Earnest loan term that best suits your needs and financial plans. This includes fixed loan terms ranging from five to 20 years in length, for amounts as low as $5,000 or as high as $500,000.
No matter your financial situation or how much educational debt you need to refinance, you can find an Earnest student refinance loan to suit your needs.
When taking out an Earnest refinance loan, you can choose your terms in a traditional way, or you can work backwards. This means that you can choose your loan term first — which will be used to calculate your monthly payments — or you can choose your preferred monthly payment first.
If opting for the latter, you'll be able to select the exact monthly payment amount that works for you and your budget. This number will be used to reverse-calculate your loan term, often resulting in a non-traditional length of time.
This means that your loan term might not be a clean five, seven, or 10 years. Instead, you could easily wind up with a "four year, seven month" repayment or something similar.
Interest Rates: How Much Your Earnest Refi Will Cost
One of the most important features of any student loan refinance is the interest rate. Whether you choose a fixed or variable rate, this magical number dictates just how much your loan will cost you over the life of the repayment.
Earnest offers both fixed and variable interest rates that are very competitive among student loan refi lenders.
A fixed rate is a great option for borrowers who opt for longer repayment terms because this reduces the risk of fluctuating rates and increased monthly payments.
Conversely, a variable rate is often beneficial for borrowers planning to pay off the debt in a shorter period of time. This allows them to mitigate the risk of rising rates (since the repayment period is shorter) while also taking advantage of a lower APR.
As of this writing, these are the rates that are being offered by Earnest on student loan refinances:
Fixed Rate

Variable Rate

Interest
Rates
(current as of 7/21/20)

2.98% – 5.79%

1.99% – 5.64%
It's also important to note that variable rate refinance loans are not available in the following states: Alaska, Illinois, Minnesota, New Hampshire, Ohio, Tennessee, and Texas. The numbers above include a 0.25% discount just for using auto-pay each month. If you don't plan to take advantage of this money-saving feature, the rates you're actually offered may be slightly higher.
Earnest Student Loan Refinance: Pros
There are many reasons why you may consider refinancing your student loan debt through this servicer.
Completely Customized Loan Terms
If you want to make your student loan payments on the 23rd of each month, you can easily do so with Earnest. That's because this lender allows borrowers to completely customize their payments according to what works for their lifestyle and budget.
Does your cash flow allow for you to pay exactly $222 each month? No problem! Earnest makes it easy to choose the exact loan payment you need. The company will simply adjust your repayment term in either direction to account for the change.
In some cases, this might mean taking out a refi loan with a term of "four years and three months" or some other seemingly arbitrary timeframe. That's because Earnest offers an easy way for you to make your student loan debt fit your life… instead of the other way around.
No Prepayment Penalty
If you experience a sudden windfall, get a raise at work, or simply decide that you want to double down on your student loan repayment efforts, you can do so without penalty at Earnest.
There are no fees for paying off your loan early or making extra payments. This is the case whether you're throwing an annual bonus at the debt or simply chipping in an extra $20 each month.
The Option to "Skip a Payment" Without Penalty
Spend too much over Christmas? Temporarily in a pinch? When you refinance your student loans through Earnest, you'll have the ability to simply miss a payment every once in a while.
Yes, seriously… you can simply let the lender know that you'd like to skip a month and Earnest will allow you to do so. This feature is limited to one use every 12 months and will count toward your 12-month forbearance limit.
However, it's still a great benefit to have if you ever want — or need — to take a little break from your student loan repayment.
Change Your Payment Date, If Needed
Need a couple of extra days before your loan payment hits your bank account? Simply log in to the Earnest dashboard and adjust your payment date in either direction as needed.
Through the dashboard, you're able to:
Push a scheduled payment back by as many as seven days
Bump a payment up as far in advance as you'd like
Make an extra principal payment to help save you time and money
Schedule automatic payments, setting the due date to whichever day of the month best suits you and your cash flow
You're no longer at the mercy of your lender when it comes to payment dates. Set the day of the month that works best for you without any hassle whatsoever.
Bi-Weekly Automatic Payments
The typical loan schedule involves making one monthly payment. However, by splitting that amount in half and making two bi-weekly payments instead, you can save yourself interest over the life of the loan.
While many borrowers practice this, few loan servicers allow an option for automating bi-weekly payments. Instead, you would need to actually call or log in to your account every two weeks and manually process the payments.
Not with Earnest. Not only does the lender allow for bi-weekly payments, but it offers to automate them for you! This means you can save money on your loan and take one more task off your list in the process.
No Fees… Seriously
You should be wary of student loan lenders that charge origination fees on refinances. Luckily, that's not something you will ever encounter with Earnest. The company doesn't charge any fees whatsoever on refinance loans.
Even better, you won't encounter any fees with Earnest. There are no late fees, no prepayment penalty fees… nothing. That means more money you can put toward paying down your loan principal.
Earnest Student Loan Refinance: Cons
Every lender leaves something to be desired, and Earnest is no different. While the company offers many competitive features and loan options, there are a few things you should keep in mind before you apply.
No Co-signers Allowed
If you're looking to refinance your student loan debt — but don't yet have the credit or income necessary to qualify on your own — Earnest won't be the right fit for you. That's because Earnest actually doesn't allow for co-signers.
To make up for this, the lender does tend to look at more than just credit scores when evaluating potential borrowers. It also takes into account your earning potential, spending habits, and existing savings to get a better overall picture of your borrower strength.
However, if you're still starting your career, have a limited or poor credit history, and/or your debt-to-income is too high, a co-signer might be necessary in order to refinance your student loans. In this case, a lender like CommonBond would be a better fit.
Limited Forbearance Period
While some other loan servicers may offer forbearance periods up to two years, you'll be limited to 12 months with Earnest… and that's only after you qualify. If you take advantage of the "skip a month" option, that will automatically count against your 12-month limit, as well.
Forbearance is a helpful option if you find yourself suddenly struggling to make your monthly payments. This allows you to temporarily pause payments until you can get back on your feet.
Credit Score Requirement
Whether you're applying for a loan, credit card, or even auto insurance, your credit score will come into play. It should come as no surprise, then, that your Earnest student loan refinance approval would largely depend on your creditworthiness.
With Earnest, you'll need a credit score of at least 650 in order to qualify for a loan. This doesn't mean you'll automatically be approved if your score is 650 or higher, of course… just that you'll need to at least reach this threshold.
For some new graduates — especially those who haven't focused on building their credit history before now — this requirement might be a hurdle. And since Earnest doesn't allow co-signers on their refinance loans, you will need to look elsewhere or wait until your credit improves if you don't have at least a 650 score.
Can't Hand Off Parent PLUS Loans
Are you a parent who took out Parent PLUS loans for their child and now wants said child to pay off the debt? Or are you a graduate whose parents took out Parent PLUS loans for your education, and now you want to take over the debt?
Then a refinance loan through Earnest isn't where you need to look.
While many lenders will allow the child to assume responsibility for Parent PLUS loans by refinancing them into a new private loan, Earnest does not. The company will still refinance this debt, no problem — but only for the original (parent) borrower.
Not Available Everywhere
You're in luck if you want to refinance with Earnest and live in any of the 48 states it serves. However, if you're in Nevada, or Kentucky, you're out of luck.
Refinance loans are not offered to borrowers in those three states at this time.
Accessibility
If you have questions about Earnest or need help with an existing loan, Earnest's teams are ready to help. You can contact them by phone Monday through Friday, between 8 a.m. and 5 p.m. Pacific.
If email is more your style, you can submit your request easily through the website. The company doesn't say how quickly it will respond to these messages, however. It says only that customer service will get back to senders as soon as possible.
Who Is Earnest Student Loan Refinance Best For?
In the world of student loan refinancing, Earnest is a strong contender. Not only does this lender offer a variety of loan features with personalized repayment options, but its rates are some of the best around.
Whether you're looking at refinancing your private or federal student loan debt, Earnest can help you make the process as simple and beneficial as possible. Getting rates and approval is quick, and managing your refi loan is easy with the intuitive platform.
Need to change your payment date or completely personalize your monthly payment amount? Earnest has you covered. Want to refi anywhere from $5,000 to $500,000 in educational debt? Earnest won't even blink.
It does fall short with some borrowers, of course. If you have a credit score of less than 650, need a co-signer, or want to refi Parent PLUS loans (as the student), you'll need to look elsewhere. The same goes if you are located in Kentucky, or Nevada, as the lender doesn't service these states.
However, if you're in any of the other 48 states, qualify for refinancing on your own, and have a decent credit score, give Earnest a shot. Getting a rate won't affect your credit score and takes less than two minutes, so you don't really have anything to lose by checking.
Earnest is an online lender that offers student loan refinancing and private student loans, as well as personal loans. Its refinancing loan is best for borrowers who want to customize their repayment schedule to pay off debt fast. Its private student loan is an option for borrowers who want flexible repayment.
Choosing to Refinance With Earnest
Different lenders are ideal for different borrowers. Depending on how your student loan debt is configured, how you plan to tackle the balance, and what your credit looks like, Earnest may be a great option for you.
It never hurts to get rate quotes from one or more companies, especially if you can do so without a hard inquiry. That way, you can ensure that you're getting the best possible terms for your student loan refinance and choosing the lender that is an ideal fit for your needs.
To learn more about Earnest, get a quick rate offer (without hurting your credit), or apply for your own refinance loan, visit Earnest's website here.
Stephanie Colestock
Stephanie Colestock is a personal finance expert and writer who enjoys teaching people how to be financially independent and confident about their money choices, regardless of obstacles in their path (such as the crippling student loan debt she once held). Stephanie graduated from Baylor University, and is currently working toward her CFP certification. Her work can be seen on sites such as Forbes, Dough Roller, and Johnny Jet, among many others.