Veve NFT Review 2022: Easy NFT Purchases With Major Drawbacks
Cryptocurrency
Buying NFTs can be confusing. For the most part, it's a multi-step process. You have to:
Know which blockchain the NFT you want to purchase is on.
Purchase cryptocurrency on that blockchain on a cryptocurrency exchange.
Transfer enough of that cryptocurrency to a cryptocurrency wallet — typically a browser wallet like MetaMask for ethereum for example — to cover the purchase of the NFT plus any transactions fees and gas.
Buy the NFT either via a mint or on an NFT exchange like OpenSea, all without getting scammed.
This can be daunting for many people, and this is why many people don't get involved in NFTs.
The VeVe app, however, makes buying NFTs super easy, and its parent company ECOMI has explicitly stated this as the goal of the entire ECOMI-VeVe ecosystem:
"[VeVe] is designed to reach the mass market, with a potential user base in the millions, and as such the…ecosystem has been designed based on these principles:

To create a mass-market product that requires no understanding of crypto, wallets, or the underlying blockchain technology
To create a user-friendly, seamless experience
To utilize new technologies, such as augmented reality, to create an entirely new digital experience"
That said, ease of use comes at a cost, and VeVe comes with some major drawbacks that I will cover in this article.
In this VeVe NFT review, I will tell you everything you need to know about the VeVe app, its pros and cons, and exactly how to get started with VeVe.
What Is VeVe and How Does It Work?
VeVe is an app-based marketplace for purchasing NFTs that is available on both the iOS App Store and the Google Play Store.
The VeVe-ECOMI Ecosystem
VeVe was created by Singapore-based cryptocurrency company ECOMI.
The cryptocurrency on which the ECOMI ecosystem is based is known as the OMI token.
However, in order to make VeVe user-friendly and familiar to non-crypto users and to prevent fluctuations in OMI price from affecting these users, ECOMI decided to have the VeVe app utilize an in-app currency known as gems.
VeVe gems are, in some sense, a stablecoin whose value will always equal one United States dollar.
A Warning About VeVe Gems
Probably the best thing about VeVe is that it makes it very easy to purchase NFTs.
Rather than having to purchase cryptocurrency on an exchange and transfer it to a browser wallet, you can simply buy VeVe's in-app currency called gems and use these gems to purchase NFTs in the VeVe app.
Once you have gems in your account, you can buy any NFT you see in VeVe, assuming that you have enough gems to pay for it.
If you have an Android device, you can transfer gems to other users for free; however, this functionality is not available on Apple devices.
Warning: There is currently no way to convert VeVe gems to fiat currency. However, VeVe's parent company ECOMI is working on migrating VeVe to a layer-2 ethereum solution, which would mean that users would be able to convert their VeVe gems to OMI token and trade them on a cryptocurrency exchange, which would make it possible to essentially convert the gems into fiat currency.
ECOMI X Immutable thread: 1/2

The work to integrate @Immutable is now complete and the migration is underway! ?

Over the coming weeks, @veve_official and $OMI will be ported to #Ethereum L2, via Immutable X, and this migration will take place in three phases…

— ECOMI ⭕️ (@ecomi_) September 28, 2021
Purchasing NFTs on VeVe
There are four ways to buy VeVe NFTs:
On drops
In the marketplace via "buy now"
In the marketplace via auction
Off-platform
These options each have their pros and cons, and I'll tell you about each of them.
Important: If you'd like to watch my step-by-step VeVe walkthrough, check out my YouTube video below.
Veve Drops
A few times a week, VeVe will "drop" a particular NFT or NFT set.
The drop occurs at a particular date and time that VeVe emails out beforehand to
For example, on November 11, VeVe emailed out those on its email list that on the following day, November 12, at 12:00 PM Pacific Time, the Walt Disney & Mickey Mouse NFT from the Disney Golden Moments NFT Collection was going to drop.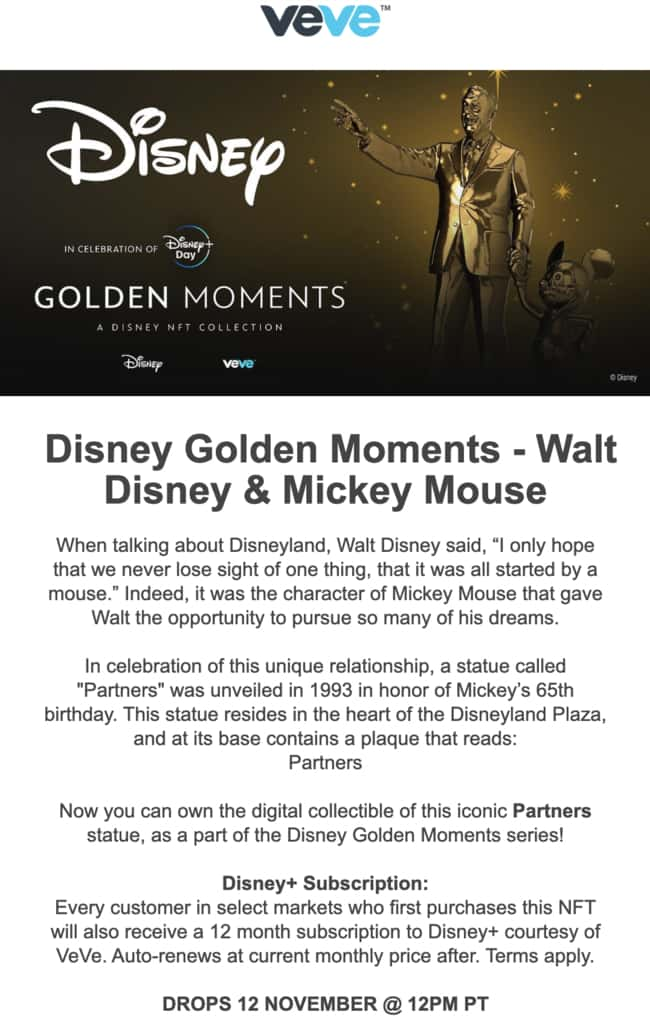 So shortly before 12:00 PM Pacific Time on November 12, thousands of users logged into VeVe on the drop page for the Walt Disney & Mickey Mouse NFT, which showed the mint price of 333 gems (the equivalent of $333) and a countdown timer ticking down to the drop time.
Then, right at the 12:00 PM Pacific Time drop time, a "Buy Now" button appeared on the drop page, which these users frantically clicked in hopes that they would be able to purchase one of the 4,333 Walt Disney & Mickey Mouse NFTs that were minted.
I was one of them, by the way, but I wasn't lucky enough to snag the Walt & Mickey NFT on the drop for 333 gems — I paid 3,900 gems for it later in the marketplace via the "Buy Now" function, speaking of which…
"Buy Now"
After an NFT drops, its owners can sell it in the VeVe Marketplace.
The easiest way to sell an NFT in the Marketplace is to simply going to the NFT in your collection and clicking "Sell in Market" and setting the gem price you are willing to sell that NFT for.
As a buyer, all you have to do to purchase in the Marketplace is find the NFT you want to purchase, make sure you're OK with the "Buy Now" price, and click (unsurprisingly) "Buy Now".
Although I've been lucky enough to get a few VeVe NFTs on the drop, I've purchased most of my VeVe NFTs using "Buy Now".
Auctions
The last way to buy an NFT on VeVe is to bid on an NFT being auctioned.
I haven't done this yet because it seems that "Buy Now" is more popular anyway.
Off-Platform
The final way to purchase NFTs using VeVe is to make an off-platform arrangement. Here's how this would work:
Find someone who has a VeVe NFT you want.
Agree to a price for that NFT outside of VeVe.
Pay that individual for the NFT outside of VeVe.
Ensure that the individual transfers the NFT from their VeVe account to your VeVe account.
This is, of course, riskier than using VeVe's built-in NFT purchasing methods.
Want to Make Money With NFTs?
Degen Den is the brand-new exclusive NFT community that I founded.

In this community, you get access to:

• A private Discord community of likeminded NFT profiteers
• Whitelist opportunities to hyped NFT projects
• Early intel on what NFT projects I will be covering on my NFT-focused YouTube channel
• And a lot more!

I'll see you inside!
VeVe at a Glance
VeVe At a Glance

| | |
| --- | --- |
| Supported Devices | iOS and Android |
| In-App Currency | Gems (1 Gem = $1) |
| Ability to Withdraw to USD | No |
| Gas Fees | None |
VeVe Pros and Cons
While VeVe is extremely innovative and user-friendly, it has its share of drawbacks.
Here are the pros and cons of the VeVe app.
VeVe Pros
Easy to Use: If you've had a smartphone for any length of time, you'll learn your way around VeVe very quickly.  There's nothing tricky about it; purchase some gems and then wait for NFTs to drop or purchase NFTs in the marketplace.
Major Partnerships: VeVe has partnered with some pretty heavy-hitting brands to launch their NFT projects.  I mean, does it get any bigger than Disney?
No Gas: When you go to purchase an ethereum-based NFT — or do anything on the ethereum blockchain, quite frankly — you have to pay gas in addition to the price of the NFT you want to buy.  Currently, gas can be as high as $200 worth of ethereum per transaction!  With VeVe, however, since all purchases are made in the app using gems, there are no gas fees to worry about.
Relatively Affordable Drops: Some of VeVe's NFT drops cost as little as six dollars and in fact, most of the iconic Disney Golden Moments NFT cost a mere 60 gems — a very small price to pay compared to the prices they are currently commanding in the secondary market.
Insulated From Rest of Crypto: While this could be a downside as well as a pro, the VeVe NFT market appears to be — for now — not very correlated with the rest of the cryptocurrency market.  For example, during the third week of November 2021, the cryptocurrency market in general was tanking, but this was the week when the VeVe Disney Golden Moments NFTs reached staggering floor prices.
Relatively Safe From Scams: A big problem in the NFT space is that it is rife with scams.  However, since VeVe is centralized within its own app, you can be sure that any NFT you buy in the VeVe app is not a scam.
VeVe Cons
Not Transferable to Fiat Currency: Perhaps the greatest risk of investing in NFTs through VeVe has to do with the fact that the in-app gems are not (yet) transferable to fiat currency such as the United States dollar.  So for now, the only thing you can do with gems you make from, say, flipping NFTs is but more NFTs in VeVe.
Low Level of Security: VeVe is entirely app-based, and the only layers of security are your username and password.  There isn't even two-factor authentication in the app, thought I believe there is for the limited-functionality desktop version.
Drops Come Down to Luck: The best deals on VeVe NFTs are on the drops.  If you get an NFT on a drop, you are likely buying a very low price compared to what others will pay in the Marketplace for it.  That said, whether you get an NFT on a drop pretty much comes down to luck, assuming you click the "Buy Now" button as soon as it appears.
Competition: Because VeVe is so easy to use, more and more people everyday are downloading it and using it to get NFTs.  This means that getting a sweet deal on an NFT drop is getting more and more difficult as more and more people learn about VeVe.
Final Thoughts on VeVe
VeVe has managed to secure some pretty amazing partnerships with some fantastic brands, not the least of which is Disney.
It also makes buying NFTs as easy as using an app.
Of course, these ease of use has brought thousands of people into the VeVe ecosystem recently, and snagging awesome NFTs on the drop is getting increasingly difficult.
Also, some people may be annoyed by the fact that there is currently on way to redeem VeVe gems for real money.
This is a risk that cannot be overlooked.
Currently, even if you sell a VeVe NFT for much more than you bought it for, there's no way to convert your gains into real-world currency or even into another cryptocurrency.
If VeVe fails, then I imagine all those gems would become worthless.
However, since major brands like Disney have put their name on the line with VeVe and since VeVe has indicated that they intend to get their NFTs on the ethereum blockchain, this is a risk I'm willing to live with.
Overall, I personally continue to use VeVe to build out my NFT collection, but those who are interested in using VeVe should of course always do their own research before making any kind of investment.
Want to Make Money With NFTs?
Degen Den is the brand-new exclusive NFT community that I founded.

In this community, you get access to:

• A private Discord community of likeminded NFT profiteers
• Whitelist opportunities to hyped NFT projects
• Early intel on what NFT projects I will be covering on my NFT-focused YouTube channel
• And a lot more!

I'll see you inside!
Author:
Logan Allec, CPA
Logan is a practicing CPA and founder of Choice Tax Relief and Money Done Right. After spending nearly a decade in the corporate world helping big businesses save money, he launched his blog with the goal of helping everyday Americans earn, save, and invest more money. Learn more about Logan.