Basics: CrowdStreet is a marketplace that connects accredited investors to various real estate projects. Investors may receive regular cash flow on top of any returns from appreciation at the end of the investment.

Pros: Unlike some other real estate platforms, CrowdStreet allows members to pick the opportunities they're interested in. Offerings are vetted by CrowdStreet before being posted, and each listing comes with detailed information about the investment.
Cons: CrowdStreet is only open to accredited investors, which makes it less approachable than some other competitors. Sponsors can charge fees and take a substantial cut of investors' returns, which may limit upside.
What Is CrowdStreet?
CrowdStreet is a real estate marketplace that allows users to participate in crowdfunded real estate investments.
Rather than investing in a single shared fund, members can pick their own individual investments from the CrowdStreet marketplace.
However, CrowdStreet also offers portfolios and funds that include multiple assets.
CrowdStreet at a Glance
| | |
| --- | --- |
| Minimum Investment | Varies, usually at least $25,000 |
| Annual Fees | None, fees charged by sponsors for particular investments |
| Target Returns | Varies |
| Accreditation Required | Yes |
| Lock-Up Period | Varies |
| Property Types | Broad selection |
| Project Types | Development, renovations, and property management |
| Regions Invested In | Throughout US |
| Tax Structure | LLC |
| Tax Document Provided | Schedule K-1 |
| Dividend Reinvestment | No |
| 1031 Exchange-Eligible | Generally not |
| Mobile App | No |
How Does CrowdStreet Work?
After signing up for CrowdStreet, you'll be able to view past, present, and upcoming offerings in the Marketplace.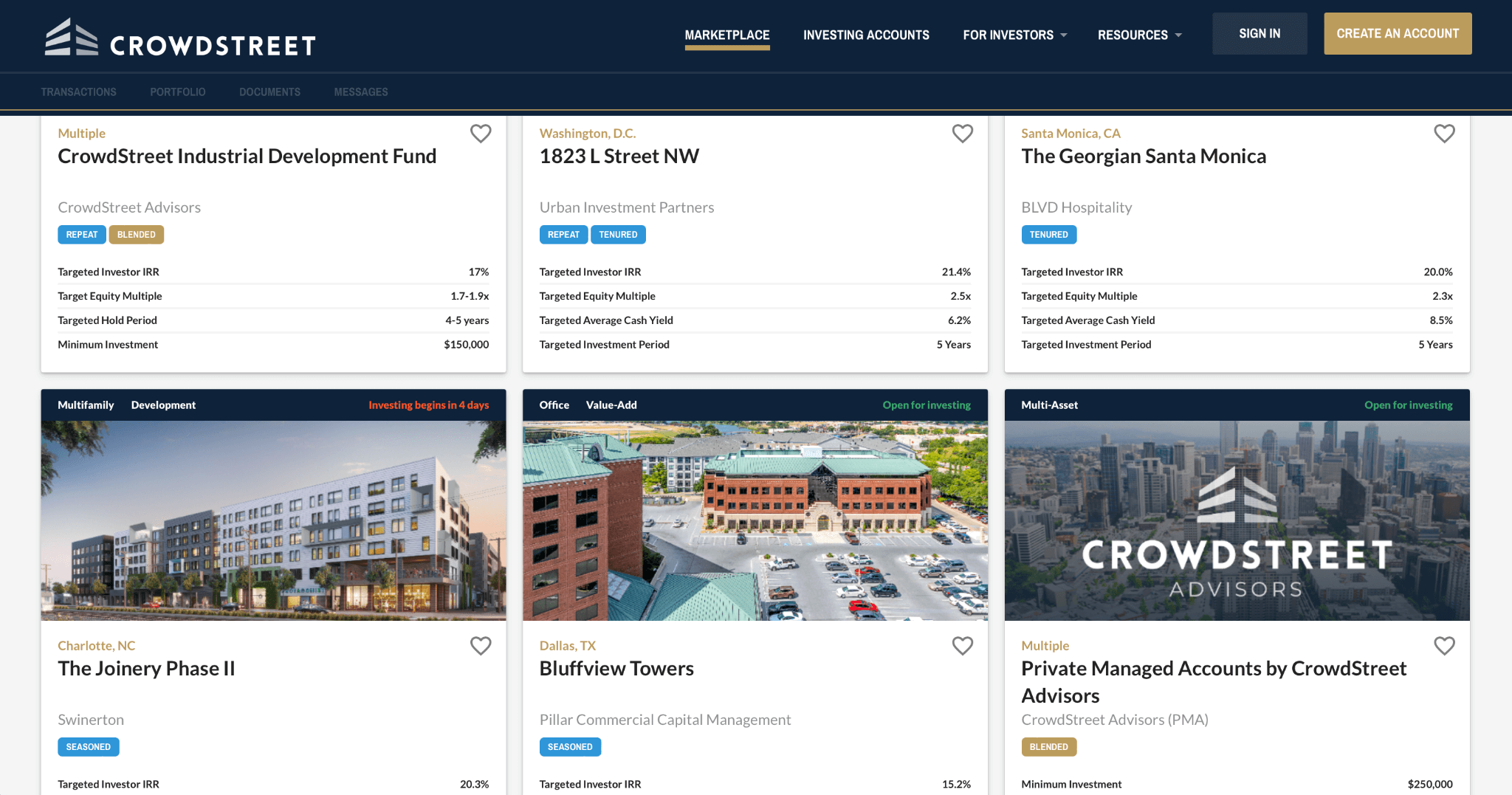 CrowdStreet offers a variety of details including information about the property, sponsor, and projected timeline and returns.
After buying into a particular project, investors may receive a regular dividend reflecting rent received from the property's tenants.
However, some of CrowdStreet's listings have no cash flow at the time of the initial investment.
Near the end of the targeted hold period, the sponsor will look to liquidate the investment and realize gains from appreciation as well as any renovations or development.
Finally, investors will be compensated for their share in the investment.
Property Types and Locations
CrowdStreet offers a variety of properties located throughout the United States.
If you're looking at the CrowdStreet marketplace, you can search for specific property types by clicking the "offerings" filter. You can also search for investments located in different areas of the country.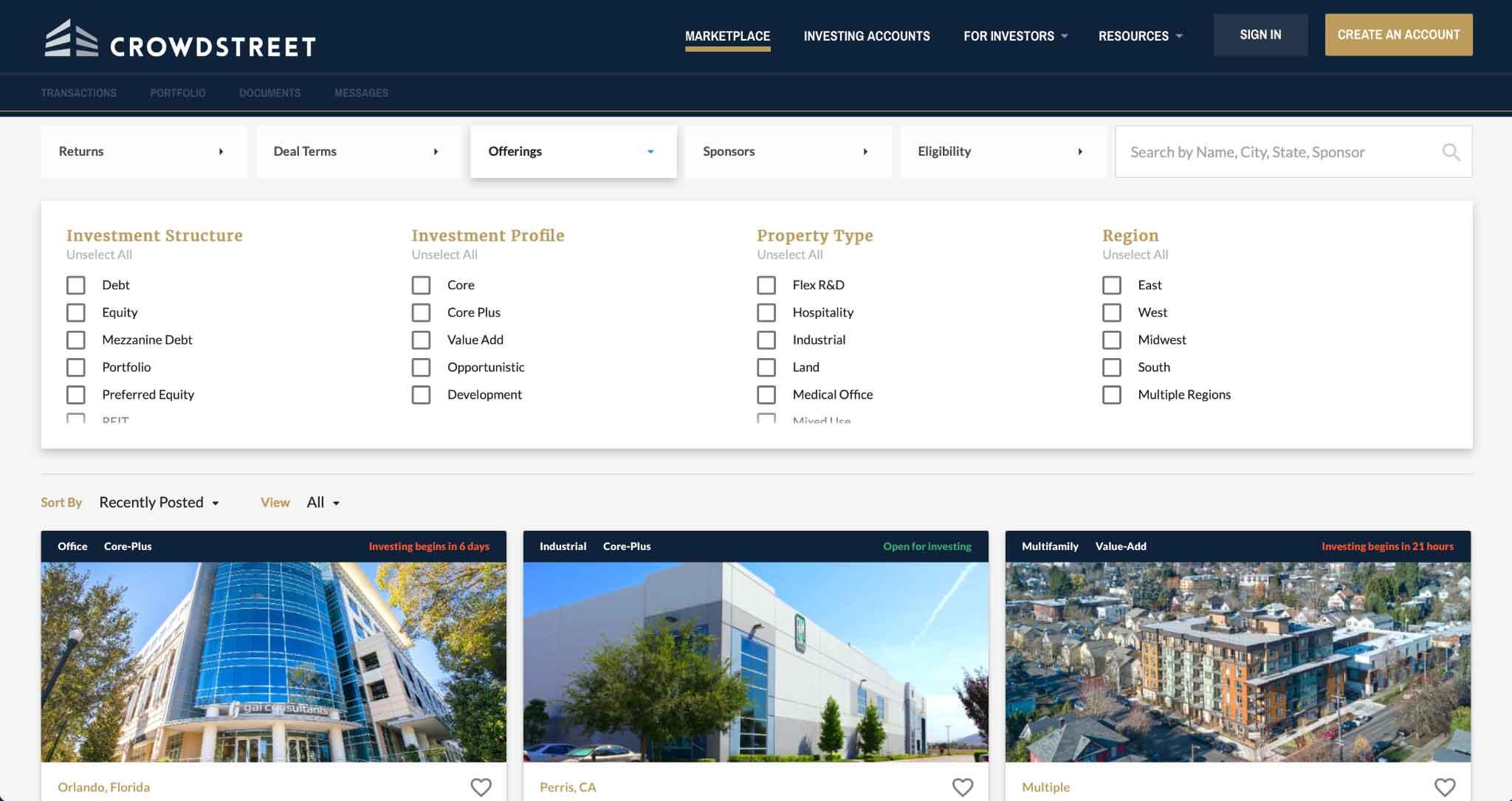 Here's the full list of investment types I saw on CrowdStreet:
Built-to-Rent
Co-Living
Data Center
Flex/Office
Flex R&D (research and development)
Hospitality
Industrial
Land
Manufactured Housing
Medical Office
Mixed Use
Multi-Asset
Multifamily
Office
Parking Garage
Residential
Retail
Senior Housing
Specialty
Storage
Student Housing
Project Types
CrowdStreet provides a range of options with different risk profiles, from "opportunistic investments" that require ground-up development to "core investments" that already have reliable cash flow and aren't expected to need any major renovations.
Based on past projects, CrowdStreet appears to be focused on projects that involve significant renovation or development.
Out of a total of 580 funded deals, 422 have been listed as either opportunistic or value-add, which refer to projects whose business plan includes "dramatic improvements to the property."
Target Returns
Target returns vary from one project to another, with riskier projects generally offering a great potential reward.
If you visit the CrowdStreet website, you'll notice a prominently advertised "average" IRR (internal rate of return) of 19.0%. However, it's important to note that this only includes returns from projects that have been finalized.
The 85 deals included in that calculation make up less than 15% of the 580 deals that have been initiated through CrowdStreet. With that in mind, the 19.0% figure comes from a relatively small dataset.
Furthermore, successful deals may be more likely to finish on a shorter timeline, so the 85 that have been finalized may not be representative of typical results for CrowdStreet investors. While a return of 19% is certainly possible for any given opportunity, I recommend taking that figure with a grain of salt
Minimum Investment
Each opportunity on the CrowdStreet marketplace comes with its own terms, so the minimum investment will be based on the projects you're interested in.
Based on current and recent listings, most CrowdStreet offerings appear to come with minimums of roughly $25,000 to $50,000.
With that being said, some multi-asset funds and other opportunities have minimums of over $100,000.
Investment Duration and Lock-Up Period
Similarly, you will have to hold your investment for a different period of time depending on the specific opportunity.
Most opportunities are open for a period of about three to ten years, with more on the shorter end of that spectrum. Keep in mind that the target timeline may change depending on market conditions and other factors.
Vetting and Review Process
CrowdStreet evaluates potential listings based on the sponsor's history and reputation, the terms of the offering, and the underlying asset or assets.
Sponsors are listed as emerging, seasoned, tenured, or enterprise depending on their track record.
Enterprise sponsors, for example, have to be ranked in the top 250 for estimated value of total holdings according to Real Capital Analytics. They also need to be 15 or more years old, with 30 or more years of combined experience between the principals.
You can use the "Sponsors" search filters when viewing listings to find offerings with reliable sponsors.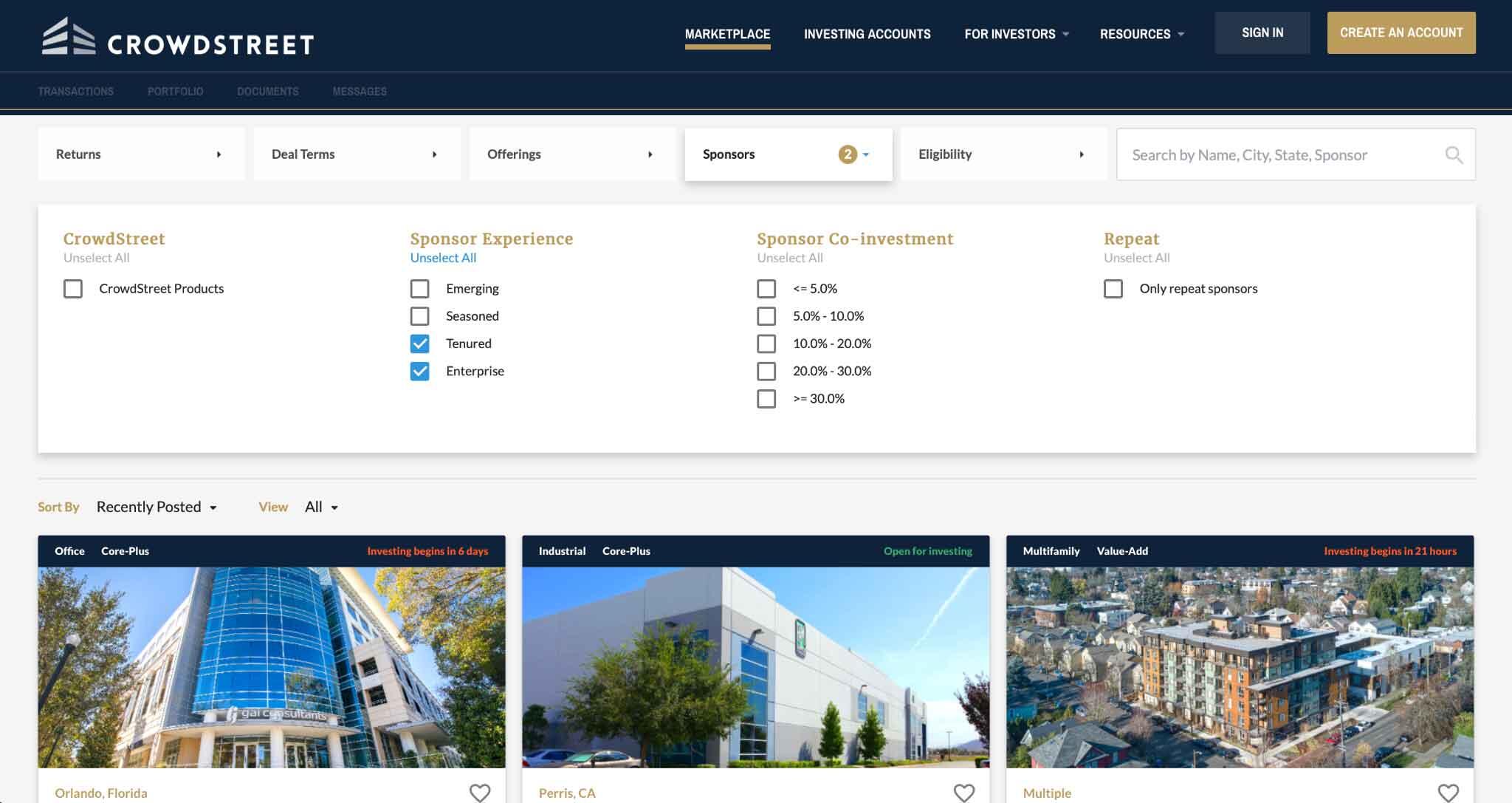 CrowdStreet provides a filter for the sponsor's experience as well as the extent of their investment in the offering. You can also search for offerings from repeat sponsors or those that are provided by CrowdStreet itself.
Tax Implications
When you invest in a typical CrowdStreet offering, you're becoming a member in an LLC. That makes CrowdStreet different from many other platforms that work as REITs.
Instead of a 1099 form, you'll receive a Schedule K-1 from the sponsor of your CrowdStreet investments. Schedule K-1 reflects income from partnerships.
LLC income typically passes through the LLC itself and is instead taxed at the individual level.
On the other hand, CrowdStreet has also listed a handful of REITs, which come with their own tax considerations.
Generally speaking, dividends from REITs are taxed as regular income, while returns from liquidating shares are considered capital gains.
You should contact the support team or reach out to a tax professional if you have any questions about your tax obligations.
Accreditation Required
Unlike some other public real estate investing platforms, CrowdStreet is only open to accredited investors. Investors must meet at least one of these three conditions in order to be eligible for accreditation:
Earn at least $200,000 ($300,000 for couples) in income in each of the last two years, and expected to reach that in the current year.
Have a total net worth over $1 million excluding the primary residence.
Hold a Series 7, 65, or 82 license.
However, other conditions may apply if you are planning to invest through a trust or another entity.
If you're not an accredited investor, you may be interested in entering the real estate market with another popular platform such as HappyNest or DiversyFund.
Customer Support
While CrowdStreet offers a basic support chatbot, they only appear to provide one-on-one customer service via support requests filed through the website.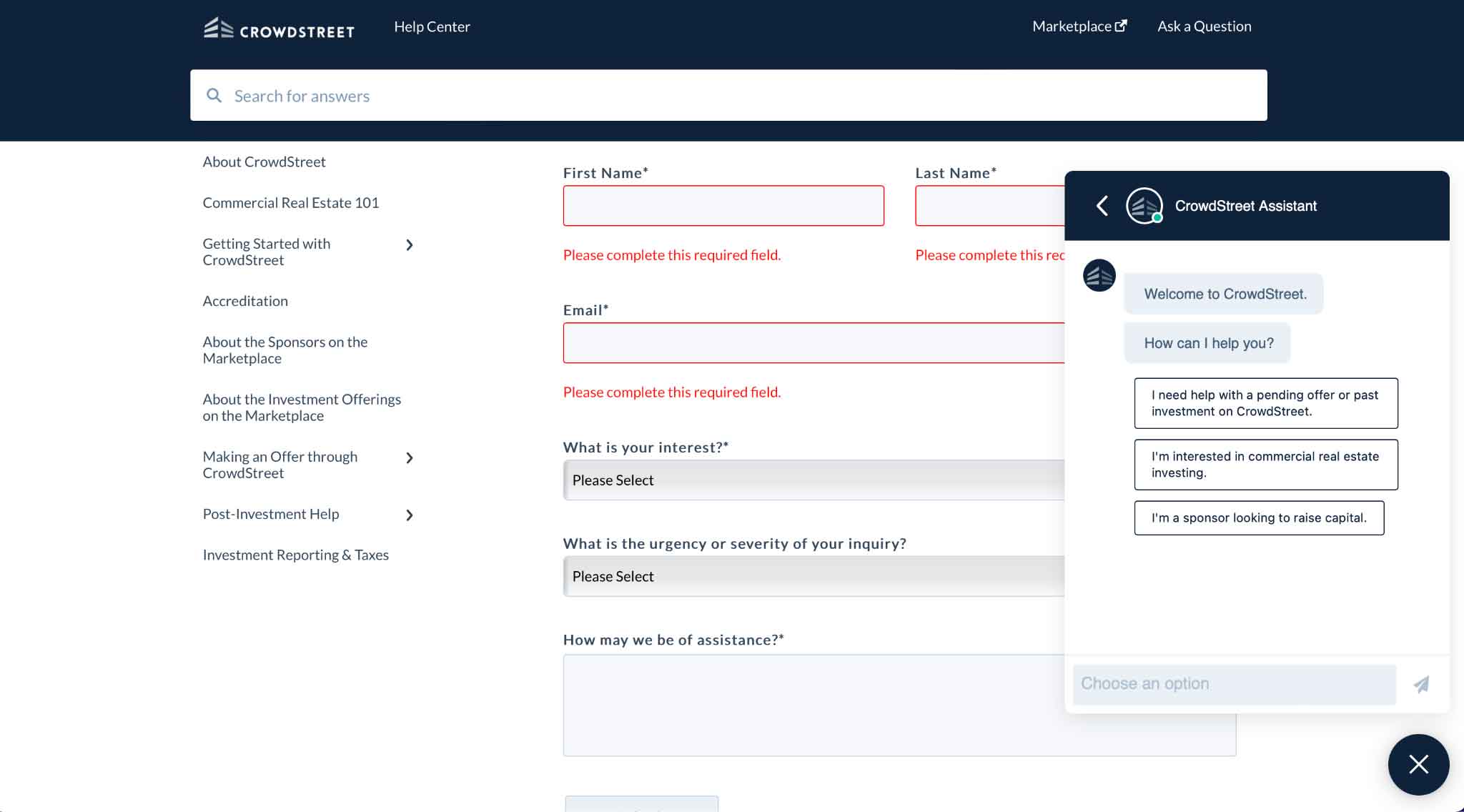 There are no listed turnaround times, so it's hard to predict how long CrowdStreet will take to get back to you. Business hours run on weekdays from 8 AM until 6 PM PST.
The support form asks whether your inquiry is of low, medium, high, or critical urgency, so the response time could depend on the answer you give to that question. I sent a "low urgency" message at the end of the workday on a Wednesday and…
The offerings listed on CrowdStreet are managed by third-party sponsors, so CrowdStreet will not be able to give you any information about current, past, or prospective investments beyond what's posted by the sponsor.
With that in mind, the sponsor's communication will be more important than CrowdStreet's once you get involved with a specific offering.
When you're looking at a CrowdStreet offering, you can pull up details about the sponsor such as their leadership team, track record, and case studies of successful projects.
I also recommend doing some extra research to find impressions of potential sponsors from investors who have been involved with them in the past.
CrowdStreet Fees
CrowdStreet doesn't charge any fees to use the platform, but fees may be involved with specific investments.
Additionally, the sponsors of each investment may get a cut of the returns depending on the terms of the offering.
In this offering, for example, investors will receive 100% of the profits up to an IRR of 20%.
That distribution rate drops down to 60% for all additional returns, which means that the sponsor will receive 40% of gains beyond a 20% IRR.
If the final IRR worked out to 35%, for example, investors would keep all of the first 20% plus 60% of the final 15% for a total IRR of 29%. The sponsor would get just 40% of the final 15%, or just 6%.
Keep in mind that this is just one of many offerings available on the CrowdStreet marketplace. Other opportunities may come with very different fees and/or distribution structures.
Example CrowdStreet Investment
Is CrowdStreet Legit?
CrowdStreet is a legit platform that connects accredited investors to private real estate offerings.
CrowdStreet offerings are made under Rule 506 of Regulation D, which provides an exemption from SEC registration under certain conditions.
The first requirement is that Rule 506 offerings must be available only to accredited investors if they are generally advertised to the public.
While this restriction limits CrowdStreet's potential audience, it's intended to make sure that investors fully understand the risks and can make an investment without jeopardizing their financial security.
Additionally, even though CrowdStreet is exempt from SEC registration, it is still subject to basic antifraud regulations.
That means the company could be held responsible for any false or misleading statements. Similarly, antifraud provisions also apply to omissions that give a false or misleading impression.
Finally, CrowdStreet is required to be available to answer questions from potential investors.
On the other hand, that doesn't mean you can take every piece of information they offer at face value.
While CrowdStreet reviews each potential investment, neither CrowdStreet nor the SEC endorses any particular offering.
Remember that a projected timeline or return is still just a projection.
Any CrowdStreet offering could go beyond the expected timeline, and you could end up losing some or all of your investment. It is your responsibility to do your own due diligence on top of CrowdStreet's own review process.
| Reviewer/Username (Name of Message Board) | Experience | My Take |
| --- | --- | --- |
| iginoaco (Reddit) | iginoaco is a Reddit user who claims to have four years of experience with CrowdStreet across a total of nine completed investments with 18 more active at the time of their comment. Their average return was 11.8%, with a peak of 18.2% and a maximum loss of 1.6%. iginoaco's complained that CrowdStreet gives investors the last priority when it comes to failed investments, which may lead to a total loss in cases of foreclosure or bankruptcy. They also noted that investors have no way to leave feedback for sponsors, making it more difficult for new members to make informed decisions on CrowdStreet listings. | iginoaco offers a surprisingly balanced take on CrowdStreet, providing insight into the platform's strengths and weaknesses. While some of their investments have gone well, this is a good reminder that CrowdStreet is essentially a marketplace for investors and sponsors to connect and ultimately is not responsible for the success or failure of any particular opportunity. If you decide to move forward with CrowdStreet, make sure to do your own due diligence on each listing rather than assuming that CrowdStreet endorses any of the sponsor's claims. |
| Longshortequities (Reddit) | This user discouraged readers from investing with CrowdStreet due to the associated fees as well as the platform's distribution structures, which in some cases allocate a significant portion of returns to the investment's sponsor while leaving investors with much of the risk. They recommended a few alternative real estate investments that could give investors more upside with less risk. | On one hand, this Reddit user is correct in that CrowdStreet sponsors may get a portion of some returns, plus investment fees, while still leaving individual investors with a significant risk. But this doesn't necessarily mean that you'd be better off avoiding CrowdStreet altogether. Sponsors put significant resources toward acquisition, development, renovations, property management, and other costs, and they compensate for those expenses through fees and tiered distributions on returns. Ultimately, whether or not you believe in a CrowdStreet offering comes down to your evaluation of that specific investment plan along with the sponsor who's backing it. |
| ifmwpi (Reddit) | Conversely, ifmwpi highlighted a positive experience with CrowdStreet and a sponsor called Fountain Residential. This sponsor went above and beyond to keep investors informed. As an investor, ifmwpi was able to see a live construction camera, monthly progress and financial reports, overhead photos from drones, and more helpful information. | This is a good counter to the more critical perspective of Longshortequities. The sponsor for this particular project made an effort to stay in touch with investors, which helped ifmwpi stay confident in their decision to back the project. Some other users in the same thread had more mixed experiences with their sponsors. |
CrowdStreet Pros and Cons
Pros
Pros
Control: With CrowdStreet, you'll have the chance to select your own investments rather than being stuck with a single pre-set REIT.
Flexibility: Instead of focusing on a certain location, property type, or project type, CrowdStreet offers a relatively broad selection of investment opportunities.
Funds: In addition to individual projects, CrowdStreet also provides funds that give investors exposure to returns from multiple assets.
Cons
Cons
Accreditation: CrowdStreet is only open to accredited investors, so you'll need to look elsewhere if you don't need those requirements.
Minimum investments: With most CrowdStreet projects requiring a minimum investment of tens of thousands of dollars, you could gain or lose thousands on any particular investment. Minimum investment requirements may also make it more difficult to diversify your portfolio.
Fees and distributions: CrowdStreet doesn't charge any fees of its own. Instead, fees are determined for each project by the associated sponsor, and they can vary widely from one offering to another. Sponsors may also receive a portion of the profits at the end of the term, which could cut significantly into your returns.
Alternatives to CrowdStreet
| | CrowdStreet | AcreTrader | Streitwise | RealtyMogul |
| --- | --- | --- | --- | --- |
| | | | | |
| Property Types | | | | |
| Property Locations | | | | |
| Target Returns | | | | |
| Minimum Investment | Varies, usually at least $25,000 | Typically $15,000 to $25,000 | 500 shares (roughly $5,000) | |
| Minimum Duration | Varies, usually at least three years | Typically five to ten years | One year, five years to redeem for full value | |
| Accredited Investors Only? | | | | |
Is CrowdStreet Worth It?
CrowdStreet may be worth it if you want to get started in the real estate market as an accredited investor.
Who CrowdStreet Is Best For
CrowdStreet is best for accredited investors who aren't ready to buy a property of their own, but who are prepared to invest tens of thousands of dollars.
One notable aspect of CrowdStreet is its focus on individual investment opportunities instead of a fund or collection of assets.
If you want to get in at the ground floor of a project you really believe in, CrowdStreet will give you the chance to research prospective investments and gain a significant share of a particular property.
With a wide selection of projects including everything from basic property management to full-scale development, CrowdStreet also caters to investors with different strategies and degrees of risk tolerance.
Who CrowdStreet Is Not For
CrowdStreet is not for people who want to get into the real estate market with a small initial investment.
Accreditation is a key barrier for CrowdStreet users, preventing most everyday investors from accessing the platform.
On the other hand, investors who are accredited may prefer to buy real estate themselves instead of buying a share in someone else's project.
CrowdStreet users are highly dependent on the sponsor of each opportunity, so this isn't a great option for those who want full control over their real estate investments.
You will need to do your own research on the risks and opportunities associated with each project, so CrowdStreet isn't for people who just want a simple way to generate safe returns.
How to Use CrowdStreet (Step-by-Step)
Click the "Create an Account" button in the upper-right corner. While accreditation is required for CrowdStreet investors, you don't need to be an accredited investor to create an account and check out the website.
Enter the required information including your name, email address, password, and whether you are an accredited investor.
Check out the marketplace to see more information about each CrowdStreet offering. I noticed that some sponsors also schedule webinars or Q&A sessions to engage with potential investors and answer common questions. You can scroll down to view details like square footage, market analysis, and the sponsor's experience.
To make your first investment, find a live offering and click the "Invest Now" button. You'll have an opportunity to read the disclosure and disclaimers and enter the amount you wish to offer.
Connect the account you're planning to invest with.
Sign the closing documents and complete the offer.
Final Thoughts
CrowdStreet is marketed as a way to make the real estate market more approachable, but the accreditation requirement and minimum investment ($25,000 or more for most offerings) will be prohibitive for many investors.
If you are an accredited investor and ready to accept those risks, CrowdStreet will make it relatively easy for you to put a significant amount of money into a particular offering that aligns with your investing strategy.
Since CrowdStreet lists a wide range of sponsors and project types, you should create an account and check out the marketplace if you think CrowdStreet could be a good fit.
Frequently Asked Questions
Do I have to be an accredited investor to invest in CrowdStreet?

Yes, CrowdStreet is currently limited to accredited investors.

How do I withdraw from CrowdStreet?

The terms of each CrowdStreet offering are determined by the sponsor. Some projects come with steady cash flow, while others only pay out after the assets are liquidated.

Unlike REITs and other real estate investments with more liquidity, CrowdStreet doesn't allow investors to cash out early. You will only be able to withdraw from the platform based on the terms laid out in the offering.

Who owns CrowdStreet?

CrowdStreet was founded by Tore Steen and Darren Powderly.

Before creating CrowdStreet, Steen was involved with a user management platform called Janrain. Powderly was the president of Compass Commercial, a real estate services company.
Author:
Logan Allec, CPA
Logan is a practicing CPA and founder of Choice Tax Relief and Money Done Right. After spending nearly a decade in the corporate world helping big businesses save money, he launched his blog with the goal of helping everyday Americans earn, save, and invest more money. Learn more about Logan.