Basics: Streitwise is a REIT (real estate investment trust) that allows investors to buy in with as little as 500 shares (roughly $5,000 in value).
Pros: You don't have to be an accredited investor to buy shares of the Streitwise fund. Streitwise also offers a diverse set of assets including offices, retail stores, multifamily properties, and more.
Cons: $5,000 could be a steep minimum for some investors who are new to the real estate market. You will also have to hold your investment for at least five years in order to redeem it for it.
What Is Streitwise?
Streitwise is spelled with an extra "I" because it's a real estate investment trust (REIT).
Users can buy shares of the REIT, which will gain or lose value depending on the appreciation or depreciation of the underlying assets. Investors will also receive rent from the properties in the form of a quarterly dividend.
Streitwise at a Glance
| | |
| --- | --- |
| Minimum Investment | 500 shares (expected to be roughly $5,000) |
| Annual Fees | 3% fee for new share issuances 2% annual maintenance fee (taken out of dividends) |
| Target Returns | 9%-10% |
| Accreditation Required | No |
| Lock-Up Period | One year, five years for full redemption value |
| Property Types | Mostly offices and retail, some hotels, multifamily units, and others |
| Project Types | Property management |
| Regions Invested In | Mostly central US |
| Tax Structure | REIT |
| Tax Document Provided | 1099-Div |
| Dividend Reinvestment | Yes |
| 1031 Exchange-Eligible | No |
| Mobile App | iOS only (in beta) |
How Does Streitwise Work?
When you invest in Streitwise, you're buying shares in a non-publicly traded REIT.
Investors receive quarterly dividends based on the rent yield from the properties included in the fund.
After a lockup period of one year, investors can file a request to redeem their shares. Share value is based on the value of the properties themselves.
Streitwise is available to a broad audience including non-accredited investors both within and outside of the United States.
Additionally, it's open to individuals as well as companies and trusts. You can also invest in Streitwise through a self-directed IRA (individual retirement account).
Property Types and Locations
Streitwise has primarily focused on properties located away from the coasts within the central United States. Past investments have been located in Minneapolis, St. Louis, Phoenix, San Antonio, and Indianapolis, with current holdings also in St. Louis (Sunset Hills) and Indianapolis (Carmel).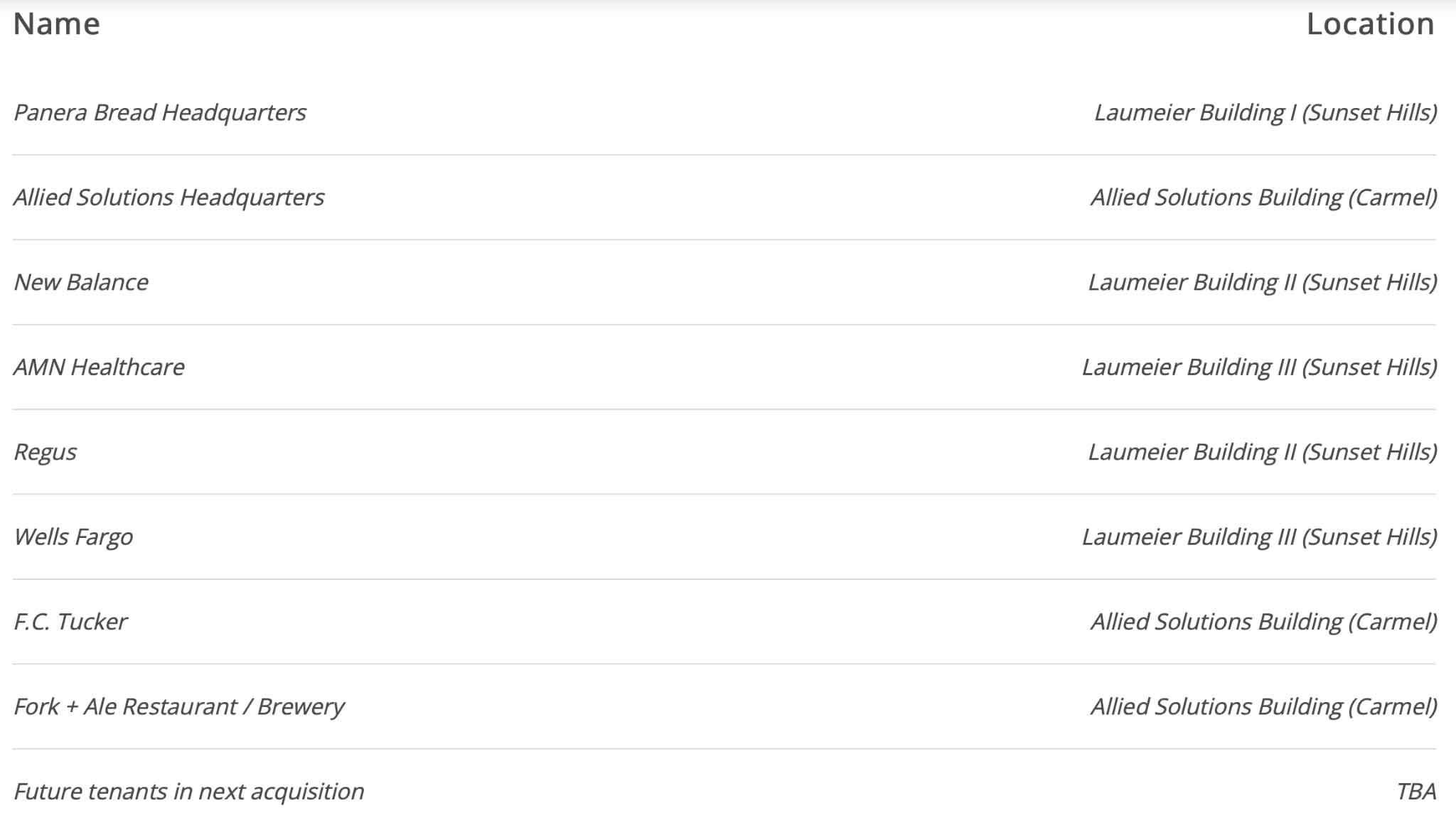 Although most investments have been in inland states, Streitwise has also been involved in projects in Los Angeles as well as Bend, Oregon.
Streitwise is mostly focused on office and retail buildings, but past and current offerings have also included other assets such as multifamily and mixed-use properties.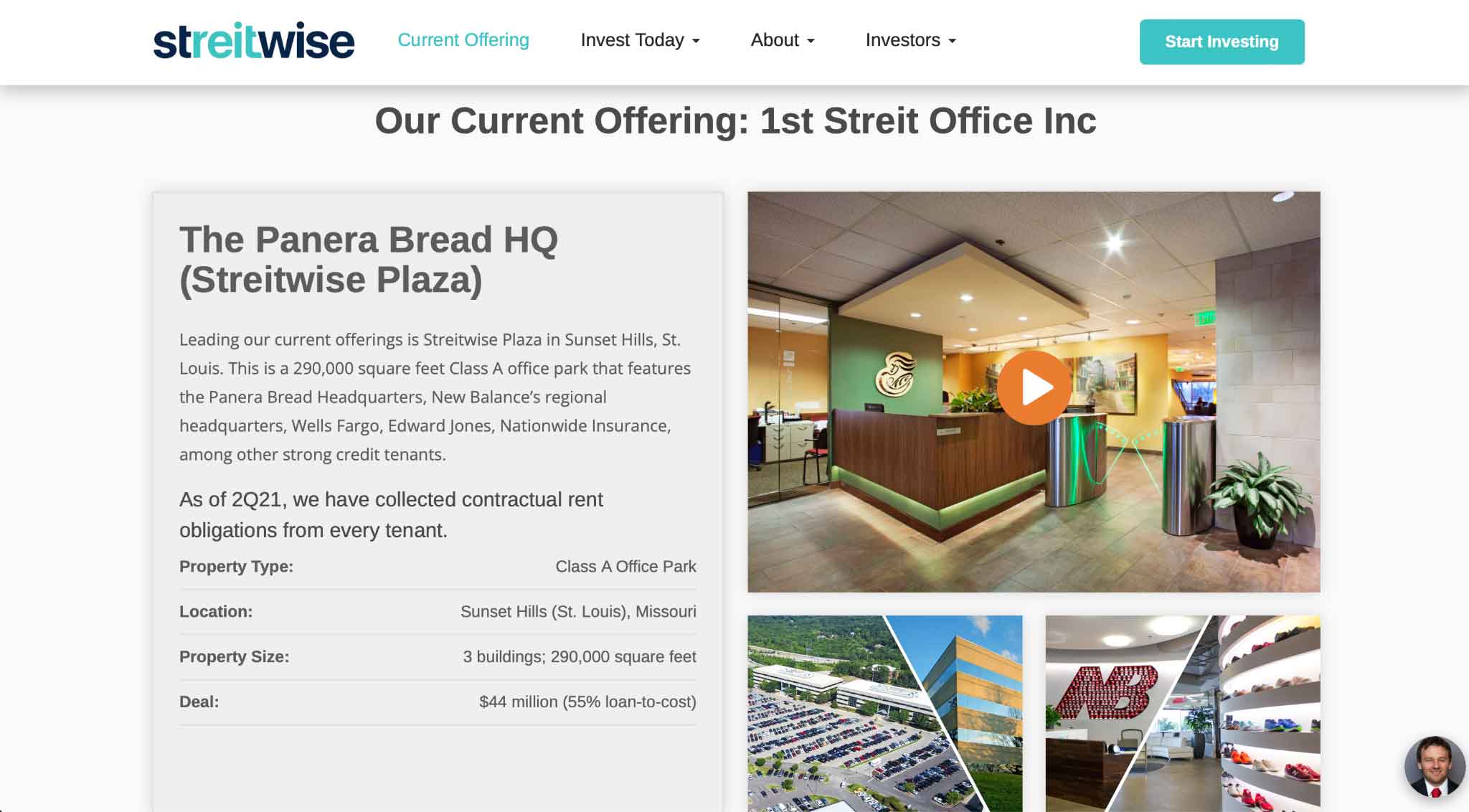 Project Types
In contrast to funds that develop or renovate properties to add value, Streitwise looks for more established assets with consistent cash flow.
Making fewer changes to the properties could limit Streitwise's potential returns over the long-term.
On the other hand, it may also give Streitwise a favorable risk profile compared to funds with more aggressive strategies.
Furthermore, the focus on cash flow may lead to more returns coming in the form of quarterly dividends rather than as an increase in the value of each share.
Target Returns
According to the Streitwise website, the target annual return is between 9% and 10%.
Streitwise has generated at least 8% in annualized returns for 19 consecutive quarters, with a historical average dividend yield of 9.3%.
While that record speaks to the REIT's consistency over the last few years, past performance is never a guarantee of future results.
More importantly, 9.3% isn't a particularly impressive figure, especially considering that the S&P 500 has offered annual returns over 16% over the last five years for investors who reinvested their dividends.
Personally, I would be reluctant to commit much money to Streitwise given its low targets, limited liquidity, and extensive commitment.
Minimum Investment
Streitwise requires investors to buy at least 500 shares.
Based on the initial offering price of $10 per share, that would work out to a minimum investment of $5,000.
That figure will fluctuate over time depending on the current value of Streitwise shares, so the minimum investment may be higher or lower than $5,000 at any given time.
Investment Duration and Lock-Up Period
Streitwise offers relatively low liquidity and comes with a long-term commitment.
No redemptions are allowed within the first year after investing, so you shouldn't contribute any funds that you might end up needing in the near future.
After that one-year period, you'll have the opportunity to request a withdrawal through the share redemption plan.
With that being said, redemptions made within the first five years will be subject to a significant penalty. Check the table below to see how much of the NAV (net asset value) investors receive for redemptions made at different intervals.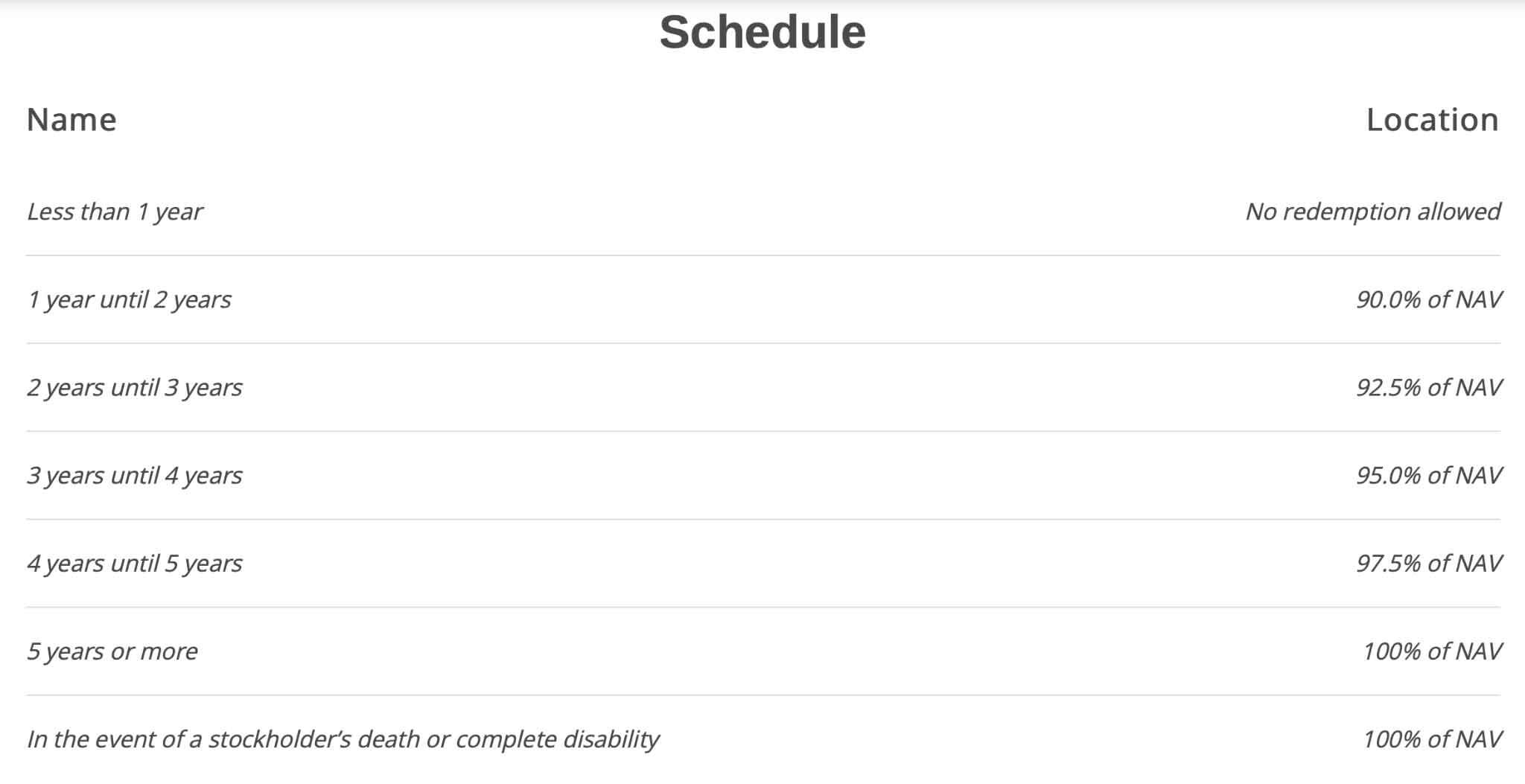 It's important to note that Streitwise can only offer limited share redemptions:
"The REIT is subject to limitation on the number of shares that can be redeemed in any given quarter. If the maximum quarterly threshold is met, shares will be redeemed on a pro-rata basis until shares are redeemed in full."
In other words, your share redemption requests may be subject to restrictions if many investors are trying to sell. Streitwise is very different from conventional stocks that can be traded publicly at any time.
Vetting and Review Process
Streitwise's strategy is described on the platform's website:
"We are currently targeting high quality office properties in markets where we feel that the risk-return characteristics are favorable. We are currently actively pursuing additional properties in target secondary markets like Columbus, Minneapolis, Kansas City, Indianapolis, and St. Louis. We intend on acquiring, over time, a diversified portfolio of quality office properties."
One notable aspect of Streitwise's approach to real estate investing is its focus on relatively small markets.
Streitwise prioritizes these locations due to their affordable prices as well as high capitalization rates, or high yields in monthly rent compared to the total market value of each property.
The platform also aims to avoid taking on too much leverage, and the current offering has a loan-to-cost ratio of just 51%.
Tax Implications
Like with other REITs, you should expect to pay income tax on Streitwise dividends and capital gains tax on any returns generated at the end of your investment.
Dividends from Streitwise will be reflected on a Form 1099-Div sent out to investors by January 31st of the following year.
That said, I always recommend contacting a tax professional if you have any questions about how your investments will be taxed.
One notable aspect of Streitwise is that it's open to investments made through tax-advantaged accounts like IRAs and 401(k)s.
Keep in mind that this will also depend on rules and restrictions from your IRA or 401(k) custodian.
Customer Support
Streitwise offers highly responsive customer support during business hours (PST).
I sent a live chat message around 1:30 P.M. on a Friday and received a response less than a minute later.
While some live chat services are heavily reliant on chatbots, I was connected to a human support agent almost immediately.
Along with live chat, Streitwise is also available to field customer service requests via email or over the phone.
Streitwise Fees
You should expect to pay two fees when investing with Streitwise.
First, Streitwise gives 3% of proceeds to sponsor Tryperion Partners for "organizational and offering costs." According to the Streitwise website:
"If you invest 500 shares at $10/share ($5,000), $4,850 (97%) goes toward the REIT and $150 (3%) goes to the Sponsor. You will still own 500 shares."
Based on that information, the 3% fee appears to be built into the share price.
Personally, I found this description overly vague and a little misleading. If you contribute $5,000 and $150 goes to the sponsor, then it doesn't make sense to say that you own 500 shares at $10 each.
The other charge associated with Streitwise is a 2% annual maintenance fee. However, that is taken out of quarterly dividends payments rather than being applied to investors' balances.
With a flat 3% initial charge plus an additional 2% per year, fees could add up significantly over the course of your investment with Streitwise.
If you stay invested for five years, for example, you'll have to pay the 2% annual maintenance fee five times. On the other hand, withdrawing your funds before the end of five years will lead to a significant drop in redemption value.
Since the platform targets relatively modest gains to begin with, these fees would be a significant concern for me as a prospective Streitwise investor.
Is Streitwise Legit?
Put simply, Streitwise is a legit platform.
Streitwise is a non-traded REIT filed under SEC Regulation A+. This means that the SEC has neither evaluated nor approved the offering itself.
With that being said, Streitwise is still bound by basic antifraud provisions.
Regulations A and A+ have been used by many other real estate investing platforms, and Streitwise is exempt from conventional SEC registration as long as it meets the requirements laid out under those regulations.
In other words, the fact that the SEC hasn't approved the offering doesn't mean that Streitwise isn't a legit opportunity.
Additionally, while Streitwise has not received formal accreditation, it has a perfect A+ rating from the BBB (Better Business Bureau).
Streitwise Pros and Cons
Pros
Pros
Exposure to Real Estate: Streitwise gives investors the chance to make money on real estate without having to invest in their own properties.
Corporate Tenants: Unlike funds that focus on more opportunistic investments, the Streitwise portfolio is made up of properties leased by corporate tenants that don't require major renovations.
Customer Support: Investor relations are critical for any investing platform, and I had a very positive experience with Streitwise customer service.
Cons
Cons
Long-term Commitment: Investors will not be able to request a withdrawal for a full year after buying shares. Furthermore, withdrawals will be subject to a significant loss in value until the end of a five-year waiting period.
Fees: Streitwise charges a 3% fee upfront, plus an additional asset management fee of 2% per year. Those will add up over the five-year term and potentially cut significantly into your overall returns.
Minimum Investment: While the $5,000 minimum is obviously much lower than you'll pay for your own real estate assets, it's still substantially higher than the minimums offered by other real estate platforms such as DiversyFund and HappyNest.
Alternatives to Streitwise
| | Streitwise | RealtyMogul | Crowdstreet | AcreTrader |
| --- | --- | --- | --- | --- |
| | | | | |
| Property Types | | | | |
| Property Locations | | | | |
| Target Returns | | | | |
| Minimum Investment | 500 shares (roughly $5,000) | | Varies, usually at least $25,000 | Typically $15,000 to $25,000 |
| Minimum Duration | One year, five years to redeem for full value | | Varies, usually at least three years | Typically five to ten years |
| Accredited Investors Only? | | | | |
Is Streitwise Worth It?
If you want to invest in a REIT that focuses on relatively stable properties, Streitwise could be a good way to get into the real estate market.
Who Streitwise Is Best For
Streitwise is best for people who want to invest in real estate and are willing to risk at least $5,000.
Investing in Streitwise could help renters offset the risk of real estate appreciation.
Renters typically only experience growth in the real estate market as an increase in rent.
If you have real estate holdings of your own, you'll also be able to generate some returns as real estate gets more valuable.
Of course, this strategy won't apply to microeconomic factors that affect specific types of real estate or real estate in particular locations.
For example, there might be an increase in real estate value where you live, coupled with a decrease in the markets targeted by Streitwise.
Who Streitwise Is Not For
Naturally, Streitwise is not an option for people who aren't able or willing to put up the required minimum investment of $5,000.
Given the five-year holding term, it's also not a practical choice for investors who are looking for a quicker turnaround.
Investors who are OK with those barriers may also be concerned by the relative lack of diversification in the Streitwise fund.
The current offering only includes two commercial properties.
Both of those properties are relatively low-risk in the sense that they're occupied by reputable corporate tenants.
However, there are some disproportionate risks involved with Streitwise compared to REITs and other investments with more diversification.
Something as simple as a major fire at one of the two sites could dramatically alter the value of the Streitwise fund overnight.
With that in mind, Streitwise may not be worth it for investors who want to prioritize diversification.
How to Use Streitwise (Step-by-Step)
Click the "Start Investing" button in the top-right corner.
Enter the required information: your full name, email address, account type, payment method, and the size of your offer. Streitwise currently accepts both ACH and wire transfers.
If you're a non-accredited investor, enter your net worth and annual income to confirm that you're eligible to invest the amount you're offering.
Finally, enter your payment information, fund your Streitwise account, and buy the corresponding number of shares of the Streitwise fund.
Final Thoughts
Streitwise has generated impressive returns over the last several years.
Additionally, its focus on established office properties with reliable tenants and few development needs may appeal to investors who want to get involved in the real estate market while minimizing risks.
Factors that could concern some investors include the $5,000 minimum investment, lack of upside from development or renovations, and exposure to just two properties in the Streitwise fund.
Ultimately, whether Streitwise makes sense for you depends on your current financial outlook as well as your approach to real estate investing.
Frequently Asked Questions
Do I have to be an accredited investor to invest in Streitwise?

No, Streitwise is open to both accredited and non-accredited investors.

How do I withdraw from Streitwise?

Streitwise investors can file redemption requests after one year of holding their shares.

However, requests will be subject to penalties until the end of the fifth year.

Remember that the number of redeemed shares is limited in each quarter. Streitwise may be unable to process your entire redemption request if the total number of requested shares in a particular quarter exceeds the limit for that quarter.

Who owns Streitwise?

Streitwise was founded by Eliot Bencuya, who currently serves as its CEO.

Before creating Streitwise, Bencuya was the Vice President of Canyon Capital Realty Advisors and Canyon-Johnson Urban Funds. He was involved in real estate throughout the Midwest, Pacific Northwest, and Northern California.
Author:
Logan Allec, CPA
Logan is a practicing CPA and founder of Choice Tax Relief and Money Done Right. After spending nearly a decade in the corporate world helping big businesses save money, he launched his blog with the goal of helping everyday Americans earn, save, and invest more money. Learn more about Logan.