Money Done Right may be compensated if you make a purchase after clicking on a link.

Passive income. We all want it. We all crave it. We all want to make money without work. But are there actually any good passive income ideas that we can implement in 2019?
The answer is yes, and we've put together a list below of 31 ways to make passive income in 2019.
There are four main ways to earn passive income:
By investing money
By investing time
By renting things out
By getting paid to do activities you do anyway.
Below we have given you specific ideas for each of these four passive income categories for a total of 31 passive income ideas.
The most passive forms of income will require you to put up at least a little bit of money up-front.
Here are our top passive income picks for 2019.
1. Invest in Private Real Estate Deals With Only $500
Real estate is one of the classic forms of passive income: you own property, and others pay you for using it.
The downside to traditional real estate, of course, is that you typically need a lot of cash to get started.
Not so anymore with the rise of private real estate investing platforms.
We personally invest in one of these platforms called Fundrise.
Fundrise lets everyday people invest in top deals across the nation — way better deals than most people could find on their own.
It also lets you diversify your real estate holdings.
For example, I am invested in deals in 10 different states!

And for the first 90 days of your investment, Fundrise will buy your investment back at the original investment amount if for any reason you are not satisfied.
Click here to sign up to see Fundrise's latest investment opportunities.
2. Invest in fine art with only $1,000.
Did you know that the Wall Street Journal called "the best investment of 2018"?
Fine art.
That's right.  So while you should certainly have a core investment portfolio of stocks and maybe bonds, you may want to at least consider adding some fine art to your portfolio.
I know what you're thinking.  Don't I have to be a multimillionaire to invest in fine art?
Well, you used to be.  But not anymore.
Similar to what Fundrise (see above) is doing for investment-grade real estate, Masterworks is opening up fine art investing to the masses.
Masterworks' minimum investment is $1,000.
Click here to see Masterworks' latest fine art offerings.
3. Open a savings account with 2.30% interest.
If you have your savings in a low-interest brick and mortar bank, it's time to get with the times and open an online bank account.
Because they don't have the huge overhead costs of traditional banks, online banks can pass the savings on to their customers in the form of higher interest rates.
One of our favorite online banks right now is CIT Bank Savings Builder.
This account offers a sky-high 2.30% APY if you simply make at least one monthly deposit of $100 or more.
And there are no account opening or maintenance fees, making this one of the best savings accounts on the market today.
Click here to learn more about the CIT Bank Savings Builder Account.
4. Get paid to go to stores.
Did you know there's an app that gives you gift cards simply by walking into stores?
You don't even have to buy anything!
It's true!
So whether you're a mall rat or just somebody who goes shopping every now and then, you stand to make a little extra cash this way.
Click here to download this special app and start getting paid just for walking into stores!
5. Get paid to play mobile games.
This is another one of those passive income ideas where you get paid to do something you enjoy, so it's not really work at all.
How it works is you download a free new app, then download new mobile games through the app.
As you level up in the mobile games, you earn more points that you can redeem for gift cards at Amazon, VISA, PlayStation, Xbox, Apple, Starbucks, and more.
Click here to start winning free gift cards for playing mobile games on your phone.
6. Rent out your spare room.
Renting out lodging can be an incredible way to earn extra money.
I know some people making thousands of dollars a month, all by renting out an extra room to short-term guests.
Now, if you wanted to do this 10 years ago, you would've had to post an ad in the classifieds or on shady old Craigslist.
Gladly, those days are over.
You can now list your spare room on Airbnb and screen out prospective guests. (Guests are rated by their hosts for things like cleanliness and communication.)
If you'd like to sign up to become an Airbnb host, check out my article Make Extra Money with Airbnb.
7. Get paid to get gas.
GetUpside is a free app that gives you cash back for every gas station receipt you submit!
Also, if you sign up through our link, you get a 20¢ per gallon bonus the first time you fill up!
If you drive a lot (or even if you don't), this can add up to a decent chunk of change!
Click here to download GetUpside and get a 20¢ per gallon bonus for using our link!
8. Get paid to walk.
I just made $10 for walking, paid in cash via PayPal.
It's true!
There's a new app, Sweatcoin, that will pay you for every step you take.
It motivates me to go for more runs, take the stairs more often, and be an all-around more active person.
Click here to check out Sweatcoin now and start getting paid to walk!
9. Invest in dividend-paying stocks.
We love dividends here at Money Done Right.
When you invest in a dividend-paying stock, you are acquiring a portion of a company that somebody else built and that thousands of other people work for, and they are giving you a portion of their profits. Blows my mind!
There are plenty of great places to open up a stock-investing account, but the one that's getting us hot and bothered at the moment is Ally Invest.
Ally Invest is great because you can trade dividend stocks for as little as $3.95 per trade compared to $6.95 at E*TRADE and Charles Schwab.
Click here to sign up for Ally Invest to start investing in dividend stocks affordably!
Ally Invest has developed a pretty amazing platform, and no matter if the stock market goes up or done, we still get dividends deposited into our Ally Invest account every quarter!
Click here to sign up for Ally Invest to start investing in dividend stocks affordably!
10. Get paid to have an app on your phone.
There's an app that will pay you just for having it on your phone.
It doesn't get much more passive than that! You heard me right.
They will pay you $50 per year per device just for having your app on there!
Talk about the ultimate passive income opportunity!
If getting paid simply for having an app on your phone interests you, click here to learn more!
11. Invest $10 in small businesses and earn 5%.
Worthy Bonds is a company that provides bond funding to small businesses — and it's letting you get a piece of the action.
See, these small businesses (obviously) pay Worthy interest on these loans, and folks like you and me can buy bonds from Worthy that pay 5% interest.
This is far more interest than you could earn in a savings account at the bank.
You can buy bonds in $10 increments and / or link your debit or credit card and round up the spare change on your purchases to invest in bonds.
Click here to sign up for Worthy and start earning 5% interest by investing in American small business.
12. Write slogans.
Are you kinda witty?
Then you may be able to make passive income just by thinking up slogans in your spare time. Here's how it works:
Write a catchy slogan.
Upload it online here.
Get paid every time someone uses your slogan! Passive income!
Click here to learn more about earning passive income from slogans.
13. Sell your photos.
Are you good behind the camera?
Then you can make a somewhat passive side income licensing your photos online for others to download.
For example, I get all my pictures for this blog from various stock photo sites on the Internet.
And every time I download a photo, the photographer who uploaded it gets a royalty!
Licensing one picture that you take and upload now can give you cash flow forever as it's downloaded again and again!
Click here to learn how you can get paid for your photos from home.
14. Get your bank and credit card fees refunded.
This isn't really passive "income" per se, but it is an opportunity for you to increase your net worth somewhat passively.
There's a new website that can get you refunds on fees like:
Overdraft fees
Monthly service fees
Minimum balance fees
ATM fees
Late fees
Wire transfer fees
Foreign transaction fees
Credit card interest charges
Click here to learn how to get your bank and credit card fees refunded.
15. Get paid for doing things you do anyway.
Swagbucks ($10 sign-up bonus) is a great app to use to make money whenever you have some downtime, say while you're in line at the store or while watching some mindless TV program.
There are a variety of ways to make money with the Swagbucks app, including:
Playing games on your phone
Using the Swagbucks search engine
Watching videos
Taking surveys
Getting cash back on online purchases
Using coupons
And more!
Click here to download Swagbucks and get a $10 bonus for using our link!
16. Get cash back on stuff you buy anyway.
One way to create passive income with no money is to get paid for doing things you do anyway, like going shopping.
There's a little-known app called Ibotta ($10 bonus if you click here) that literally gives you cash back on things you buy anyway, just for taking pictures of your shopping receipts!
To date, I have made $1,357.09 from this little app.

And yes, they pay you cash through Paypal!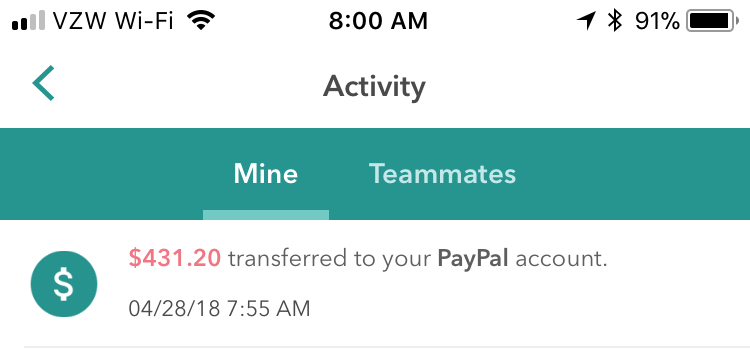 And oh yeah, if you sign up with Ibotta through our special $10 bonus link (click here), you'll get a $10 bonus when you submit your first receipt!
17. Make money with your social media skills.
Do you have experience with social media sites such as Facebook, Instagram, Pinterest, Twitter, etc.?
Then you have a very valuable 21st-century skill!
If you know your way around social media, then you can make some major dough by promoting brands on social media.
Companies are willing to pay ordinary people to help get the word out about their products and drive more sales.
But the trickiest part of this industry is finding the right opportunities.
There are a few resources out there to help social media pros land these opportunities, but the one we found to be the best is SocialSaleRep.com.
They've been around for a while and have several proprietary partnerships with large corporations looking for social media experts.
Click here to check out paid social media opportunities at SocialSaleRep.com!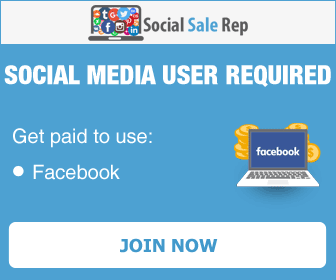 18. Check your credit score.
While this isn't directly a way to generate passive income, checking on your credit score and finding ways to improve it can passively grow your net worth.
How so? Well, by simply increasing your credit score a little bit, you can, for example, pay less in interest, which will grow your wealth in the long-term.
We've found that Credit Sesame is the best free website that can calculate and monitor your credit score.
Click here to get Credit Sesame for free — it only takes 90 seconds!
19. Use a free money-saving bot.
Sometimes the best way to make money is to save money.
Subscriptions, especially those that go unused, can add up over time.
Thankfully, there's a free money-saving bot called Cushion that will go through all your subscriptions, let you know how much you are paying for each of them every month, and cancel them with a simple text message if you'd like.
And Cushion not only keeps track of your subscriptions, but it also negotiates your monthly bills such as cable and Internet so you keep more money in your pocket.
Cushion users have saved over $8,000,000! To learn other benefits that Cushion can offer you, check out our full-scale Cushion review.
Click here to start saving with Cushion! It's 100% free!
20. Take online surveys.
This one's not exactly "passive," but it is certainly mindless.
You can take surveys when you're binging on Netflix or in line at the grocery store or waiting to pick your kids up.
The trick is that there are only a few legit survey sites. We recommend Survey Junkie.
It's 100% legit, and they do not send you spammy junk emails.
Their payouts are excellent, and they pay you in cash via PayPal.
Survey Junkie has an 8.9/10 rating on TrustPilot — the highest of any online survey company.
And they also have some really fun surveys.
For example, in the screenshot below you'll see a pretty awesome music review survey that I recently did. I made $50 reviewing music! ?

Click here to start making extra cash with Survey Junkie.
Now, I must tell you that not all surveys are this fun, and not all pay this well, but every once in a while you get a great one like this!
Also, it's satisfying knowing that companies will use my opinions and inputs to make decisions about not only music, but also food, restaurants, consumer products, movies, and a lot more.
Click here to start making extra cash with Survey Junkie.
21. Get paid to lose weight.
If you can commit to shedding some pounds, it may pay off handsomely for you to cut that habit because you can literally get paid to lose weight through a new company called HealthyWage.
Check out this Good Morning America special on HealthyWage that explains how it works:
You can bet as little or as much as you want, but obviously the more you bet, the more you stand to win!
Also, you can bet on your weight loss of any period between 6 and 18 months.
Click here to see how much you could win with HealthyWage!
22. Get cash back when you shop online.
Ebates ($10 sign-up bonus if you use our link) is a free website and app that gives you up to 40% cash back at over 2,500 online stores.
If you shop online a lot (or even if you don't), this can add up to a decent chunk of change!
Click here to get your $10 sign-up bonus sign up for Ebates and start getting cash back on online purchases today!
23. Invest in cryptocurrencies like Bitcoin.
I would recommend only investing in cryptocurrencies after you've invested in more stable passive income opportunities such as stocks and real estate.
Nevertheless, many people have become unlikely millionaires by investing in cryptocurrencies, and the concept of cryptocurrencies is not without merit.
However, you have to know what you're doing, or you'll get creamed in the cryptocurrency market.
Click here to learn more about cryptocurrency investing.
24. Get up to 5% cash back on all purchases with this new credit card.
Cash back on purchases is one of the most beautiful forms of passive income out there because they're tax-free.
And there's a new credit card that offers up to 5% cash back on all purchases — not just on certain items or on rotating categories.
It also gives you monthly cash forever when you refer new users.
So this new credit card gives you not one but two ways to generate passive income every month!
Click here to learn more about this new credit card!
25. Get a Free 401(k) Analysis.
If you've ever worked in corporate America, you probably have a 401(k) retirement plan through your current or former employer.
And while your 401(k) is generating passive income for you, it's possible that it's not optimized for the best performance.
Just improving your returns by 1% a year can make a huge difference.
Let's say you have $50,000 in your 401(k), and it will earn you 6% over time.
Increase your returns so that you earn 7% a year will mean over $65,000 more in your 401(k) over 30 years' time.
A properly-optimized 401(k) can generate for you additional tens or even hundreds of thousands of dollars of passive income over time.
That's where Blooom comes in.
When you sign up for Blooom, your 401(k) will immediately be analyzed, and you will be shown what kind of hidden fees you're currently paying in your 401(k).
Click here to get your free 401(k) analysis with Blooom.
26. Track Your Wealth in Personal Capital and Get a $20 Bonus.
Personal Capital isn't so much a way to make passive income as it is to manage your passive income sources.
What is Personal Capital? It's a free net worth and investment tracking website and app.
Your account balances are updated in real time! We personally use it to track our wealth and love the easy-to-use interface.
Also, for a limited time, Personal Capital is offering a free $20 Amazon gift card to new users who create an account through our $20 Bonus Link and links their first investment account.
Click here to sign up for Personal Capital and claim your $20 Amazon sign-up bonus!
27. See if you can pay less for homeowners or renters insurance.
Similar to some of the other items in this list, this one is more about passive savings than passive income.
But the end result of saving an extra $100 a month and making an extra $100 a month is the same: they both increase to your net worth.
And theoretically, saving is better than income because while you don't pay taxes on additional savings, you do have to pay taxes on additional income!
One expense that slips by most people without being checked every now and then is homeowners or renters insurance.
See, the traditional insurance company model is getting more and more outdated with their high deductibles and premiums.
Take new insurance company Lemonade for example.
They take a simple flat fee, and everything else goes into a collective claims pool that they protect for their users in case they need to make a claim.
Since Lemonade doesn't profit from the claims pool (like other, older insurance companies), leftover money is donated to charities that users choose when they sign up.
Lemonade's self-stated goal is to transform insurance from a necessary evil into a social good.
They offer renters insurance for as low as $5 a month and homeowners insurance for as low as $25 a month.
Click here to check your rates in 90 seconds with Lemonade and see if you can save some money!
28. Get paid every time you search the Internet.
Swagbucks will pay you to simply use its search engine.
They will also give you $5 if you sign up through our Swagbucks $5 bonus link.

So yup. This is probably the easiest way to make money online.
Click here to sign up and get a $5 sign-up bonus!
29. Arcadia Power pays you to use less electricity.
Arcadia Power is a free service that rewards you for saving energy when it matters most to the grid and the environment.
You will receive a notification about once per week to save energy for an hour.
If you save energy, you receive cash.
Click here to start getting rewarded for saving energy!
30. Get paid to watch TV.
Believe it or not, there is a company out there that will pay you to watch TV. This company is called Swagbucks, and you can get a $5 sign-up bonus if you sign up through my Swagbucks $5 bonus link!
31. Invest in alternative assets.
Yieldstreet is a platform aimed at giving investors access to high-yield, asset-based alternative investments.
It aims to create a portfolio across multiple asset classes – real estate, marine, commercial, and legal.
These opportunities are secured through assets, properties, settled and future case proceeds, and vessel acquisition.
These supposedly allow for the creation of a diversified investment portfolio that's fully backed by a certain type of collateral.
Yieldstreet announced that since its inauguration, it has made over 300,000 payments that returned more than $297,000,000 to its investors.
Earn. Save. Grow.
Sign up for updates on ways to make, save, and invest money.