Logan Allec here.  Go ahead, Google me.  You'll see that I'm just some geeky accountant guy.  🤓  See for yourself.
Anyway, the point is that I have absolutely no background in writing or building websites.
But here I am, three months into my new blog with an extra $10,000 in my pocket (proof is at the bottom of this post)
🐉 So As You Can See, I'm a Freaking Beast.
And I know you are too.  And if you're anything like me, you've tried a number of things over the years to make extra money on the side.  My personal goal has always been to build something on the side that I enjoy and take pride in and build a somewhat passive stream of income.
And after spending hundreds of dollars on courses and with little to show for it, I had just about given up on that goal.
Until I discovered blogging.
🤔 Blogging?
Blogging?  Really?  Isn't that so 2008?  Does anybody make any money blogging anymore?
The answer is yes, people do.  And yes, I have.  Over $10,000, actually.  With this blog.  The one you're reading right now.  That I just started a little over 3 months ago.
Don't believe me?  Check out the proof at the bottom of this post.
👨‍💻 Yes, Blogging.
And you, my friend, can do it too.  This isn't some pie-in-the-sky fantasy.  This is real.  Look at that guy in the picture up there.  If he can do it, so can you.
Oh and by the way, it doesn't matter your niche.  The principles I will teach you can apply to whatever topic you choose to blog about, be it personal finance (like me), sports, beer, video games, babies, you name it.
So if you want to learn how to start a money-making blog, sign up for my FREE blogging e-course below.
💪 But You Have to Put in the Work.
When I first registered the domain name for my blog, I decided that this would be it.  It's either I make this work or I resign myself to a lifetime of corporate servitude.  So I resolved to put in the effort and make it work.
And guess what?  I did.  And it works.  All while keeping my day job and working on my blog on nights and weekends.
💵 And Here's Proof.
🎉 2/4/17 – I launch Millennial Money Club!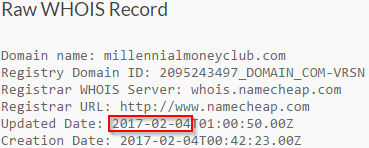 💰 3/2/17 – $550.00 Affiliate Check
💰 3/3/17 – $4,640.00 Affiliate Direct Deposit
💰 4/3/17 – $1,230.00 Affiliate Check
💰 4/7/17 – $868.90 Affiliate Direct Deposit
💰 4/21/17 – $135.00 Affiliate Direct Deposit
💰 5/15/17 – $1,050.00 Affiliate Check
💰 5/31/17 – $2,705.00 Affiliate Check Direct Deposit

🔥 Are You Ready?
So if you're ready to take the next step, I invite you to sign up for my free blogging e-course by filling out your information in the box below.  And yes, it really is 100% free!